Donald Locke, 1930-2010.
brer nancy and the weavers of monkey mountain view 2
About:
DONALD LOCKE lived, studied and worked in Guyana, Britain and the USA, moving backwards and forwards across the Atlantic.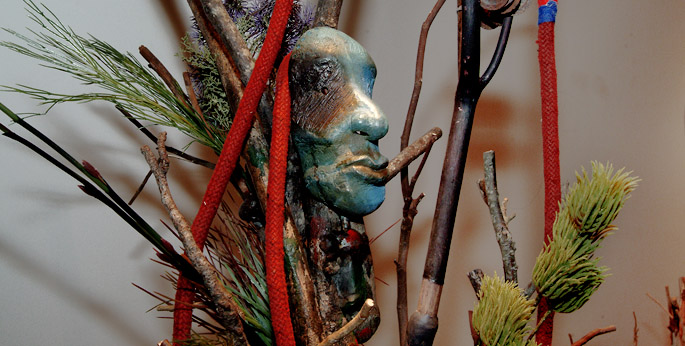 Timehri Tree.
Introduced to art in Guyana by E.R. Burrowes, he studied at Bath Academy of Art and Edinburgh College. Back home in the 1960s he was part of the creative elite who shaped art after Independence, using the language of modernism allied with traditional motifs to help mold a new International style. He may be best known in the UK for a series of paintings and sculptures entitled 'The Plantation Series' – forms held in strict lines and grids, connected as if with chains or a series of bars, analogous he has said, to the system whereby one group of people are kept in economic and political subjugation by another.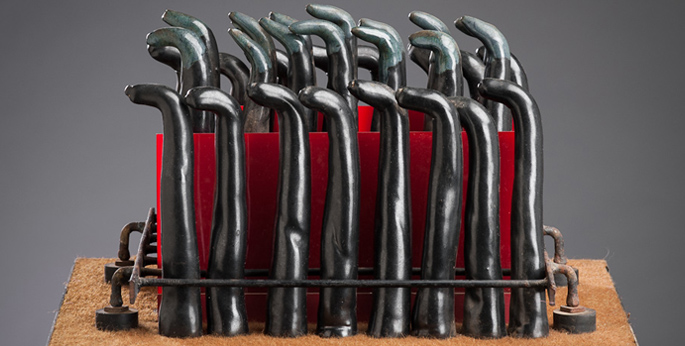 Plantation K 140.
Disillusioned with the slow progress of his career in the UK, he moved to America in 1979 when he received a Guggenheim Fellowship. During the eleven years spent in the Southwest, Locke was known for his anthropomorphic and figurative sculptures both in clay and in bronze. Towards the end of this period he began painting again – adding collaged materials directly to the surface of canvas or panel. In 1990, he moved from Arizona to Atlanta, where the work of African-American vernacular artists made a dramatic impact on him. From 2006 he turned again to his first love, ceramics.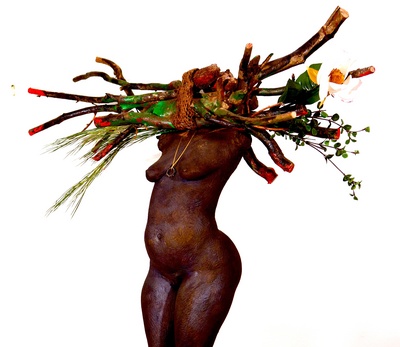 Ruby Garden, 1994-2004.
His wide ranging intellectual curiosity is reflected in everything he puts his hand to, be it teaching, writing, making pottery and sculpture, creating complex installations, or simply painting. The circumstances of his Caribbean background as well as his thorough grounding in traditional European modernist principles have given Locke a unique vision.
– Carl E Hazelwood, Aljira Center for Contemporary Art, New York.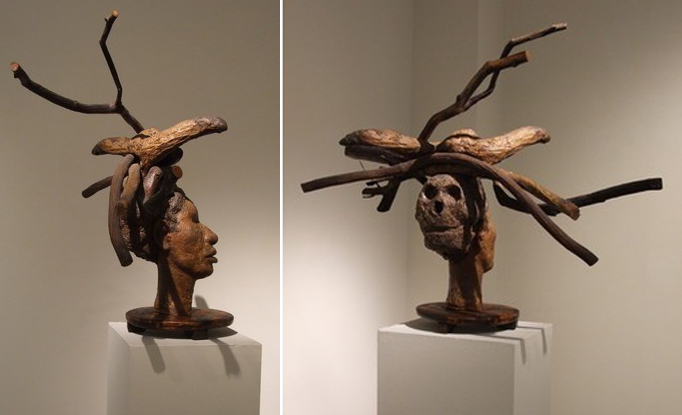 Stewartville Witch, 2005.
Locke was born in 1930 in what was then British Guiana, on the Caribbean coast of South America. The villages along this coast are named poetically – Bachelors Adventure, Versailles, Maria's Delight, Mon Repos, Three Friends, Makeshift – but these place-names are derived from the old Plantations. The grids of streets, canals, locks and seawalls which structure the villages and sugar cane fields were imposed by the original Dutch colonialists – the same nation who laid out New York's rational street-plan.
The adventurous left their homes and went up-river into the Bush, their El Dorado, prospecting for gold and diamonds. Tales are told of "pork knockers" such as Ocean Shark, Pigeon Island Brown, Skybar, Sultan, Dunnamite Dan. These men were hardworking, hard playing, hard drinking, and followed by companies of equally tough women – Minnie Man Tiger, Mamma Wine Down, Kabouli Queen, Land Perai, Barima Sluice Box, Marabunta Waist, Black and Shine.
Guyanese culture reflects the European, Amerindian, African and East Indian religions, traditions and folk-lore of its population. Spirit, animal and ghost stories are told alongside patriotic-national, historical and family narratives to create a pool of "mytho-poetic material" which Locke freely and continuously drew on.
When one gathers together the essences of all those black bodies in the jungle, a jungle full of strange plants and even visible animals, shapes which belong to dreams rather than botanical gardens, one is getting closer to the inner lure of the Bush. – Donald Locke
Indra Khanna,
Independent Curator, London, UK
Copyright 2009 (text website Donald Locke)
Courtesy: Skoto Gallery New York.