Fabrice Monteiro
All images are from the Waxology series, 2014.
About Waxology:
Waxology is the result of a cooperation between the jewellery and fashion brand MISWudé and photographerFabrice Monteiro.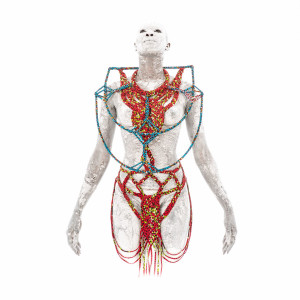 The body jewellery is made with the aid of wax-dyed cotton fabric cut into strips, processed using various different techniques and then brought into shape. Both material and form refer to traditional African handicrafts; the aesthetics, however, are also reminiscent of 18th century anatomical studies. At the same time, the body jewellery items play with the same kind of subtle erotica that is typical of sexy underwear in West Africa – in that it enhances, while concealing the body. What is key for understanding the work, however, is the role of wax, the cloth that also gives the work its name. Crucial for West Africa's aesthetic industry, this fabric stands here for Africa's lacking sovereignty. It is a product of colonial expansion that has never been manufactured in Africa and today, it is linked with Africa only at the level of consumption and processing. The creative and constructive re-interpretation of the cloth in Waxology – its cutting and re-joining – liberates it from its colonial context, thus symbolizing nothing less than the re-invention of an African aesthetic identity.



About the artist:
Fabrice Monteiro is an emerging artist based in the fields of photojournalism, fashion photography, and portraiture. Born to a Beninese father and a Belgian mother, his childhood is nurtured with multi-cultural. His unique signature style revolves around his passion and love for the heart and the people of his country. Monteiro was not predicted to become a photographer. Photography came naturally to him, first as a professional model, he became aware of the complexity of the composition, the lighting and the posture. Traveling the world inspired him to develop more creative projects, Monteiro was not destined to become a photographer, photography came to him.(Courtesy and text Mariane Ibrahim Gallery)