Faisal Abdu'Allah
About:
(text published with his recent exhibition at Autograph, London)
A new solo exhibition by visual artist Faisal Abdu'Allah (b. 1969, London). Through his interdisciplinary practice encompassing photography, print-making, video, sculpture, drawings and installation, Abdu'Allah asks probing questions in relation to history, myth, faith, masculinity, memory and violence, as well as race, representation and iconography.
The title of the exhibition refers to Abdu'Allah's new photo tapestries, The Duppy Conqueror. In this triptych, Abdu'Allah explores a masked alter-ego character known as the Duppy Conqueror.
In Jamaican tradition, a duppy is an evil ghost or spirit.
This malevolent supernatural being resurrected by Abdu'Allah highlights the genocidal nature of violence against the black body, and the ongoing struggle with ghosts or spectres from the past, conjured by a hostile world dominated by ignorance and deception.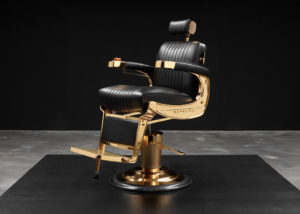 In two new sculptural works commissioned by Autograph, The Barber's Chair and The Barber's Clippers (2017), the artist's studio and the barber's salon come together as interchangeable spaces of cultural activity. Gold-plated, evocatively lit and installed in a discrete gallery room painted black, these life-size works refer to the importance of the barbershop as a gathering place for black men: where an exchange of news and views occurs, a space to come of age, and where intimacy and vulnerability between men is possible. Alongside his artistic and academic practice, Abdu'Allah maintains a profession as a barber, the ritual of cutting and dressing hair informs his work. The role black hair performs in foregrounding cultural difference, and the proliferation of story-telling throughout the process, and provides a means to bring these two different worlds together.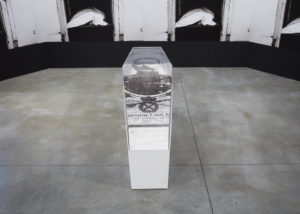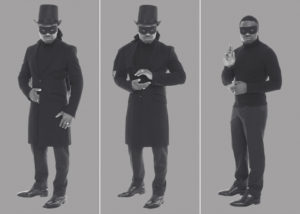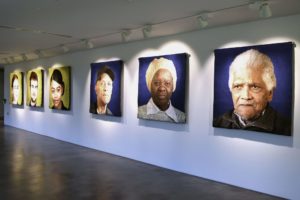 Installation view: Facets of a Community, 2018
The Last Supper I + II is a series of photo works (originally commissioned by Autograph in 1994 and produced in collaboration with Kofi Allen) reworked as two large photo-tapestries. In these elaborately staged tableaux, Abdu'Allah and Kofi Allen present 12 young black men and women reenacting Christ's final feast, dressed in everyday street clothes and Muslim garb. Heavily armed, these figures are in between zones of confrontation and protection.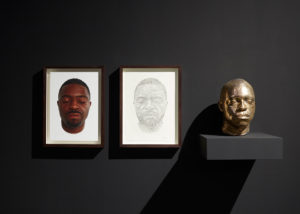 Other works on display include After Kosuth (2012-17), a self-portrait photograph, photo etching on paper and gold-plated bronze cast of the artist's head. This work is a reflection of Abdu'Allah's interest in transformation, states of consciousness and experimentation with multiple forms of printing, inspired by the work One and Three Chairs (1965) by American conceptual artist Joseph Kosuth.
Head of State (1997) represents Abdu'Allah's practice in the late-1990s, when he first began to experiment with site-specific gallery installations that juxtapose sculpture, three-dimensional objects and photographs. Wallpapers of bodies in a morgue and a life-size coffin are emblematic of encounters with death, conjuring up the experience of violence, loss and mourning. Abdu'Allah describes this artificial realm as a 'space of no escape' and its gruesome affect is an admission of the need for more social wakefulnes