You know that we don't have so many platforms for contemporary art here, the huge exhibitions, biennales or festivals. The first time I went to the Kampala Biennale in 2016, I saw highly profiled artists whose work was being exhibited. And their work was exceptional, out of the norm, very experimental. I did my research on these artists and they were big shots. So, I thought I needed to be affiliated to such a platform.
Matt Kayem interviews the Ugandan artist/dancer Fazil On Yu
An interview with Fazil On Yu
I'm more of a performance artist
It's a Wednesday morning and after whizzing my motorbike through the Kampala traffic, I land at the National Theatre. This is where I'm to meet the emerging choreographer and dance artist Onyu Fazil Bin Damusanga, known around the art circles as Fazil On Yu. Fazil, probably in his late twenties has been shaking the Ugandan dance scene since 2014. Over the years, he has participated in creations, programming and organization of numerous artistic projects, events and festivals, worked and collaborated with re-known international art institutions like: Goethe-Zentrum Kampala, Alliance Française Kampala, Prince Claus Arts Fund Netherlands, British Council, Uganda National Cultural Institute, Ubumuntu arts Festival, Bayimba Foundation and Institute Française. Fazil is a founder and director of the dance collective Spot Lite Crew and through this, he has stimulated audiences through dance and movement integrated with multidisciplinary art forms in both conventional, unconventional and digital spaces, while engaging and dialoging with the audience to his unique world of conceptual methods of audio-visual narratives. I'm interested in his practice because back in 2020, he decided to try his talents in the contemporary art world at the Kampala Biennale.
After a few minutes of waiting because of my early birding, Fazil arrives too on his motorbike and right on time. We find a secluded area behind the darling National Theatre and commence with the conversation. Our engagement shifts from his practice to his stint at the Kampala Biennale, the intersection between dance and performance/performance art to arts and the political atmosphere in the country.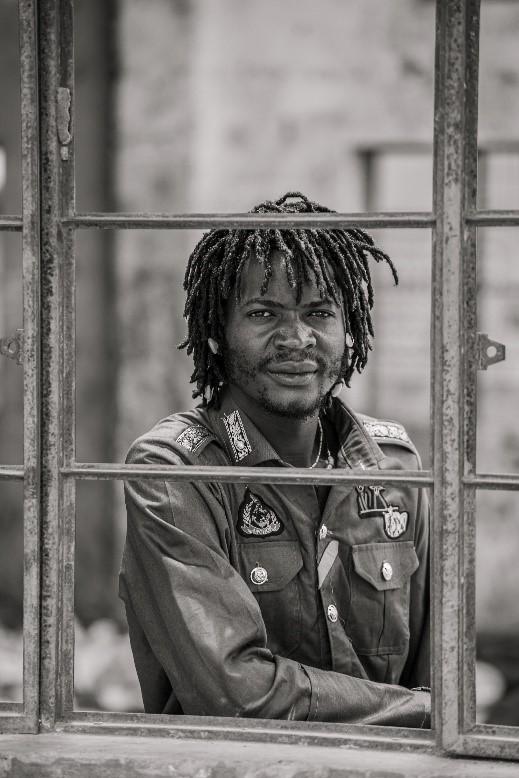 Portrait of the artist
MK: Growing up, did it cross your mind that you will be a professional dancer when old enough?
FOY: No, no. In fact you remember the Music, Dance and Drama sessions at school, we viewed them as uncool, the traditional dancing which we thought wouldn't impress the girls. I think I had a perspective of an artist in me but wasn't sure about which art form to use at a young age because I used to see and do things differently. I remember my parents felt a little bit confused about me because they wanted me to focus so much on education like my elder brother and rest of the family but I always wanted different things. So somehow, I was misunderstood but growing up, I realize now that it was the artistic perspective in me that they misunderstood.
MK: Who inspired you to join dance?
FOY: Specifically, it was my elder brother, I was in primary school and he was at secondary at St. Mary's College Kisubi and I think they had a talent show at school and he was the first person I saw break-dancing. So, I saw him doing a basic wave and felt inspired. Then I watched a movie called 'Breaking', a very old one. I saw break-dancers performing on the streets, they portrayed the whole break-dance culture in that movie. Living on the streets, hustling and then going to dance in the evenings. So that inspired me to think of dance as a path I could take and my journey to invest in it started from there. I started to look for spaces where I could learn dancing and we were living in Nsambya at the barracks and they were a session of break-dancing at Sharing Hall. I would go around, stand and watch guys from Break Dance Project Uganda dancing. After, I would go home and practice what I just saw.
MK: Does your brother still dance?
FOY: No, he's doing something else now. I think he was just dancing for fun.
MK: What does he think of your career now?
FOY: He's really surprised that it turned out to be professional. He was at my show here and he really loved it.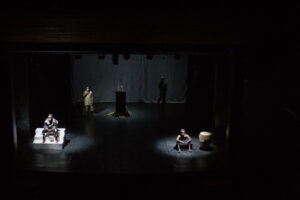 MK: I have always known you around dance and theatre circles. But you participated in the last Kampala Biennale, a platform synonymous with visual artists. What made you to take this direction?
FOY: You know that we don't have so many platforms for contemporary art here, the huge exhibitions, biennales or festivals. The first time I went to the Kampala Biennale in 2016, I saw highly profiled artists whose work was being exhibited. And their work was exceptional, out of the norm, very experimental. I did my research on these artists and they were big shots. So, I thought I needed to be affiliated to such a platform. As you said, they were mostly visual artists and one performance artist at that time. The performance artist did his thing at the opening which I missed but saw the video installation. So, I thought I will keep checking up, if there could be space for me to be part of this biennale. And the opportunity presented itself in the last edition during the pandemic, I saw the call for mentorship/apprenticeship and saw a category for performance artists. I applied and was put under Tracey Rose's studio and her work is very experimental which is what I was looking for.
MK: How was your experience of the Kampala Biennale and under Tracey Rose's guidance?
FOY: It was great, for me, it was an eye opener because she helped me understand the perspective of integrating different art disciplines into one unit of performance theatre. She told us that it doesn't have to be only movement and music, she told us that we could also create installations or use visuals to create a natural unit of performance theatre. She explained the concept so well and helped me develop something as a study case for myself that gave me a better idea of the concept. I have now incorporated that into my practice, I don't want to be just a dancer on stage
MK: So, what would you categorize yourself as now? How would you frame your practice?
FOY: You know, the thing in contemporary art or contemporary performance art is that there is a lot of evolution. A lot of new terms keep coming up. There is a time I thought I was an experimental dance artist, I was once a dancer and just a dance artist. But now I think I realize I'm more of a performance artist because I can act, sing, recite poetry. I'm just performing at the end of the day, it doesn't matter which performance expression I'm using, it is still performance theatre. So, I have decided to describe myself as a performance artist now.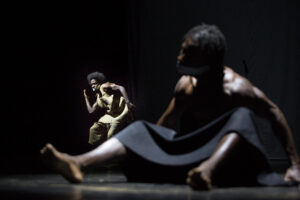 MK: What would you say is the distinction between dance and performance art?
FOY: A dancer and a performance artist? The distinction is the similarity, one is imbedded into the other. A dancer is imbedded into performance art as a performance artist but a performance artist is a bit broad. Dance is one of the disciplines a performance artist can use. A poet, rapper. percussionist and dancer, these are all performance artists. It's a broad term that expands your portfolio.
MK: You just had a successful show at the National Theatre, Kampala with a large turn up. Why do you think that it was important for anyone to leave whatever they were doing to come watch your production?
FOY: Truth is this, I don't want to brag. I always tell people that I'm the evolution. The kind of dance theatre that we have in Uganda is outdated where dancers come on stage, play their music and dance and leave. Dance has evolved, the world has moved on. People come to theatre to watch a whole experience, it is dance oriented. You are going to watch people dance, act, sing. They are visual and audio installations, so I'm giving you a whole theatrical experience although it is founded on dance. I think it was the first of its kind and anyone who watched the show were surprised. If you do your survey, they will tell you they hadn't seen what we presented that night. People had to come and watch this because it was something different and also hip-hop theatre is the kind of theatre globally still trying to find its definitions. So, I think it was important for those who had been asking about hip-hop theatre to come to my show. And also, the duration, the production was an hour and twenty minutes, it was like watching a whole movie because most of them here are usually shorter.
MK: The title the piece was " False Manifesto". Would you please tell us a little bit about it, not so much because I had rumors you intend to take it all around the world?
FOY: As you hear the term False Manifesto. A manifesto is a declaration of an agenda, propaganda or a policy. So, imagine if it's false, means it's a lie. You are declaring policies that are not true, propaganda that is deceptive in nature. And who does this, the politician because in society, like it or not, the point of governance is at the center of society. The politician is at the heart of governance. So whatever they declare to us and we buy into it, we suffer the consequences. The inflation is high worldwide, there is political tension around us, that's not a lie and how did we get here. There is someone dictating whatever is happening around us and we are buying into it. So, we are buying into a lot of false manifestos. So I looked at society as one complex community, one thing depends and leads to another. We are talking about politics, race, the sex identity crisis, people in the community and their role. I felt like I can't talk about sex alone. Who dictates the politics around the LGBTQI or the climate crisis? In the same country, the government comes up and fronts industrialization, cuts down the forests like in Namanve and we complain about it getting hotter. So, society is complex, and I created this on stage where everything is dependent to the other.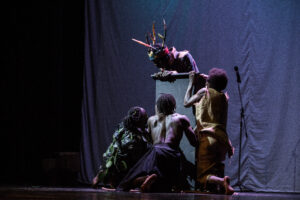 MK: I was one of the persons that were invited to offer critique and advice during the preparation and rehearsal stages going into the show. Why did you do this rather unusual aspect within our art scene?
FOY: I think this comes from my travel experiences to art scenes in Europe. When I was there as part of a programme by the Institute Francoise that is trying to bring up new choreographers unto the global scene from Africa. I was given a chance to work and interact with different directors and theatre companies in Europe. Part of their process was to create a piece during the residency and bring people from different capacities to watch this piece, preview, critique and try to give their perspectives about the piece. It doesn't happen here in Uganda. People put up pieces without seeking advice first, I wouldn't say we lack these experts. There is professionals in whatever field or study. So, I needed you people to give me a different perspective about the work so that I'm not blinded by my own ideas. It's one of the best decisions I've made because I got them to analyze the piece and I made a few changes that were liked at the show.
MK:The National Theatre where you held this show was up in discussions, with our legislators contemplating on selling the government property to an investor. Why do you think this would have been a big blow to the arts community?
FOY: I think the battle is not yet won. I fear that in the future, they are just waiting for the right timing. This place will go up for sale soon. If we artists don't show the relevance and power into this place, we need to put up shows, reincarnate the power of this place as a theatre. We need to make the power of this theatre so visible that even daring to mention the idea of selling it becomes a divine sin. But the theatre has become a bit dull, the artists are not producing content. And it's a capitalist world, if it's not making money, someone will come and grab it. We also need to be activists as artists, be strong and stand up for what belongs to us. The stories told today say that this place was very strong in the 90s. It's probably just a shadow of its former self now. So, the battle is not over, the hyenas are waiting for the right moment to pounce and grab this place.
MK: We have a duty as artists to convince those around us that what we do matters. Our president has been noted for downplaying the arts and his policies like favoring sciences teachers in schools with increased wages have sparked wars. What do you think of this?
FOY: As I told you above, even the National Theatre was up for sale because they didn't see its relevance. They see it as a prime space in the middle of the city that is being wasted. Look at it from the president's perspective, maybe we need reason for him to value us. The other thing is that it doesn't start with us, the struggle of art in Uganda is ages old, those who've been here before talked about it. They fought for recognition and respect. For me, it's not a surprise, maybe it's part of the process, maybe we are the sacrifice for this, it's a calling. I don't care what the president says, he has his focus and where he wants to put his energy. But at least through avenues like art, one can speak freely without being censored in Uganda right now. And we need to grab the opportunity right now before the state realizes the gap it has left for us. We need to speak and be as radical as possible because they are beginning to see the power in the art spheres. You saw the artist's bill that was passed in parliament recently.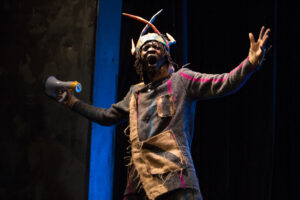 MK: What do you want to see changed in the arts/dance industry here in Uganda?
FOY: In the dance industry firstly, I think dancers should get educated. The more we get educated, the more we empower ourselves to dictate a lot of policies. You can't be a professional dancer without education qualifications, you might end up somewhere but you will be handicapped too at some point. So, for those who have an opportunity to study, please do. And channel the influence into dance because as long as we are not educated, we will be underlooked. We cannot take up big roles. Whenever the Ministry of Education is looking for cultural practitioners, they replace dancers with people who have no idea about the arts because they lack the academic qualifications to be in those roles. Another example is the Goethe and British Council who have always put up calls for cultural coordinators and Ugandans have failed because they lack the qualifications. We might have the skills but sometimes, you can't jump the bureaucracy.
MK: Would you go back to school yourself?
FOY: Yeah, I'm still at school and graduating very soon. I'm a psychology major at Makerere and just finalizing my dissertation. I have plans for studying a Masters degree in choreography or something artistic.
MK: What are your future prospects? Where is the continuity in this project you presented?
FOY: We want to create a better narrative; we might have a good one in Uganda. We want to be recognized internationally that when you travel out there, you can watch a Uganda piece in Paris, Australia or London. The plan is to have an East African tour which is starting next week in Kigali, Rwanda at the Ubumuntu Art Festival. We shall also do premieres in Kenya, Tanzania, Burundi and Congo. We shall then head to Europe next year for a tour there.
Photo courtesy: the artist/National Theatre
Matt Kayem is a Ugandan contemporary artist, art writer and critic living and working from Kampala. Reach me on mattkayem@gmail.com.