History is His Story, Until April 14, 2019, Nest, The Hague
Charl Landvreugd
Participants:
Dean Bowen
Crystal Z Campbell
Em'kal Eyongakpa
Charl Landvreugd
Arna Mačkić
Sulaïman Majali
Pieter Paul Pothoven
Pamela Phatsimo Sunstrum
Jaro Varga
Exhibition design: Studio L A
they say that history repeats itself
but history is only his story
you haven't heard my story yet
my story is different from his story
my story is not part of history
because history repeats itself
but my story is endless it never repeats itself
why should it?
Sun Ra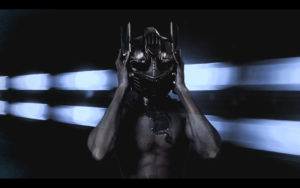 Charl Landvreugd
'History is His Story' is een groepstentoonstelling die voortborduurt op de mythische wereld omschreven door muzikant, poëet en visionair Sun Ra. Op jonge leeftijd raakte hij gebiologeerd door het wetenschappelijk onderzoek van antropoloog, linguïst en politicus Cheikh Anta Diop: een grondlegger van het panafrikanisme, die meende te kunnen bewijzen dat de Egyptenaren zwart waren. Dat aan de basis van civilisatie mogelijk zwarte denkers en heersers stonden zorgde ervoor dat Sun Ra – die zijn naam veranderde naar de Egyptische zonnegod, zich verdiepte in cultureel erfgoed. In de speculatieve context waarin Sun Ra opereerde: het domein van de kunst, filosofie en de experimentele jazz, gaf hij mensen een manier om een plek te bemachtigen in de geschiedenis en daarmee ook in de toekomst en de maatschappij. Daarnaast gebruikte hij de mythe om aan het westerse rationalisme te ontsnappen en een meer holistisch, magisch wereldbeeld aan te bieden.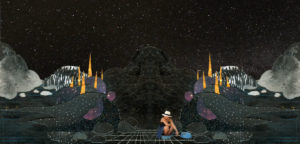 Pamela Phatsimo Sunstrum
'History is His Story' reageert op sociaal-maatschappelijke en politieke fenomenen en laat mythische denkbeelden toe om nuances in geschiedschrijving aan te brengen, of een eerlijker toekomst te visualiseren. De participerende kunstenaars delen een interesse in het maken van nieuwe mythologieën of het herinterpreteren van bestaande. Zij zoeken naar tussenruimte: een plek of beeldtaal zonder begin en einde. Het oeroude verleden en de verre toekomst met elkaar verenigd in een tijdelijke, nieuwe wereld vormgegeven in Nest.
Voor de tentoonstelling is een uitgebreide, rondreizende randprogrammering ontwikkeld. Houdt de website en social media in de gaten voor nieuws.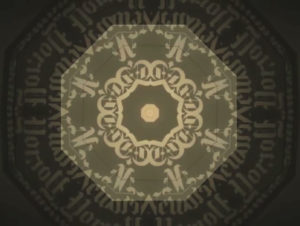 Crystal Z Campbell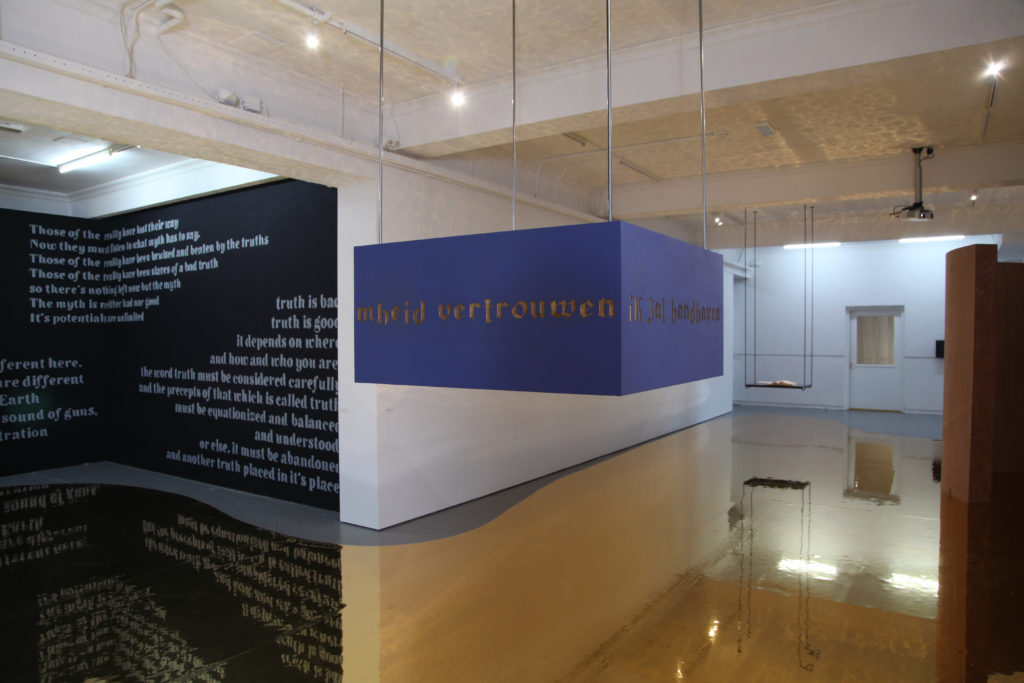 Installation view, 2019
Dive into the future
15 Mar 2019, 8PM, Nest, The Hague, Lezing@Nest
Dive into the future is a performance lecture in which Arna Mačkić, whose way of thinking and working is formed by Sun Ra, takes you on a journey through his inspiring body of thought. With the exhibition History is His Story as a décor, Mačkić goes through seven phases – flight, adaptation, memory, promise, leap, confrontation and hope – and talks about this with Sun Ra. The transition from one phase to another, where we are at all times and where we can position ourselves in relation to others and in society. With Sun Ra as a teacher, methods are offered to dive into the future with a new version of the past in mind.
This program is part of History is His Story