HEROISM IN PAINT: A MASTERS SERIES BY JACOB LAWRENCE
Taft Museum of Art, 316 Pike Street Cincinnati, OH, 45202, Through January 17, 2016, Courtesy of the Amistad Research Center, New Orleans, LA
About:
(all the images are from the Toussaint L'Ouverture series)

Jacob Lawrence's paintings often tell epic stories from African American history. This exhibition offers the rare opportunity to see one of his most important series in its entirety. The dramatic story of Toussaint L'Ouverture, revered as the founding father of Haiti, is recounted through 41 tempera paintings. Lawrence's signature style of geometric shapes and expressive colors lends an emotional edge to this sweeping tale. Although it illustrates the horrors of slavery and battle, the series is also a testament to the endurance of the human spirit forged during the struggle for freedom.(text museum)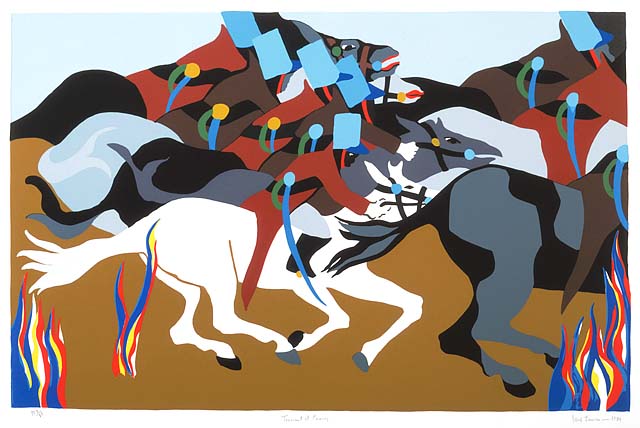 When Jacob Lawrence's biographical series about Haitian revolutionary hero Toussaint L'Ouverture was first shown in 1939 at the Baltimore Museum of Art, the 41 tempera paintings catapulted the twenty-one-year-old to national recognition. Almost half a century later he would launch into the L'Ouverture story all over again, selecting 15 images to reinterpret as an edition of silk-screen prints which he finished just three years before his death in 2000 at age 83. Now that another page has turned in the almost mythical history of Haiti, looking back seems particularly meaningful; not only on the original conflagration that was that country's birth, but also on the flame it eventually kindled in the artist.

The brilliant strategist who would one day earn, or claim, the name L'Ouverture ("the opening") was born François Dominique Toussaint Bréda in 1743. Raised a slave on the Haitian plantation of his surname, he was educated, literate and by early adulthood, free. Due in part to his trusted position as carriage driver, he moved back and forth between the ebony and ivory worlds of the French colonists and their indentured workers, honing people skills that contributed significantly to Haiti becoming not only the first country in the Western Hemisphere to abolish slavery but also the world's first black republic.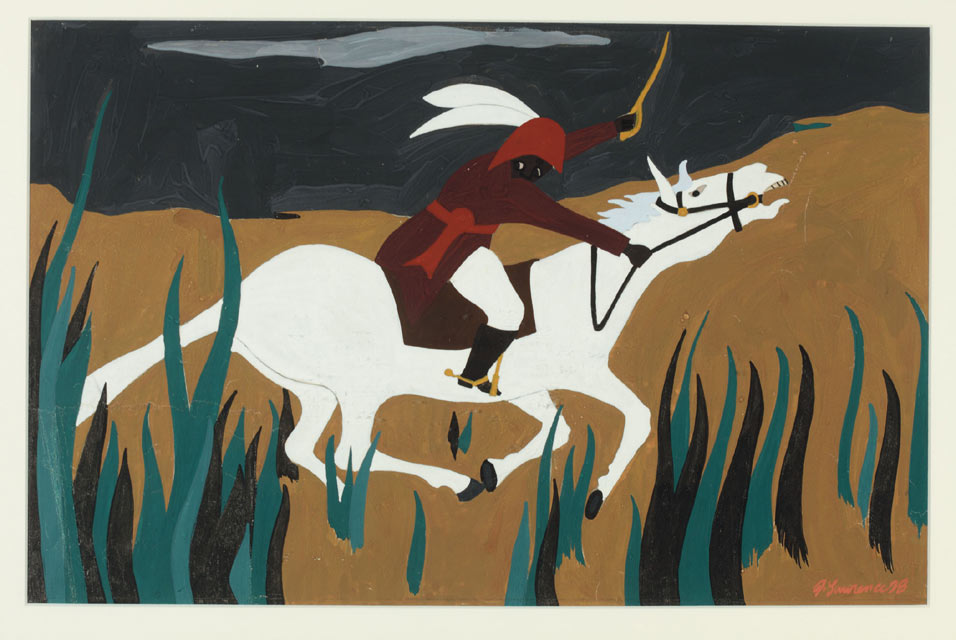 Using dramatic, cinematic perspectives, Lawrence constructs images from L'Ouverture's life that could be storyboards for a war film. The titles alone, such as Strategy (1994), The March (1995), The Capture(1987) and To Preserve Their Freedom (1988), suggest themes of gallantry and tempt us to romanticize times that try men's souls. (text Dallas Museum of Art)