Joe Minter: African Village in America: the amazing fabrications he has raised to fill almost every square foot of his consolidated half-acre holding.
About:
BIRMINGHAM, Ala. — For a long time, Joe Minter managed to share a yard with his wife, Hilda, their two sons and 100,000 of their neighbors. His scruffy three-bedroom house filled up most of a small city lot, just up the hill from Martin Luther King Jr. Drive. But somehow he made it work.
When these souls began to cry out for their own lawn ornaments, however, he realized he would have to find more room.
Photo Randy Harris, NYT.
The sloping land to the south and west of Mr. Minter's dooryard belonged to the two historically black graveyards called Grace Hill and Shadow Lawn. "We are in the presence of about 100,000 African ancestors," Mr. Minter will tell visitors who drop by on a Sunday morning. These are the emancipated slaves and farmers and steelworkers who made Birmingham: the muscle that built the "Magic City."
The dead weren't going anywhere, but the rest of the neighborhood was thinning out, Mrs. Minter said. Some homeowners died off; others drove north and never came back. So the Minters began scouting for more property. "We bought 50 feet from Pastor McMary, from New York," she said.
Mr. Minter said: "We tore this one down next door with nothing but a circular saw. I did it, mostly. I had a boy to help a little bit."
He added: "It just went down. Everything in Birmingham is going down."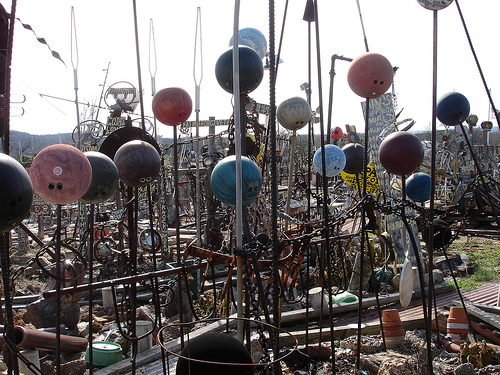 One obvious exception would be what Mr. Minter calls the African Village in America, and the amazing fabrications he has raised to fill almost every square foot of his consolidated half-acre holding.
It is, by some reckonings, one of the nation's most extraordinary and least-known sculpture gardens. Here's a room-size re-creation of the Birmingham jail cell that held Martin Luther King Jr., surrounded by six concrete Dobermans.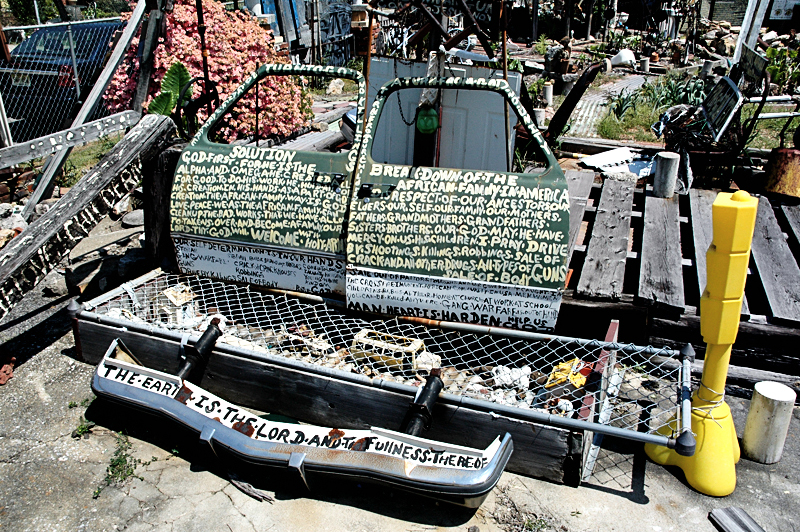 There's a monument to those murdered at Sandy Hook Elementary, including 26 pairs of flea-market shoes ("I got them for a pretty good price," he said) and the raging rubber head of Jesse Ventura.
And everywhere else is welded iron and hand-painted biblical signage and bric-a-brac to overrun a landfill. It seems all but inevitable that Mr. Minter will eventually raise a memorial to the Boston Marathon bombing, although the only clear patch of lawn lies behind the twin towers.
The African Village also stands among the most endangered art environments: Mr. Minter serves as the site's artist in residence, curator, docent and groundskeeper, and he just turned 70.
His installation represents one of the last great "yard shows" in Alabama, said Emily Hanna, curator of the African and American collections at the Birmingham Museum of Art. This coinage describes the culturally distinct and sometimes visionary home displays of the South.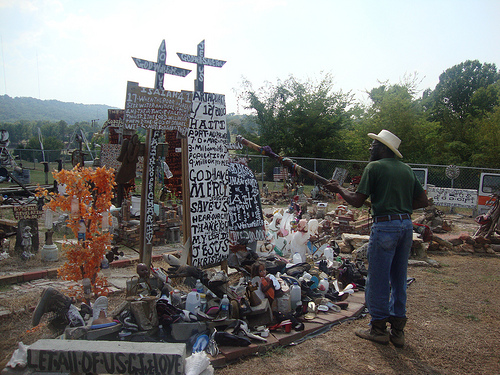 Artists like Mr. Minter, she said, emerged "during that transition of coming out of sharecropping and doing a variety of jobs during Jim Crow." Now, Dr. Hanna added, "that snapshot of life in often rural Alabama — that is leaving us."
Yet the African Village receives no grants, no institutional support and practically no publicity. The folks who make a pilgrimage to the Minters' little brick-faced house — maybe 300 in a year — come following rumors and stories and pictures on the Internet.
Still, to his mind, Mr. Minter is not alone. His yard show is a homeland for all 11 million Africans shipped off as chattel to the New World. And the pieces exist to tell their story over the centuries, from the griots and warriors of West Africa to the four girls murdered in the bombing at the 16th Street Baptist Church in 1963.
This year, Birmingham is commemorating the 50th anniversary of that tragedy and some of the signature events of the civil rights era. But for his part, Mr. Minter is in no mood for nostalgia. The local schools, he argues, are more segregated than ever. After a sewer-bonding boondoggle, the county is bankrupt. (Mr. Minter has fashioned a sculpture about this fiasco, too: rubble and a toilet bowl.)
When he is not in his yard, he keeps a kind of second home on the steps of the county courthouse. He reports there at least a few days a week with his usual kit: combat boots, a red construction helmet that reads "God Loves Peace" and a hand-lettered sign. His latest cause is the partial shuttering of the public hospital called Cooper Green Mercy, which he credits with saving his wife's life after a stroke and kidney disease.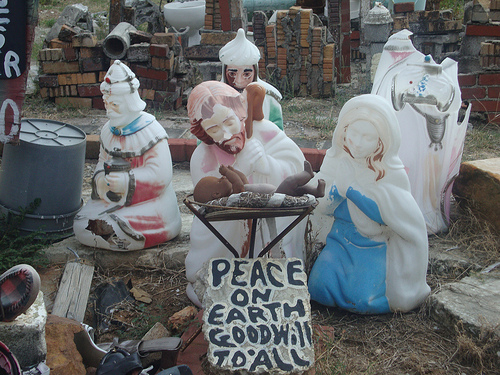 "A man's got obligations," he said. Which is different from having hope.
For a while now, Mr. Minter has been convinced that the nation is sitting the wrong way on a donkey, mistaking the hindquarters for the head. "We didn't move forwards," he said. "We moved backwards." (part of the article -Scrap-Iron Elegy, April 24, 2013, House Proud, By MICHAEL TORTORELLO in the New York Times)