Juan Roberto Diago, till May 5, at the Ethelbert Cooper Gallery of African & African American Art, Hutchins Center, 102 Mount Auburn St., Boston
Autorretrato (self-portrait), 2000, courtesy the artist and Magnan Metz Gallery.
About:
Slavery is in Cuba's past, but, as in the United States, its legacy continues.
That is the ongoing career theme of mixed-media artist Juan Roberto Diago, who will exhibit 25 pieces in "Diago: The Pasts of This Afro-Cuban Present," a career retrospective at the Ethelbert Cooper Gallery of African & African American Art.
"There was a cultural legacy imposed on this country and a lot of bad thinking has been carried over," said the artist, speaking by phone from Havana, through translator Gabriela Herrara. Using his pieces — which are of paint and found objects, often including construction material — he "tries to talk about the legacy of slavery and how it continues, going into our days."(quote from Harvard Gazette, January 27, 2017, by Clea Simon)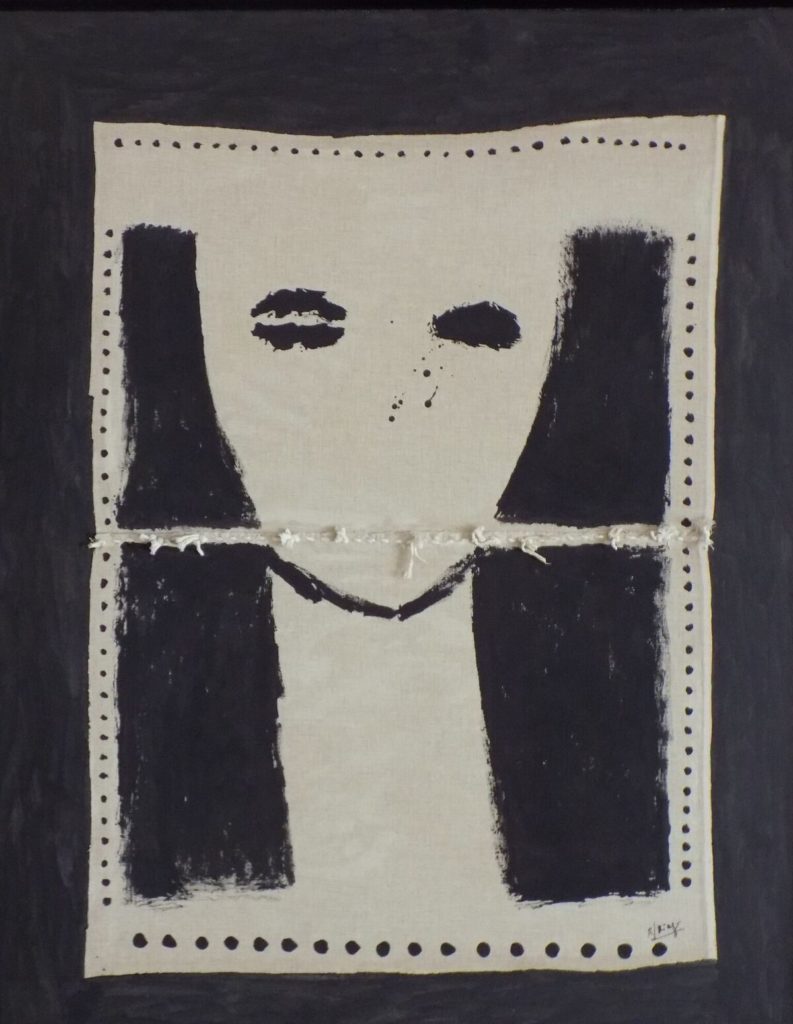 Sin Titulo (Untitled) 2011, private collection.
"It's very important to show, to as broad a public as possible, that artistic creativity is plural. In the world today, the West is presented as a singular paradigm. That vision of a "unique world" is not true. There are other visions, other knowledge. The vision of the Afro-diasporic culture is more than masks, more than drums, more than big breasts or buttocks. It's more than a skin color. A space like this allows the possibility of expressing ourselves, in our own voice." (from website Cuban Art News, January 2017)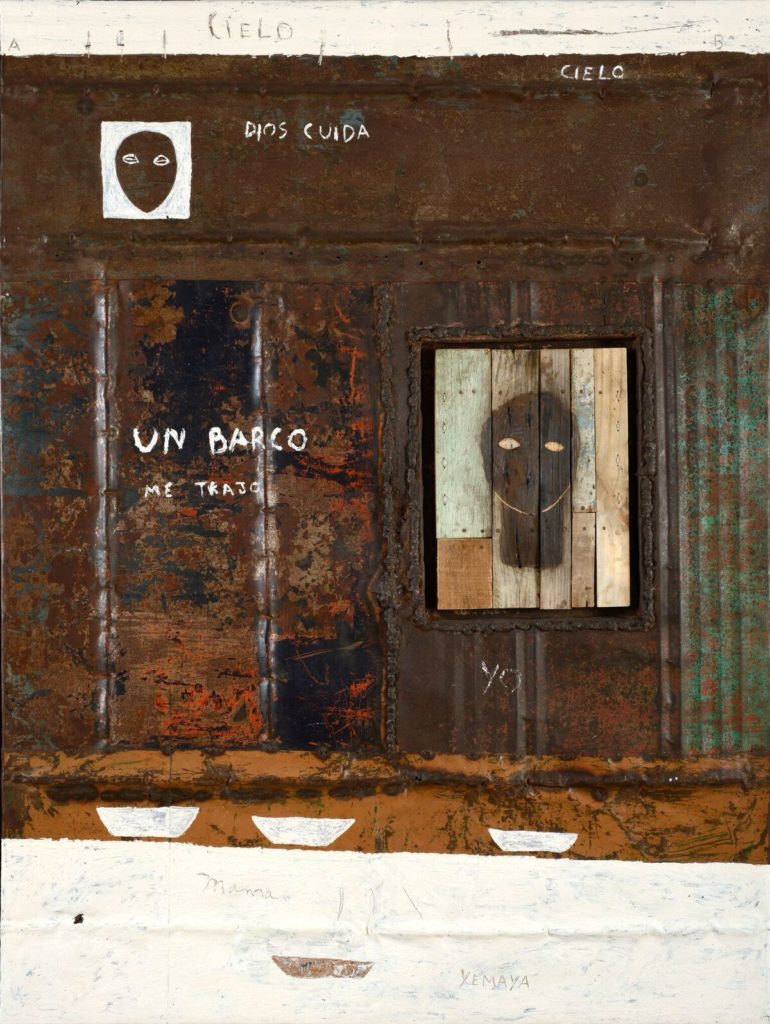 Un Pedazo de Mi Historia (A piece of my history), 2003, private collection.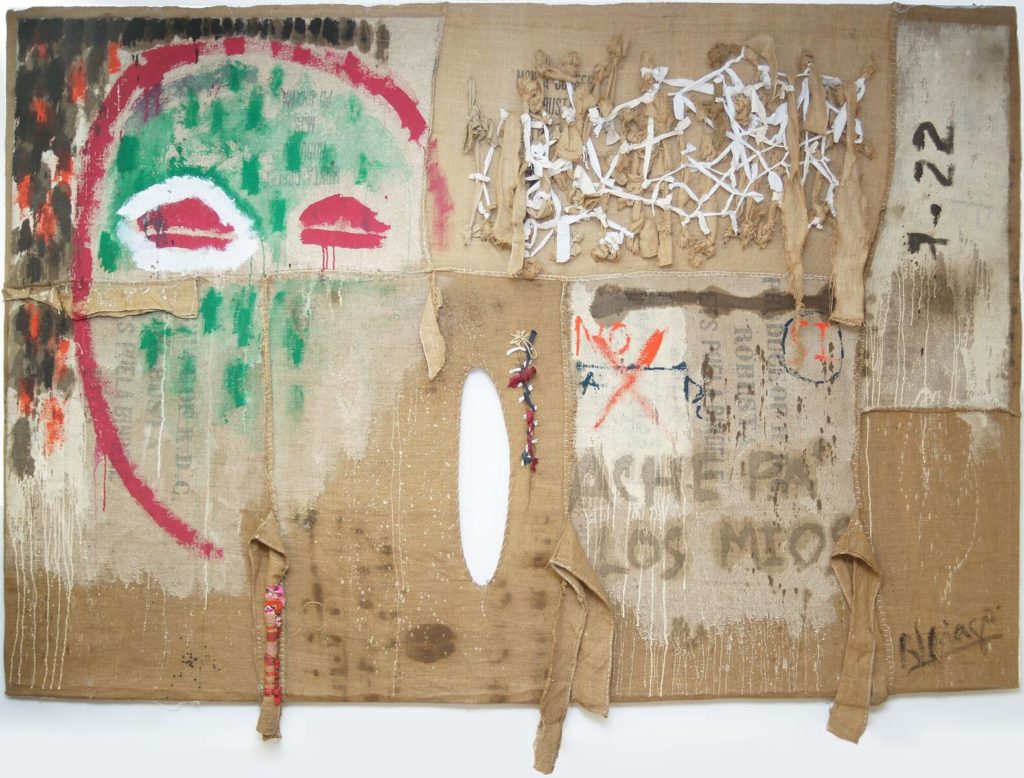 Aché Pa los Mios (Aché for my people), 1999, courtesy Cernuda Arte.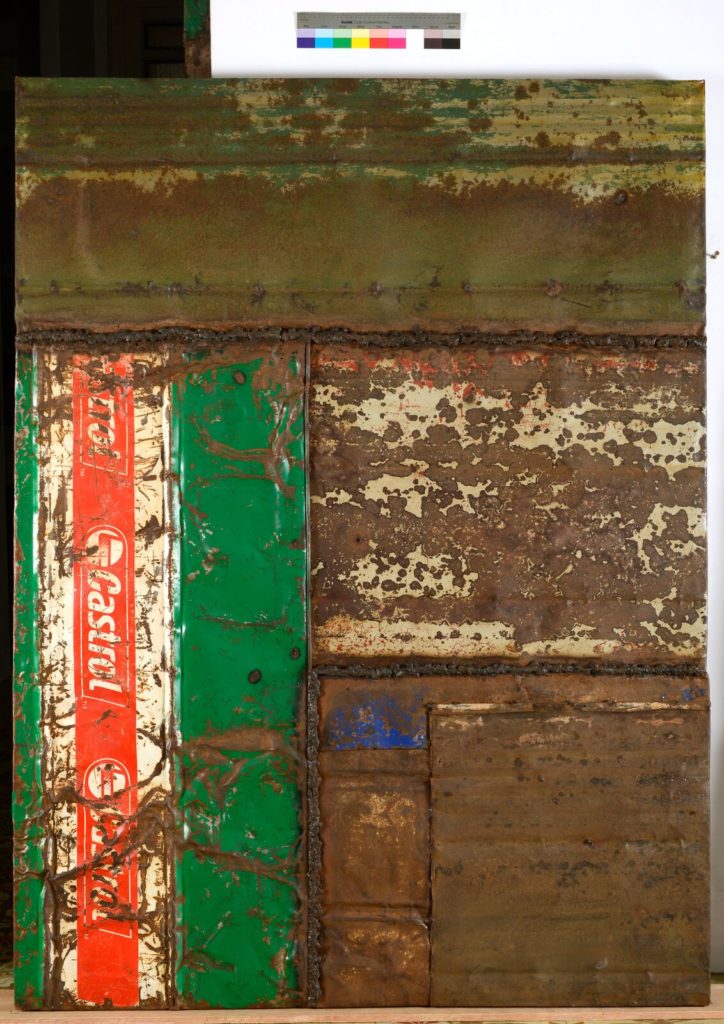 De la serie Variaciones de Oggun no. 1, 2013, courtesy artist and Magnan Metz Gallery.
The Book
Diago, The Pasts of This Afro-Cuban Present, Alejandro de la Fuente
A leading member of the new Afro-Cuban cultural movement, visual artist Juan Roberto Diago (b. 1971) has produced a body of work that offers a revisionist history of the Cuban nation. His "history"—a term he frequently inserts in his works using the visual language of graffiti—is not the official narrative of a racially harmonious nation, built thanks to the selfless efforts of generous white patriots. Diago's Cuba is a nation built on pain, rape, greed, and the enslavement of millions of displaced Africans, a nation still grappling with the long-term effects of slavery and colonialism. To him, slavery is not the past, but a daily experience of racism and discrimination. Africa is not a root, but a wellspring of cultural renovation and personal affirmation, the ancestors that sustain him in his journey.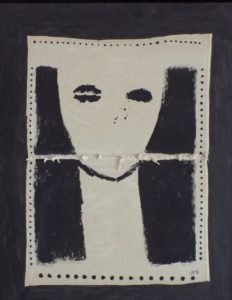 Cover of the book.
In the first examination of Diago's creative work during his entire career, Alejandro de la Fuente provides parallel English- and Spanish-language text, illustrated throughout. The book traces Diago's singular efforts to construct new pasts—the pasts required to explain the racial tensions of contemporary Cuba and the pasts of this Afro-Cuban present.