Kara Waker (1969)
Christs Entry into Journalism, 2017
About:
New York-based artist Kara Walker is best known for her candid investigation of race, gender, sexuality, and violence through silhouetted figures that have appeared in numerous exhibitions worldwide.
Born in Stockton, California in 1969, Walker was raised in Atlanta, Georgia from the age of 13. She studied at the Atlanta College of Art (BFA, 1991) and the Rhode Island School of Design (MFA, 1994). She is the recipient of many awards, notably the John D. and Catherine T. MacArthur Foundation Achievement Award in 1997 and the United States Artists, Eileen Harris Norton Fellowship in 2008. In 2012, Walker became a member of the American Academy of Arts and Letters. In 2015, she was named the Tepper Chair in Visual Arts at the Mason Gross School of the Arts at Rutgers University. Her work can be found in museums and public collections throughout the United States and Europe including The Solomon R. Guggenheim Museum, New York; The Museum of Modern Art, New York; The Metropolitan Museum of Art, New York; The Tate Gallery, London; the Museo Nazionale delle Arti del XXI Secolo (MAXXI), Rome; and Deutsche Bank, Frankfurt.
Walker's major survey exhibition, Kara Walker: My Complement, My Enemy, My Oppressor, My Love, was organized by The Walker Art Center in Minneapolis where it premiered in February 2007 before traveling to ARC/ Musée d'Art moderne de la Ville de Paris; The Whitney Museum of American Art in New York; The Hammer Museum in Los Angeles; and the Museum of Modern Art in Fort Worth. Recent solo exhibitions have been presented at the Art Institute of Chicago; Camden Arts Centre in London; and Metropolitan Arts Center (MAC) in Belfast.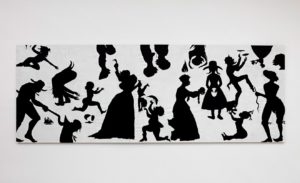 Slaughter of the Innocents They Might be Guilty of Something, 2017
During the spring of 2014, Walker's first large scale public project, a monumental installation entitled A Subtlety: Or… the Marvelous Sugar Baby an Homage to the unpaid and overworked Artisans who have refined our Sweet tastes from the cane fields to the Kitchens of the New World on the Occasion of the demolition of the Domino Sugar Refining Plant, was on view at the abandoned Domino Sugar refinery in Williamsburg, Brooklyn. Commissioned and presented by Creative Time, the project – a massive sugar covered sphinx-like sculpture – responded to and reflected on troubled history of sugar.
As a special project of the 2015 Venice Biennale, Walker was selected as director, set and costume designer for the production of Vincenzo Bellini's Norma at Teatro La Fenice, Venice, Italy.(text website artist)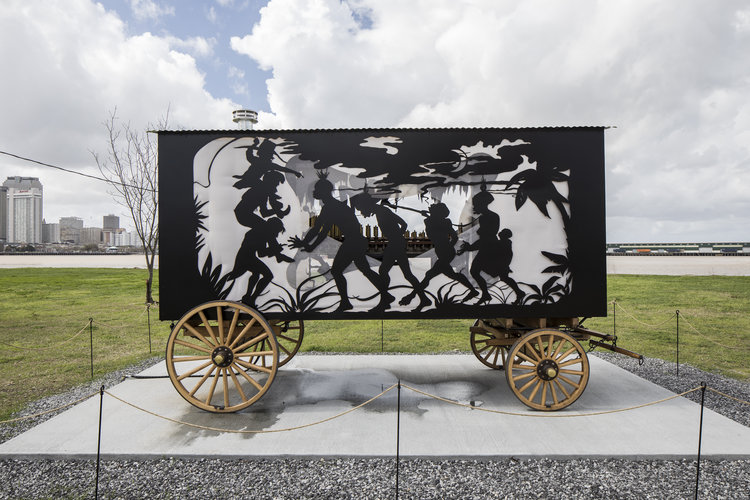 The Katastwof Karavan, 2018. Photo:
"Walker attended the Atlanta College of Art with an interest in painting and printmaking, and in response to pressure and expectation from her instructors (a double standard often leveled at minority art students), Walker focused on race-specific issues. She then attended graduate school at the Rhode Island School of Design, where her work expanded to include sexual as well as racial themes based on portrayals of African Americans in art, literature, and historical narratives. Walker, an expert researcher, began to draw on a diverse array of sources from the portrait to the pornographic novel that have continued to shape her work. Other artists who addressed racial stereotypes were also important role models for the emerging artist. While still in graduate school, Walker alighted on an old form that would become the basis for her strongest early work. Widespread in Victorian middle-class portraiture and illustration, cut paper silhouettes possessed a streamlined elegance that, as Walker put it, "simplified the frenzy I was working myself into."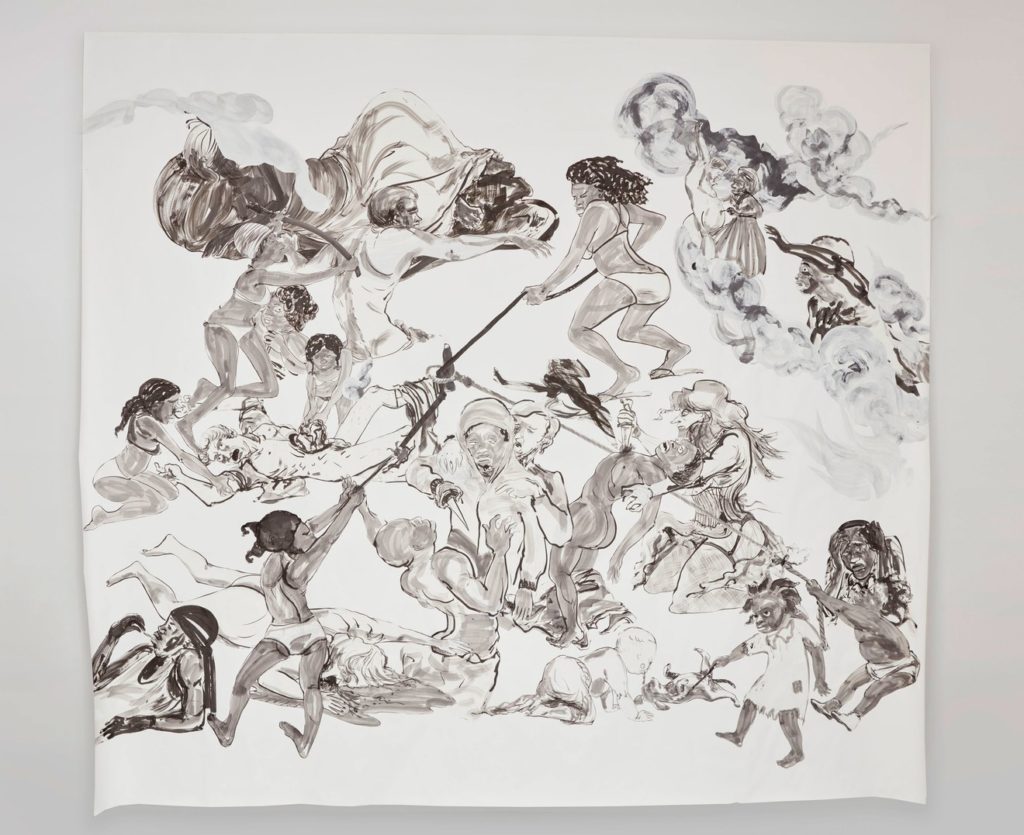 The Pool Party of Sardanapalus (after Delacroix Kienholz), 2017
Walker's first installation bore the epic title Gone: An Historical Romance of a Civil War as It Occurred Between the Dusky Thighs of One Young Negress and Her Heart (1994), and was a critical success that led to representation with a major gallery, Wooster Gardens (now Sikkema Jenkins & Co.). A series of subsequent solo exhibitions solidified her success, and in 1998 she received the MacArthur Foundation Achievement Award. Despite a steady stream of success and accolades, Walker faced considerable opposition to her use of the racial stereotype. Among the most outspoken critics of Walker's work was Betye Saar, the artist famous for arming Aunt Jemima with a rifle in The Liberation of Aunt Jemima (1972), one of the most effective, iconic uses of racial stereotype in 20th-century art. Nonetheless, Saar insisted Walker had gone too far, and spearheaded a campaign questioning Walker's employment of racist images in an open letter to the art world asking: "Are African Americans being betrayed under the guise of art?" Walker's series of watercolors entitled Negress Notes (Brown Follies, 1996-97) was sharply criticized in a slew of negative reviews objecting to the brutal and sexually graphic content of her images. Saar and other critics expressed concern that the work did little more than perpetuate negative stereotypes, setting the clock back on representations of race in America. Others defended her, applauding Walker's willingness to expose the ridiculousness of these stereotypes, "turning them upside down, spread-eagle and inside out" as political activist and conceptual artist Barbara Kruger put it.
The Root The Demise of the Flesh The Immortal Negress, 2018
Mature Period
Walker, still in mid-career, continues to work steadily. Despite ongoing star status since her twenties, she has kept a low profile. In 1996 she married (and subsequently divorced) German-born jewelry designer and RISD professor Klaus Burgel, with whom she had a daughter, Octavia. Interviews with Walker over the years reveal the care and exacting precision with which she plans each project. They also radiate a personal warmth and wit one wouldn't necessarily expect, given the weighty content of her work. When an interviewer asked her in 2007 if she had had any experience with children seeing her work, Walker responded "just my daughter… she did at age four say something along the lines of 'Mommy makes mean art.'"
Recent projects include light and projection-based installations that integrate the viewer's shadow into the image, making it a dynamic part of the work. Walker's most ambitious project to date was a large sculptural installation on view for several months at the former Domino Sugar Factory in the summer of 2014. As a Professor at Columbia University (2001-2015) and subsequently as Chair of the Visual Arts program at Rutgers University, Walker has been a dedicated mentor to emerging artists, encouraging her students "to live with contentious images and objectionable ideas, particularly in the space of art."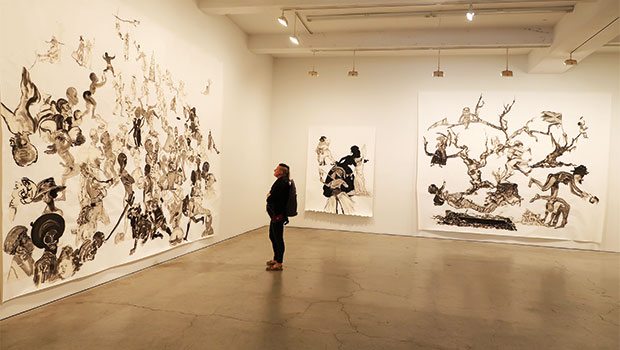 Installation view, 2017 (Sikkema Jenkins & Co)
Legacy
Fierce initial resistance to Walker's work stimulated greater awareness of the artist, and pushed conversations about racism in visual culture forward. In 1998 (the same year that Walker was the youngest recipient ever of the Macarthur "genius" award) a two-day symposium was held at Harvard, addressing racist stereotypes in art and visual culture, and featuring Walker (absent) as a negative example. Rising above the storm of criticism, Walker always insisted that her job was to jolt viewers out of their comfort zone, and even make them angry, once remarking "I make art for anyone who's forgot what it feels like to put up a fight." In 2007, TIME magazine featured Walker on its list of the 100 most influential Americans. In 2008 when the artist was still in her thirties, The Whitney held a retrospective of Walker's work. Though Walker herself is still in mid-career, her illustrious example has emboldened a generation of slightly younger artists – Wangechi Mutu, Kehinde Wiley, Hank Willis-Thomas, and Clifford Owens are among the most successful – to investigate the persistence and complexity of racial stereotyping." (text website The Art Story)
Courtesy: Sikkema Jenkins & Co, New York