Keith Duncan
Requiem from Nola 7, 2020
About:
The origins in my art is narrative and my images with familiar signifiers embodies everything that is unique, diverse, and "creolized" in the manner of storytelling. Undoubtedly, I am a storyteller signifying the human condition in the old South, most importantly, in a post-Katrina era. I paint about my environment around me. My works are discoveries and a creative process from the 'autobiography becoming the iconography' and in search of seeing the image as a new invention or archetype. Within my vernacular I want to produce a distinct language that has literature, poetic or narrative in content. For the most part, in my style of work I am a surrealist at heart.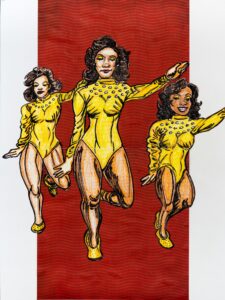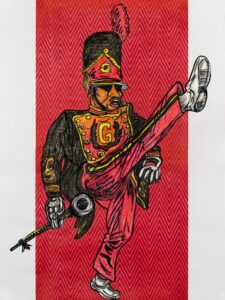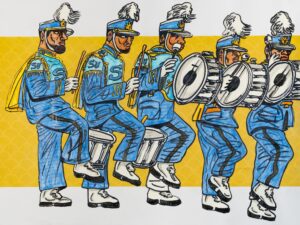 Grambling State University Dance Team 1, 2020/Grambling State University Drum Major, 7 , 2020/Southern Drum Line 1, 2020
Keith Duncan was born in Plaquemines Parish, Louisiana in 1967. He received a BFA from Louisiana State University, and an MFA from Hunter College (CUNY) New York, NY. The CUE Arts Foundation New York presented a solo exhibition of his work, followed by inclusion of all works from the exhibition in Prospect.2 by curator Dan Cameron. Further solo exhibitions include the Ohr-O'Keefe Museum of Art in Biloxi, Mississippi and Corridor Gallery, Brooklyn, NY. Duncan was included in Thelma Golden's "Black Romantic" exhibition at the Studio Museum in Harlem in 2002. Further selected group exhibitions include the Ogden Museum of Southern Art in New Orleans, LA, Paul and Lulu Hilliard University Art Museum in Lafayette, LA, Art in General, David Beitzel Gallery, Rush Arts Gallery, Williamsburg Music Center, Brooklyn, NY, Bronx River Arts Center, The Museum of Contemporary Art, Pontiac, MI, Tustin Center, Philadelphia, PA, and the Artist Center & Gallery, Richmond, VA. Duncan is included in the permanent collections of the Ogden Museum of Southern Art and the New Orleans Museum of Art. His awards include the Camille Cosby Fellowship, The Joan Mitchell Foundation Grant, and in 2001 his work was commissioned for NASA. Residencies include Skowhegan School of Painting & Sculpture, Skowhegan, ME. Duncan has taught art for over twenty years in New York and New Orleans. Duncan currently resides in New Orleans and is represented by Fort Gansevoort, New York.