Ken Gonzales-Day: Shadowlands
Hands Up, 2015, courtesy the artist and Luis de Jesus Gallery, LA
About:
(text and images as published last year because of his exhibition at Minnesota Museum of American Art)
Ken Gonzales-Day is an interdisciplinary artist whose practice considers the historical construction of race. He supplements his photographs with research and writing that engage critically with history, art history, and Western conventions of race, blending historical tragedies with current events. Using photography and video, he explores trauma and resistance as experienced and embodied by racially oppressed populations in the U.S.
This exhibit will be a concise survey of the artist's career, including works from the Erased Lynching, Searching for California Hang Trees, and Run Up series. His most recent work draws parallels between historical lynchings and high profile cases of police brutality affecting communities of color today. The core of the Run Up series is a cinematic restaging of the 1920 lynching of Charles Valento. Utilizing details drawn from the coroner's report and his own archival research, Gonzales-Day chose to focus on this particular event in order to draw attention to the police presence at the scene that tacitly condoned the extralegal violence.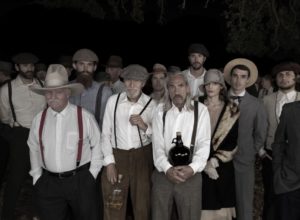 Run Up Group, courtesy the artist and Luis De Jesus Gallery, LA
A survey of Gonzales-Day's work brings up one of his most poignant questions: What is the difference between collective resistance and racially motivated violence? It is a question being asked after recent tragic events in cities around the country, such as Ferguson and Los Angeles, as well as St. Paul and Minneapolis. By presenting historical occurrences in conjunction with contemporary events Gonzales-Day collapses the historical distance and exposes the unchanging reality of racialized violence in the United States. Exploring the dichotomy between presence and absence, Gonzales-Day draws attention to the selective vision of American history and the perception of people of color as expendable. He combines scholarly research and a photo-journalistic sensibility with rich aesthetics to create jarringly haunting portraits of historical trauma present in both the people and the land of the United States.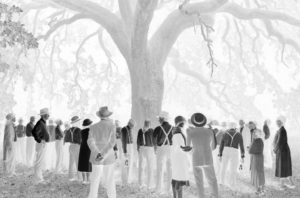 The Lynching of Spanish Charlie, Santa Rosa, CA, 2016
Born 1964, Santa Clara, CA, Lives and works in Los Angeles
Ken Gonzales-Day's interdisciplinary and conceptually grounded projects consider the history of photography, the construction of race, and the limits of representational systems ranging from the lynching photograph to museum display. The Searching for California Hang Trees series offered a critical look at the legacies of landscape photography in the West while his most recent project considers the sculptural depiction of race. Using the sculpture and portrait bust collections of several major museums including: The J. Paul Getty Museum, The Field Museum, The Museum of Man in San Diego, L'École des Beaux-Arts in Paris, The Bode Museum, and Park Sanssouci in Potsdam, Profiled is as an exploration of the influence of eighteenth century "scientific" thought on twenty-first century institutions ranging from the prison to the museum. His Photo Arts Council (PAC) Prize winning book, Profiled, was published in 2011 by the Los Angeles County Museum of Art (LACMA).
Prominent collections include Getty Research Institute; Los Angeles County Museum of Art; Smithsonian American Art Museum; Art Gallery of New South Wales, Sydney; Santa Barbara Museum of Art; Eileen Norton Harris Foundation; L'École des Beaux-Arts, Paris; and Museum National d'Histoire Naturelle, Paris; Williamson Gallery, Scripps College; Pomona College Museum of Art; City of Los Angeles.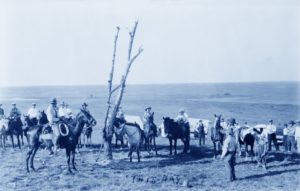 This Day (re-enactment of a lynching , McCook, SD, 1925) from the erased lynching series,2006

Sikeston, MO (CleoWright) from the erased lynching series, 2013
Ken Gonzales-Day earned his MFA from the University of California, Irvine and an MA from City University of New York, New York. He received his BFA from Pratt Institute, Brooklyn, New York, and also attended St. Luc: L'École des Arts Plastique, Liége, Belgium. Gonzales-Day lives and works in Los Angeles, and is professor of art at Scripps College, Claremont, CA. He is the recipient of numerous awards and honors, including a 2017 Guggenheim Fellowship in photography; the first LACMA Photo Arts Council (PAC) Prize, Creative Capital Award; Chercheur Accueilli, Institut National d'Histoire de l'Art (INHA); COLA (City of Los Angeles) Individual Artist Award; Art Matters Grant; California Community Foundation/Getty Trust Mid-Career Award; Durfee Fondation ACG; Graves Award for the Humanities; Visiting Scholar/Artist-in-Residence, Getty Research Institute; Senior Fellow, American Art Museum and National Portrait Gallery of the Smithsonian Institution; Fellow, Rockefeller Foundation Study and Conference Center, Bellagio, Italy; and, Van Lier Fellow, ISP (Independent Study Program), Whitney Museum of American Art, among others.