Kery James Marshall, Better Homes, Better Gardens, 1994.
Kerry James Marshall: painting and other stuff
June 13 – October 26, 2014
Palacio de Velázquez, Parque del Retiro, Madrid.
Kerry James Marshall: painting and other stuff is the first major presentation in Europe of the work of this American artist (Birmingham, Alabama, 1955). Marshall is the author of an important body of figurative work in which he explores the themes of identity – national, gender, and especially racial identity – in an attempt to contextualize the Afro-American experience in today's sociopolitical situation. The artist denounces what he calls art history's "lack in the image bank," a lack that calls into question existing legitimation systems. But his painting goes beyond that, it is also affirmative, technically complex and bold in the invention of new images that do their part to fill the void, finding inspiration both in popular culture – film and comics particularly – and in art.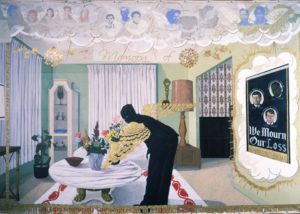 Souvenir, 1997.
Organized by:
M HKA (Antwerp), Kunsthal Charlottenborg (Copenhagen), Fundació Antoni Tàpies (Barcelona) and Museo Nacional Centro de Arte Reina Sofia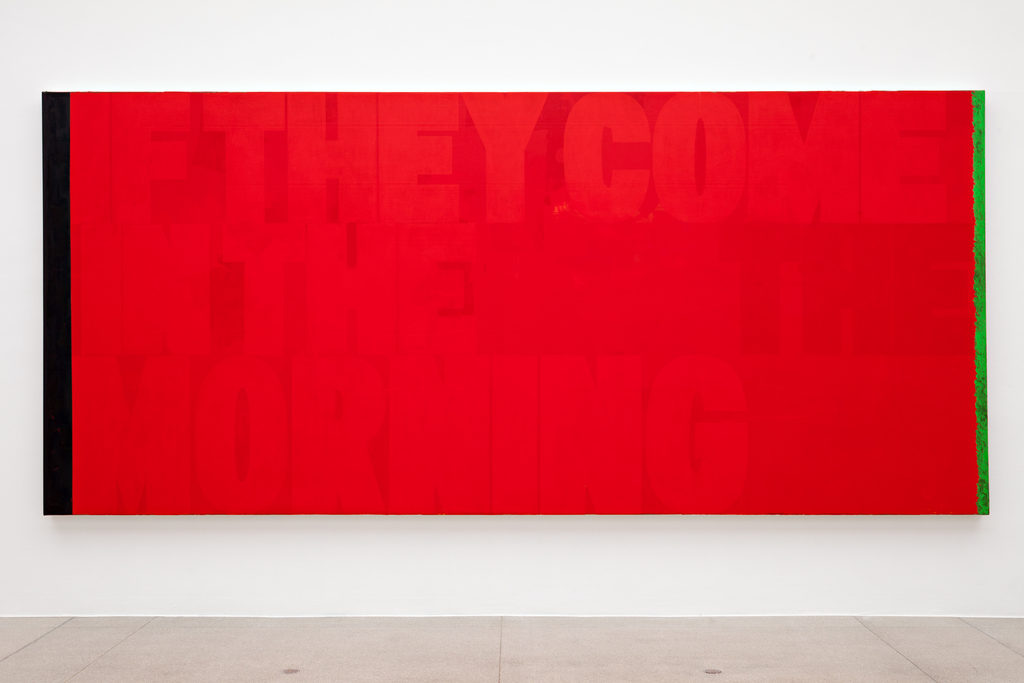 Who is afraid if they come, 2012.
13 June, 2014 – 7:00 p.m.
Encounter with Kerry James Marshall
Edificio Nouvel, Auditorio 200
The work of Kerry James Marshall (Birmingham, Alabama, 1955), one of the most preeminent American artists of his generation, approaches, with intense complexity and heterogeneous languages and mediums – figurative and abstract painting, as well as photography, installation, video, sculpture and comics – themes that revolve around history, the social situation and the public image of Afro-American culture.
Marshall calls into question the canon of the history of Western art and the mechanisms of legitimation that operate within it. Through experimentation with the conventions of representation, his work is presented as an intellectual exercise of analysis concerned with aspects of subordinate identity and the space of the black subject, both in the current social context and in official history. Thus, images of themes such as Pan-Africanism, colonialism and the Civil Rights Movement are constructed or recontextualised by drawing attention to the void that exists in the canonical history and conditions of reception.
In this encounter Kerry James Marshall introduces his own work, along with the exhibition Kerry James Marshall: Painting and Other Stuff (13 June  – 26 October, 2014), one of the most expansive selection of works devoted to an artist with very few exhibitions in Europe to date.
Lost Boy AKA Black Johnny, 1995.
Courtesy Jack Shainman Gallery New York.