Khadija Saye (from the Dwelling Series)
About:
Khadija (1993-2017) was a talented photographer, and her images, Dwelling: In This Space We Breathe, are currently on display at the prestigious Venice Biennale art fair as part of the Diaspora Pavilion, until November 26. It was late last year that she won the competition to be exhibited at the Biennale and mentored by artist Almudena Romero. The Pavilion itself has been conceived and curated by David A Bailey and Jessica Taylor as a "coming-together of 19 artists whose practices in many ways expand, complicate and even destabilise diaspora as term".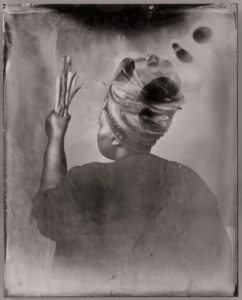 The photos, which were made using an old-fashioned process called collodion tintype, are a mixture of monochrome, grey-toned self-portraits – sometimes uncomfortable, dramatic and slightly sensual. All conjuure up associations with colonialism – of course, you can't look at seemingly 'ancient' portraits of black women without thinking about our traumatic history. Khadija herself said the series focuses on "spirituality that transcends specific religions". In one image, she partakes in a ritual using Gambian artefacts – a tééré amulet and cow horn.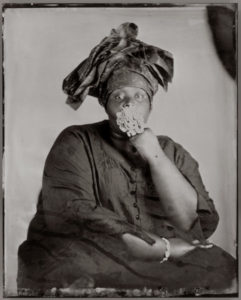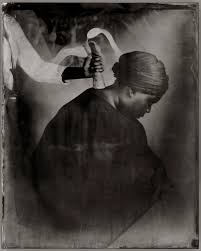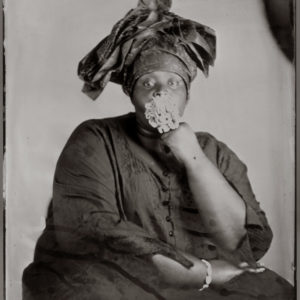 Khadija grew up in London with her Gambian mother Mary Mende and had lived in Grenfell Tower for a number of years. She went to a local secondary school in west London before winning a scholarship to the £11k-a-year Rugby School, where she completed sixth form. Lou Johnson, one of her best friends of seven years, says the artist was born in the UK but did spend a few years living outside of the country in Gambia. They met during the first week of their course at UCA Farnham, where they were both studying (19June 2017, Text quotes: Charlie Brinkhurst-Cuff)