Super Coated.
About:
Khaya Sineyile (1983) is a primarily self-taught artist. Born in New Crossroads township in Nyanga, Cape Town, he attended the Arts and Media Centre (AMAC) from 2004 to 2005 and was selected as a residency artist at Greatmore Studios in 2009.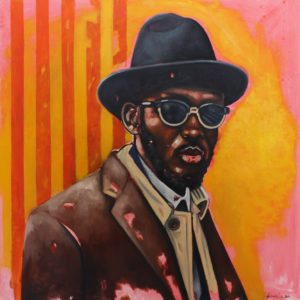 Tycoon.
With his recent work, Sineyile takes issue with the far-reaching effects of social inequality, particularly on the South African family structure. Using common household objects in juxtaposition with his single subjects, he gives a voice to the voiceless, creating discussion around family issues often kept secret, such as paternity and child grants.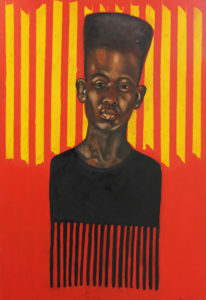 Xenophobia.
Earlier paintings deal with the uMama Bebhatyi of the local Wesleyan Methodist Church. These 'Mothers of the Jacket' are church elders, recognisable by their uniform, dominated by the bright red jacket which signifies the blood of Christ, worn with a black skirt symbolizing sin, and a white hat signifying the purity of the woman. Sineyile explores how dedicated church members often fail to practise what they preach. Issues of hypocrisy, ruthless ambition, faction-fighting and witchcraft – in the context of the clash between traditional culture and Christian beliefs – are depicted with stylised, cartoon-like edges, which add an element of playfulness to these loaded images.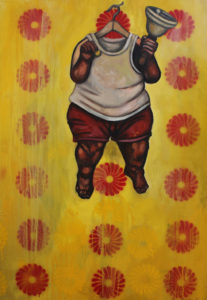 The Decision Maker.
His work forms part of both private and public collections such as Truworths , Nando's in London, Spier in Stellenbosch, Groote Schuur Hospital and Hollard Insurance.