Larry Amponsah, Painting, Abraaj RCA Innovation Scholar 2016 – 2018
The Monkeys are still the same, 2017
About:
Larry Amponsah identified as an artist from an early age. He views art as a tool to help himself and others; to take a stand against racial, religious and economic problems. Larry believes many talented young artists in Ghana are discouraged from pursuing a career in art due to the lack of educational and financial investment.
Larry wants to change the perception of art and artists in Ghana and encourage increased patronage for the arts. Through his experience at the RCA, he aims to inspire other African artists and develop spaces for art practice and exploration.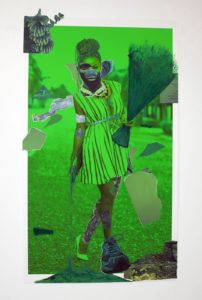 Untitled, 2017.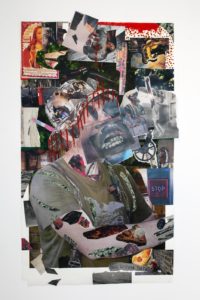 Untitled, 2017.
In Conversation with Larry
Q: Tell us about your background.
A: I am a Ghanaian, from Kumasi in the Ashanti Region originally. I'm a contemporary artist using collage as my point of departure in my practice.
Q: Can you describe your sources of inspiration for your art?
A: I draw a lot of inspiration from my cultural background, the Traditional African sculptures, political events, history, Western and African philosophy, daily phenomenon occurrences, etc.
Q: How did you begin your artistic practice and how does your culture influence your creative process?
A: Like other Ghanaian artist I began my practice at a very young age studying the basic elements and principles of drawing and painting my school. Interestingly, I considered myself as an artist at that time because I could harmoniously apply those elements and principles well to make compositions that were aesthetically pleasing to eye… Funny enough, this was far from the truth about artists and what they do (Art), I realized how wrong I was when I started my BFA program in Painting at the Kwame Nkrumah University of Science and Technology (KNUST), Kumasi, where I was taught to see that Art wasn't only about skills and technicalities but also has to do with intelligence, expanding ones thinking ability – through research and the processes of making – in a very philosophical and poetic manner, making strong choices to define where you stand as an individual in this world and also making people understand the importance of your choices and the need for them to follow the choices made in order to make them stand as a collective. This awareness had and continues to have profound impact in my practice as an artist. Also, the understanding of the Ghanaian people, their approach to issues and events and their response to them are my strong source for reference.

Into Utopia, 2017.
Q: What themes do you focus on?
A: I use the Ghanaian cultural background as a strong source of reference to construct ideas that are radical and boundary-breaking, to deal with issues on a global platform; be they political, social, economic and religious. For me, it is important to constantly find new and inventive ways to liquefy these solid structures that are considered to be our Culture or Tradition.
I have been experimenting also with the processes use in developing my work – the introduction of monochromatic color into the compositions and the idea of ripping gives spontaneity to the contours of the irregular shapes of the fragments that are subtracted from and added to my compositions. The ripple fragments brought together are not just found scraps but made scraps as they look playful but are deliberately constructed.
Q: How has the RCA MA degree helped you develop your artistic practice? Are there any particular mediums that you are excited to work with in the coming year?
A: I am excited to work with discarded objects and cheap objects to make costumes, and also work with homeless people (who will be paid to perform in the costumes). The works have grown through great tutorials, instrumental critiques and influences from other students at the RCA to attain importance and special attention as they challenge the history of collage and extend the idea of collage making through contemporary technologies (ie lab colours in Photoshop, the use of inkjet printing machines and techniques and the clever use of paints on collage). In short, they are acquiring their own positions in terms of where they stand in the history of collage as I also continue to grow in accepting my fears and doubts by embracing the failures that come my way.
Q: Can you tell us about diversity within the Abraaj RCA scholars' community and how this has impacted on you?
A: The diversity in the Abraaj Scholars has really exposed me to a lot of things as I have engaged in some few projects with Rhine, discuss art issues with Sadhvi and others a lot. We exchange information and influence each-other, which is a very good way to build a tight bond in the art community we all form part of.(text RCA Innovation Scholarship Organisation)