When he left (the Edna Manly College in) Jamaica, he knew he wanted to support the creativity of young people in particular and give them the opportunity to be self-sufficient. He knew he had to come up with projects that do justice to the Maroon culture. In doing so, he had to involve the population of the region as much as possible.
Rob Perrée writes about the remarkable work of the Surinamese artist Marcel Pinas
First published: April 5, 2022
Totem, 2009
MARCEL PINAS, MORE THAN AN ARTIST
It all started in 1997.
Marcel Pinas (1971, Pilgrim Kondre) was a young artist who developed his skills at the Nola Hatterman Institute in Paramaribo. His somewhat harmless drawings and watercolors of houses, people and landscapes were popular. They were very popular. "I was able to buy my car and even my house with it." It was tempting to continue on that successful path. He decided to take on a challenge without knowing exactly what it would be.
With a number of fellow artists, he had the opportunity to continue his education at the Edna Manley College for the Visual and Performing Arts in Kingston, Jamaica, a broad-based academy that promotes "the cultural diversity of the Caribbean". It was there, where he began to deal with deeper issues. "I was forced to think about my identity. Who am I, what does it mean to be a Maroon, what is the added value of that, in what way can I reflect that identity in my work." It was also there that he became acquainted with the work of international artists for the first time. "I was impressed by the paintings of Basquiat, of Twombly and also of De Koning."
When he left Jamaica, he knew he wanted to support the creativity of young people in particular and give them the opportunity to be self-sufficient. He knew he had to come up with projects that do justice to the Maroon culture. In doing so, he had to involve the population of the region as much as possible.
The big lines started to become visible.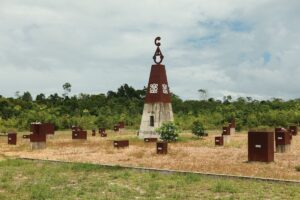 Moiwana Monument, 2007
The awareness of being a Maroon and of doing something with and for his people as an artist had already been stirred by previous events. In 1986 a personal conflict between army chief Desi Bouterse and guerrilla leader Ronnie Brunswijk grew into a civil war that would last almost 6 years. There were dozens of victims and many Maroons were forced to flee their village. The infrastructure of the area around Moengo – a town near the inland – was also destroyed. Thirty-eight people were killed in Pinas's native region. Because his parents sent him for proper education to the capital, where it was safe, he did not experience the fighting himself, but later he saw the disastrous consequences for the villagers, his people, but also for the Maroon culture, his culture.
In 2007 he would build an impressive monument inland, in Moiwana. He placed 38 columns on a barren field. To indicate the diversity of the victims – children, young people and adults – each victim was given his or her own height. Their names were written on the column in Afaka – the script of the people of Pinas, the Ndjuka. The tall column in the center symbolizes the Kibi, the patron of the community. "When we started the monument, the residents were suspicious. What are those artists doing here? Later they came to appreciate it. It became a symbol of the recognition that was so much needed."
In 2007 Pinas was admitted to the Rijksakademie in Amsterdam. "I didn't feel at home there at first. They didn't understand my visual language. I felt pressure to change it."
Ultimately, his time at the Rijks yielded a lot, because his thoughts and ideas about artistry and the role of Maroon culture in it took shape. The then director, Janwillem Schrofer, was open to it. "Together we developed the plans for what is now called the Moengo project." There had to be a building to give workshops to young people, there had to be a place where art can be seen. An artist in residency had to bring international artists to Moengo who should not only be willing to work with those young people, but also leave behind a work of art for a sculpture park to be set up. Every year a major project should be organized that would attract visitors from Paramaribo: music, dance and visual arts should alternate. Guest houses and a restaurant were supposed to bring tourists to the region. In all activities, the local population had to be given the opportunity to earn some money.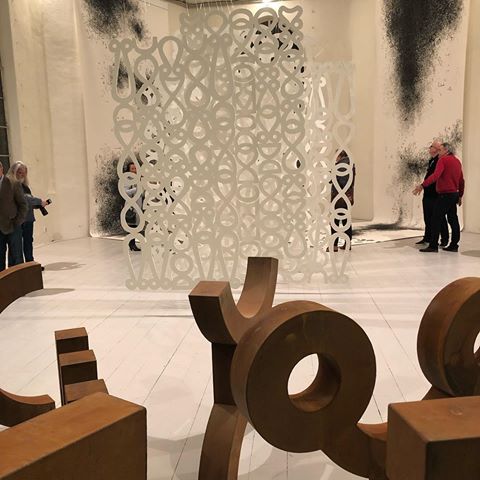 Tembe Afaka exhibition, Hotel Mariakape, Hoorn, 2018-2019 (detail).
At the Rijks, the foundation was laid for what was concretized in the following years in a building for workshops, the Tembe Art Studio, an organizing infrastructure, the Kibii Wi Foundation, in an abandoned shed to serve as Contemporary Art Museum Moengo (CAMM). and, not unimportantly, guaranteed support from Dutch funds. The plans were ambitious, and the day-to-day operation did not always conform to those ambitions, but Pinas knew thar would be the case.
Meanwhile, he made his own art. He does not find it difficult to find a balance between his own work and his work for the Moengo project. "I'm there three days a week. The other days I work in my studio. I incorporate what happens in Moengo in my paintings and installations. Moengo is in fact my largest installation. Moreover, I know that when I make a name for myself as an artist, I increase the attention for the Moengo project. It gives it status."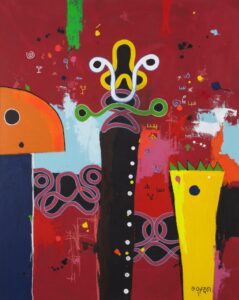 Lebi Kondee, 2010, collection Stedelijk Museum Amsterdam
Pinas makes paintings, drawings and installations. His paintings are a kind of collages in which visual elements that refer to the Maroon culture are brought together on a usually colorful background. They stand flat next to each other without perspective in an apparently random order. The work as a whole derives its strength from the interplay of multiple images. Afaka characters, patches of traditional textiles, totems, parts of boats, decorative shapes that have their origin in the decorative wood carvings with which Maroons embellish their homes and interiors, they all recur over and over again. Sometimes a painting emphasizes one of those elements. The Afaka script gets the most attention.
Pinas' visual language is clear to the Maroons, which is what he is aiming for, for the average viewer it is often an intriguing and seductive search for connections. In an interview he said that his paintings are a visualization of his memories of his carefree childhood. Because he applies the paint thickly and 'sloppy' and uses not only a brush but also a palette knife and his hands, the paintings sometimes rise from the wall and become almost wall sculptures.
His recent work seems to herald a change. The colored backgrounds make way for white surfaces. "An artist develops. Maybe I don't need those colors anymore," he says with a mysterious grin. The fact that he has been making large black-and-white drawings in recent years, often as part of an installation, may explain this development. In those drawings he plays with the letters of the Afaka script. For example, he makes them rotate, roll down on the pieces of paper and transform them from thin to bold. He changes them from language to imagery.
For Pinas, installations are a suitable medium to tell a story and closely involve the viewer. He can, as it were, draw the viewer into his space. The need for a story also has to do with his need to respond to abuses in his country, for example the pollution caused by the Brazilian gold miners in the Surinamese interior. He prefers to place his installations in the outdoor area so that everyone can see them, for example the stacked black oil barrels with Afaka words at the access road to Moengo.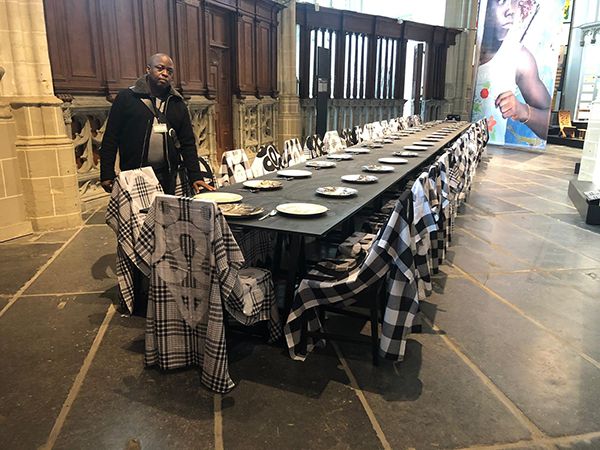 His installation in the Grote Suriname Tentoonstelling in the Nieuwe Kerk, Amsterdam, 2019
In the Great Suriname exhibition in the Nieuwe Kerk in Amsterdam (2019), he presented an elongated, set table with 38 chairs. As if it was set for an official banquet. A closer look tells a different story. The seats are covered with black and white embroidered pangi fabrics with traditional mourning motifs. Horrific scenes are depicted on the plates. They explain why 'the guests' are missing. The installation refers to the 38 victims of the internal war in his native region. A second, more cynical monument to a forgotten group of people.
An economic crisis has paralyzed Suriname. The treasury is empty. The previous government filled its own pockets. The Corona crisis has damaged the country even further.
Normally Marcel Pinas travels the world to promote his concept. "Imagine you are standing in front of a packed house in Chicago. At first, they are hesitant. Who is that man? What does he want? Slowly they start to listen. Not only because I speak from my heart, but also because I speak from experience. Afterwards, all kinds of people come to me with questions."
The 'ambassador' of Moengo has not only been silenced, the Tembe Art Studio – a former office building of the bauxite company Suralco – has been closed. The museum is gathering dust, the guesthouse is being refurbished, the residents were not allowed to enter the country, so activities have come to a halt, the hospital that was used as a cultural center – also ex-Suralco – has been in negotiations for a few years. The municipality wants to turn it into a school, Pinas wants to keep it. National politics is failing. Promises are not kept. "Once they are in power, they only think about themselves. They are not interested in art and culture. I can often tell them that it is not about me but about facilities for the Maroon community, they do not listen."
Marcel Pinas remains optimistic. That's how I've known him for years. He is patient, he knows what improvisation is, he does not give up. "I expect we will be running again soon."
Whether the importance of the Moengo project remains intact? "Take that discussion about the climate. The world can learn something from the Maroons. How they treat their country, their sense of community, how they treat each other…."
The Dutch version of this article was published in the weekly De Groene, 8/31/2021
From April 10 until May 22 Marcel shows new work in ClubSolo in Breda, The Netherlands
Until July 3 you can see his recent installation in Kunsthal KAdE in Amersfoort, The Netherlands
Rob Perrée: art historian, independent writer and curator, founder and editor of Africanah.org. He lives and works in Amsterdam and Brooklyn.