Marcelo Brodsky ( & Gideon Mendel): Africa Series 2018
(in cooperation with Gideon Mendel)Zimbabwe 1972, 2018
About:
Marcelo Brodsky, born in Buenos Aires, Argentina is a visual artist and photographer.
Brodsky has represented Argentina in several international biennials such as San Pablo (2010), Valencia (2007), Rotterdam (2000), Photo Spain (1999), among others.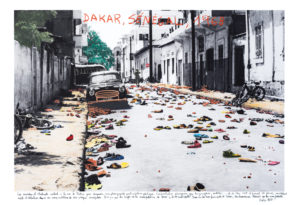 (in cooperation with Gideo Mendel) Senegal 1968, 2018
He has been awarded with distinctions and received many accolades, such as The Human Rights Award by B'nai B'rith Organization (2008). In 2014, he was awarded the Dr. Jean Mayer award for his human rights and artistic work by Tufts University, Boston, USA.
His work is, amongst others, in the collections of the Tate (London), The Metropolitan Museum of Art (New York), the Pinacoteca do Estado de Sao Paulo (Brasil), the National Museum of Fine Arts (Argentina), the Museum of Fine Arts (Houston), the Jewish Museum (New York), the Museum of Modern Art (Buenos Aires), The ESCALA Collection (Essex, UK), the Sprengel Museum (Hannover), The MALI (Lima, Peru), the Museum of Memory and Human Rights (Santiago de Chile), the Princeton University Museum, the Tufts University Museum (Boston), the Museo del Banco de la Republica (Colombia), etc.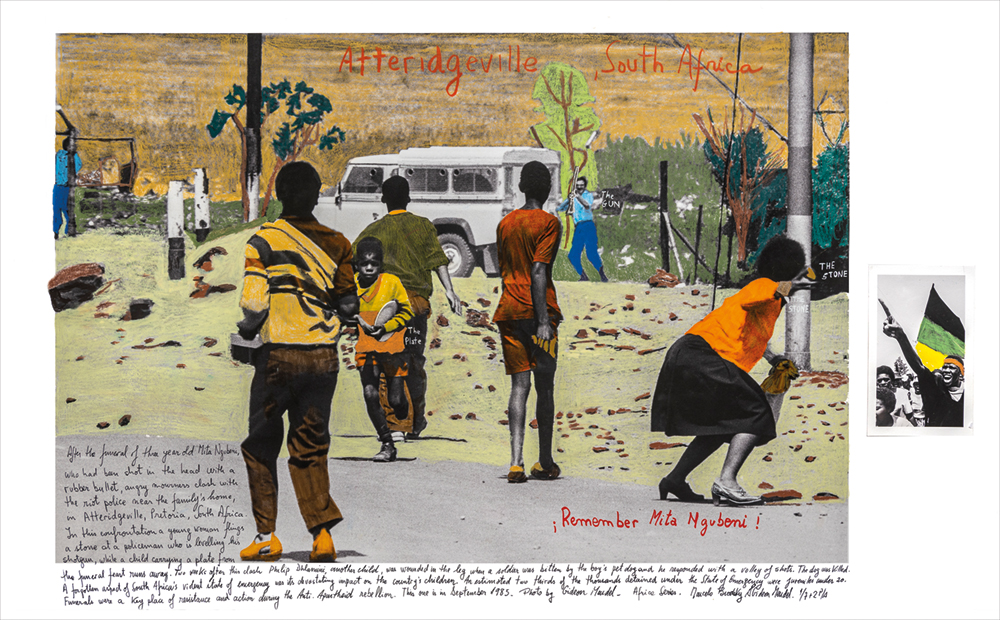 (in cooperation with Gideon Mendel) Atteridgeville, South-Africa 1985, 2018.
My collaboration with Gideon started in Brussels. We were both included in the exhibition "Resist", curated by French/Cameroonian curator Christine Eyenne, at Bozar Palais des Beaux Arts. The show was about resistance in the sixties and seventies around the world and Gideon showed his work from the seventies and eighties around the struggle against Apartheid, and I showed my series 1968: The Fire of Ideas on an 18 metre long wall at the entrance of the exhibition, with handwriting on the walls and 42 images of the marches of 1968 from around the world. We both liked one another's work and became friends. That is the good thing about group shows, you get to know artists that you can work with in the future.(quote from interview in ArtAfrica, February 2019)(courtesy: the artist & ArtCo Gallery)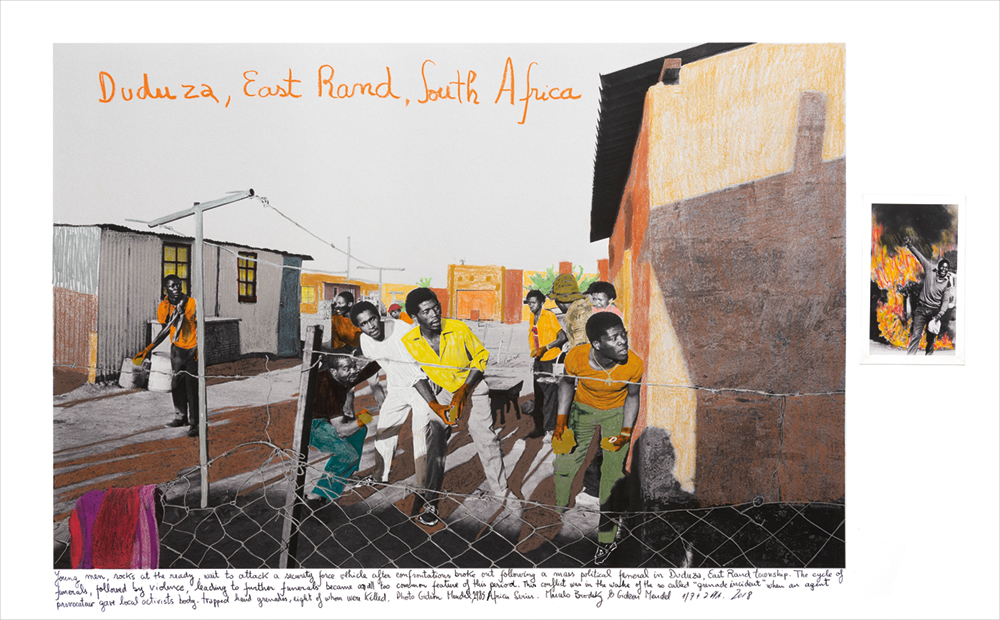 (in cooperation with Gideon Mendel) Duduza, South-Africa 1985, 2018.
Gideon Mendel is a South African photographer
Artist Statement
I began working as a photographer in South Africa in 1984, during some of the darkest days of apartheid. This experience defined my lifelong approach to photography and inspired me to seek out ways to engage creatively with social and political issues. I maintain the belief that photography can be both a beautiful art form and a tool for positive impact in the world.
With the passing of time, I have found that many of the images have begun to take on further meaning and relevance. This website is a contemporary reassessment of the work I consider to be most important to date, which sits somewhere between art, documentary photojournalism and activism. I have found that it works in a variety of contexts, from gallery walls, to magazine pages, to protest billboards.
Developing my projects over long periods of time, I have established an approach that is very personal. My intention has always been to challenge my viewers by pushing boundaries, translating issues of global concern into work that evokes a felt response.
Copyright: Marcelo Brodsky/Gideon Mendel