Marcus Brutus: Maiden Voyage
Harper's Chelsea 512, New York, March 31 – May 14, 2022
Gee Whiz, 2021
About:
Harper's is pleased to announce Maiden Voyage, Marcus Brutus's fourth solo exhibition with the gallery. A selection of twenty-two acrylic paintings on canvas showcases the New York-based artist's ruminations on everyday moments as seen through the eyes of artists, abolitionists, luminaries, and working people. Maiden Voyage inaugurates the gallery's flagship location, 512 West 22nd Street, which features over two thousand square feet of exhibition space. The presentation continues at 534 West 22nd Street with Return to the Source, a curated selection of books that have become integral to the contextual framework of Brutus's practice. The exhibition opens on Thursday, March 31, 6–8pm, with a reception attended by the artist.
Taking its title from Herbie Hancock's fifth studio album and a ship's first journey at sea, Maiden Voyage depicts both solitary and communal scenes, with figures active and restful, at play and in repose; as Brutus explains, the paintings portray "everyday life, creating universally relatable moments, while celebrating Black life." At the core of his work are the unsung heroes of African American history whose contributions to freedom, culture, and society have been systematically erased. The title painting features a sailboat carrying the name of Paul Cuffe, referring to the sea captain and abolitionist, born free in 1759 to a multiracial family in Massachusetts, who became an influential figure in the nineteenth-century movement to resettle free Black Americans to Africa.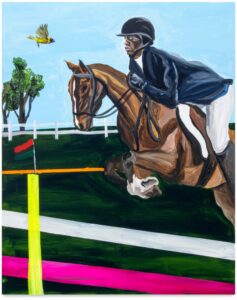 Horse Jumper, 2021
As is common with many of Brutus's paintings, his compositions are synthetic depictions, often culled from cultural references, to illustrate life in its grand and banal forms. In Pursuit of Flavor repurposes the title of an Edna Lewis cookbook. Known as the grande dame of Southern cooking, Lewis won the James Beard Living Legend Award for her contributions to the culinary industry. The painting is dominated by three figures: an elderly woman in the foreground holds her arm high overhead as her ankle-length blue skirt envelopes her body, while two other figures recline on beach chairs. As the sun beams down on their brown skin, flowers bloom abundantly in a backyard surrounded by a high wooden fence. Deeply inspired by American photographers Birney Imes and William Eggleston, both of whom masterfully captured scenes of the American South during the latter half of the twentieth century, Brutus calls out sources while creating arresting imagery of life's mundane, fleeting moments.
References to art, music, and dance coalesce in Brutus's spirited paintings. Works inspired by jazz musicians, renderings of music, and active movement can be seen throughout the series. The Emperor Jones, titled after the Eugene O'Neill play adapted to film in 1933, sees a violinist and a cellist seated behind music books, each entranced in a sonic experience. One figure smiles playfully at her companion while the other rests his gaze on the viewer. In the film adaptation, the main character, Brutus Jones is played by Paul Robeson, an African American musician, actor, athlete, and political activist who garnered fame for his public condemnation of racial discrimination, violence, and marginalization in the United States. While developing Maiden Voyage, Brutus spent countless nights watching PBS documentaries featuring musicians that have since come to form the backdrop of many works in the exhibition. For Brutus, the most interesting historical narratives of Black America can be found uncovering "the stories of under-represented heroes from the past."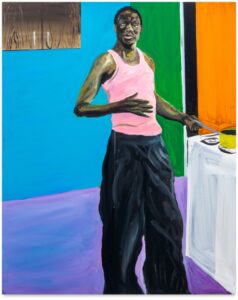 Struck by Color, 2021
Flush with vibrancy, Brutus's paintings focus the viewer's gaze on the ability of color to elicit vivid emotion alongside the deeper social, racial, and political issues of his subject matter. Figures rendered with consistent hues honor the masterful works of Kerry James Marshall, while bold magentas, fluorescent yellows, and bright blues heighten scenes of everyday life to fantastical limits, creating an ease and lightness of being not often bestowed on Black people—their very existence defiant in a racially charged society. Finding inspiration in documentary image makers who thoughtfully record their observations, Brutus highlights everyday moments that reveal the nuance and richness of life through the lens of Blackness.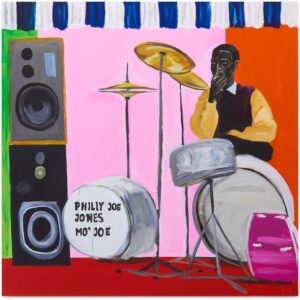 Beau-Ty, 2022
Written by Folasade Ologundudu
Marcus Brutus (b. 1991, Silver Springs, MD) is a self-taught, New York City-based artist who holds a Bachelor of Science degree from St. John's University, Queens. Most recently, his work has been the subject of solo exhibitions: Good Night Willie Lee, I'll See You in the Morning, Library Street Collective, Detroit (2020-21); Marcus Brutus: The Truth That Never Hurts, Harper's, East Hampton (2020); and Go To Work. Get Your Money and Come Home. You Don't Live There, Harper's, East Hampton (2019). Brutus was included in the 2019 group presentation American African American, curated by Arnold Lehman, at Phillips, New York, as well as group shows at König Galerie, Berlin (2021); Arsenal Contemporary, New York (2021); Carl Kostyál, Stockholm (2021); Gana Art, Seoul (2021); and Harper's, Los Angeles and East Hampton (2021 and 2020). His work has been acquired by the Davis Museum, Wellesley, MA. Brutus's painting Bus Stop appears on the cover of the anthology The Movement for Black Lives: Philosophical Perspectives, published in September 2021 by Oxford University Press. In 2021, Brutus collaborated with streetwear brand Kith to reimagine its logo. His first monograph, Marcus Brutus: The Uhmericans, which features an essay by Gagosian director and curator Antwaun Sargent, was published by Harper's in 2019.