Marion Boehm is one of the artists represented in the art fair AKAA, Paris
________________________________________
Urban Torero, 2015.
About:
Marion Boehm was born in 1964 in Duisburg-Rheinhausen, Germany, and moved to South Africa in 2010. Since relocating, she has spent a great deal of time engaging with members of South African society, immersing herself in the Kliptown community and getting to know the people there. Her first, hugely successful, solo exhibition at In Toto Gallery (Patched, August 2013) was a testament to the characters she had gotten to know so well. Boehm's second solo exhibition with In Toto, Paper & Patches, expands on her interest in the human condition and in paying homage to the characters within her portraits. Paper & Patches comprises of three series: Silent Beauty, Swenkas, and Beyond Human Zoo. Please refer to page 4 for the full write-ups on these bodies of work.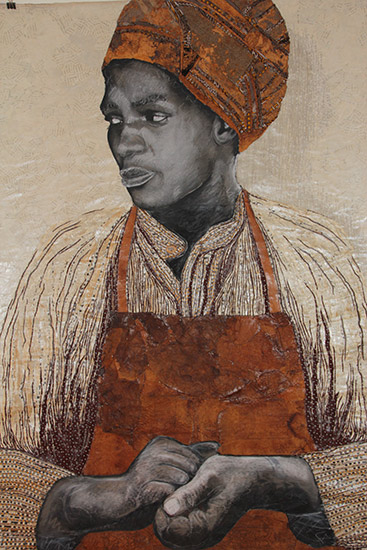 Leather Aprin, 2014.
Silent Beauty celebrates a kind of unprepared beauty that Boehm has encountered in South Africa, a beauty that does not seek applause. In stark contrast to the Western world's obsession with honed physical appearances, Boehm has often been struck by a silent and unpretentious beauty found in some African women.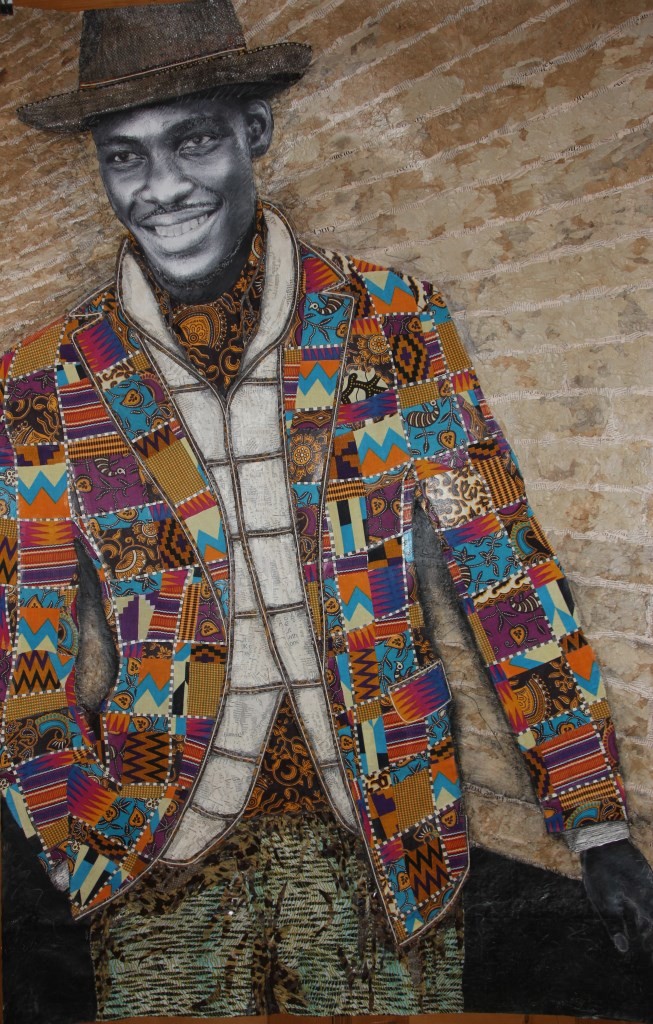 Chi Chi , 2014.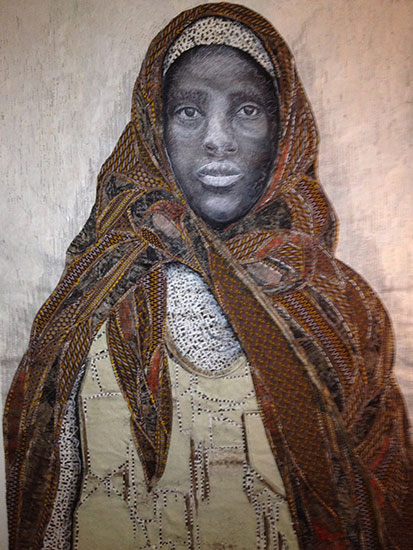 Peace of Mind, 2013.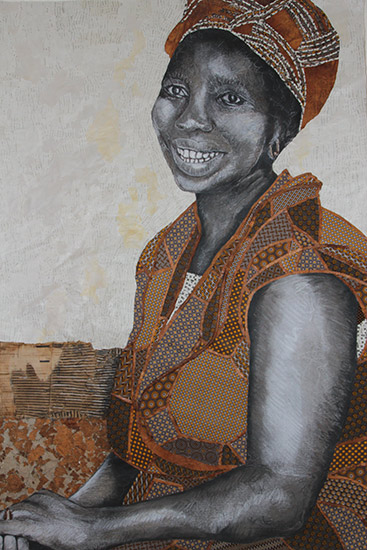 Reschures, 2013.
Swenkas celebrates young South African men carving a space for themselves within a tradition that goes back centuries. At the beginning of the 20th century, the French and Belgians arriving in the Congo introduced the myth of Parisian elegance among the Congolese youth. Members of "Le Sape" (Society of Ambiance-Makers and Elegant People) have their own code of conduct and strict notions of morality. The movement spread to South Africa, where Swenkas are working-class Zulu men who participate in amateur competitions, part fashion show, part choreography (swank = choreographed movement). Boehm's Swenkas series celebrates this creative self-assuredness, portraying beautiful, contemporary South African men in all their diversity, elegantly dressed in traditional African suits.
Beyond Human Zoo interrogates the tradition of othering. In the 19th and 20th centuries, human zoos exhibited people from Africa, Asia and America. This first mass contact between spectators and the "Others", between the West and elsewhere, created an invisible border. What Boehm highlights in this series are the individual people and their diversity. Her work is an appeal to learn from the past and as a call for international understanding, respectful cooperation and peaceful natural coexistence.
Boehm's latest exhibition is an impressive combination of artistic integrity, conceptual vision, and aesthetic beauty, a must-see for any art-lover (Text In Toto Gallery)