THE BROWN MAN EXPERIENCE: In Our Own Words
Until January 31, 2015, El Museo del Bario, New York
About:
In The Brown Man Experience: In Our Own Words, artist Michael Paul Britto utilizes two of the most powerful tools we have as a society for dismantling structural racism: individuality and voice. Currently many of the systems within mass media, institutional practices and public policy often reinforce negative cultural representations, depicting people of color in ways that are dehumanizing and perpetuating inaccurate stereotypes.
These practices, such as racial profiling, create prejudicial attitudes based on sweeping assessments and generalizations that deny the individuality of a person, his /her uniqueness, assets and agency in the world. A person is seen only as a member of a group, not as an individual. Through self-expression and personal experiences, "The Brown Man Experience: In Our Own Words" seeks to give a positive voice to men of color as well as empower them to both confront and shift constructed racial perceptions.
The process involved in "The Brown Man Experience: In Our Own Words" re-contextualizes aspects of law enforcement as its starting point. Men of color are publicly singled out, not to be "stopped and frisked" but rather to be "approached and interviewed."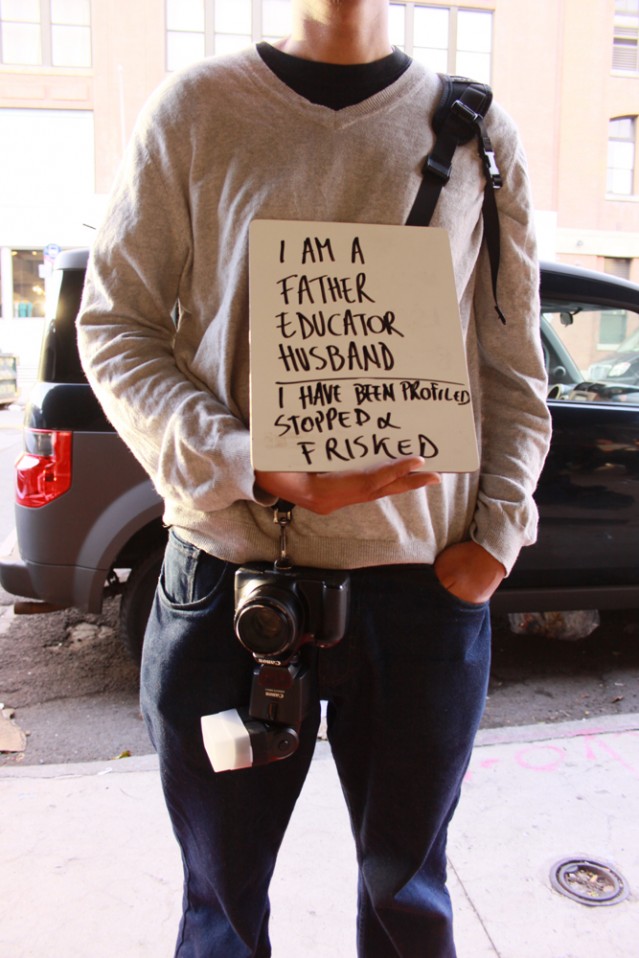 Father, Husband, Educater: Stopped & Frisked, 2014.
Each person is asked to write something about himself on a small dry erase board and then is photographed holding it against his chest. The rounded corner white board and handwritten, self-defining statements act as a strong symbolic contrast to the square, black, police mug shot board containing numbers rather than a name.
Drawn from his own personal experiences, the participant is encouraged to dispel a prejudice, challenge a pre-conceived notion or confront a stereotype that was based purely on race. He is also asked to share something specific about himself that he believes is not acknowledged within our current social, economic and political systems. These self-portraits (the anti-mug shots) are meant to be shown in an on / offline exhibition or in book form.
Brown Man Experience, 2014.
"The Brown Man Experience" was initially developed during the 2014 Performing Artist Residency at Casita Maria Center for Arts & Education in the South Bronx.The interdisciplinary work incorporated personal histories, social statistics, and video interview accounts from local men of color on their experiences with racial group inequity. The final project culminated in a theatrical soundscape and visual performance that gave the audience a multi-sensory experience of the perspective of what it is to be "Brown Man" in America.
Nannies on Parade, 2010.
Based on the positive response and success, "The Brown Man Experience" has become an ongoing, evolving project, as with "In Our Own Words," that will explore the complex facets and consequences involved in the social construct of race. Such as the processes by which racial understandings are formed, re-formed and assigned to groups of people as well as the long-term ramifications these have on the individual and society as a whole.
ABOUT THE ARTIST
MICHAEL PAUL BRITTO's multidisciplinary work includes video, digital photography, sculpture, collage and performance. He has been awarded residencies at the New Museum, Smack Mellon, The Marie Walsh Sharpe Foundation and LMCC. Britto has exhibited at El Museo del Barrio, The Studio Museum of Harlem, The Zacheta National Gallery (Warsaw), The Kitchen, The Schomburg Center for Research in Black Culture and the Victoria and Albert Museum (England). His work has been written about in The New York Times, Art In America and The Brooklyn Rail.
White Tee & Headphones, 2011.