Mohau Modisakeng: Zion Project
About:
The artist uses material, metaphor and the black body as tools to explore the influence of South Africa's violent history that has been ignored in today's society. Using film, large-scale photos, installations and performances, he explores how we understand our cultural, political and social roles as human beings in post-colonial Africa and in particular post-apartheid South Africa.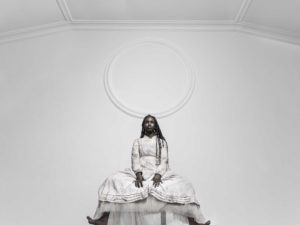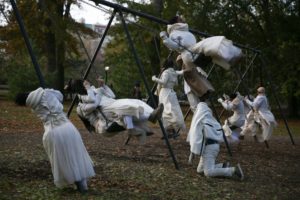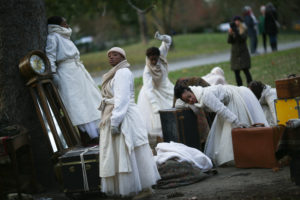 Modisakeng's latest project Zion, was also part of last year's Performa 17 in New York City. During Performa the artist choreographed a street procession of a group of twenty performers through known public spaces, which historically relate to the city's African-American communities. The performers represented individuals in the process of relocating, carrying an array of personal possessions, baggage and furniture. They moved from one place to settle elsewhere, as if driven by invisible forces against their will.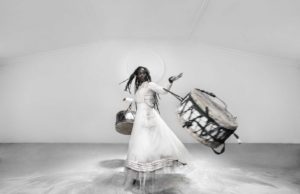 With this project Modisakeng draws parallels between experiences of displacement within the context of South Africa's history of racial segregation and forced removals with the current global climate of mass migration. The work focuses on visualizing the universal anxiety caused by the resurgence of racist policy and rhetoric in parts of Europe and the United States. At The Armory Show 2018, Galerie Ron Mandos presents photographic work and a three-channel video installation from the new series.

About the artist // The multi-award winning Mohau Modisakeng received his education at the Michaelis School of Fine Art, Cape Town (SA). In 2015 and 2017, Modisakeng was selected to represent South Africa at the Venice Biennale. He has exhibited a.o. at the Saatchi Gallery, London (2012); Dak'Art Biennale, Dakar (2012); and Focus 11, Basel (2011). His work is included in collections such as the Johannesburg Art Gallery; Zeitz MOCAA, Cape Town; and Saatchi Gallery, London. (text and courtesy Ron Mandos Gallery, Amsterdam)