Naudline Pierre
Take Great Care, 2019
About:
Naudline Pierre creates paintings that serve as portals into a mysterious world. Pierre's works are informed by religious narratives from her upbringing, and are laced with spiritual references and personal mythology.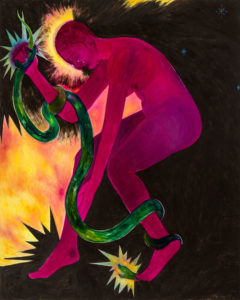 There, there, 2019
The central subject of her paintings serves as an alter-ego, an unearthly representation rendered in a spectrum of colors. As the artist has stated about her work, she is "acknowledging the incredible history contained with my body and transferring it to a visual language co-opted from the dominant Western art historical canon."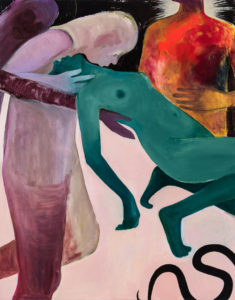 Tread Lightly, 2017
Caught between the beautiful and the haunting, the paintings depict intimate, otherworldly scenes in which characters find themselves in moments of embrace, gaining protection and empowerment through touch, as they explore the complexities of their existence.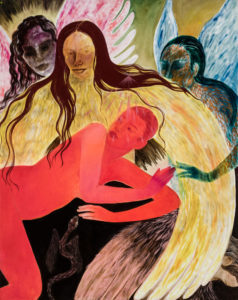 A subtle reminder, 2018-2019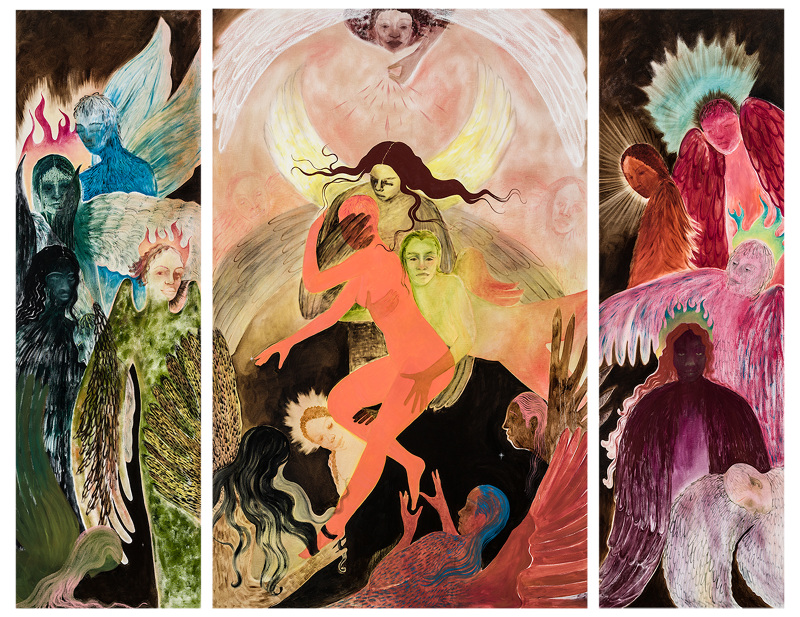 Lead me gently home, 2019
Naudline Pierre (b. 1989, Leomister, MA), currently lives and works in Brooklyn, NY. She holds an MFA from the New York Academy of Art and a BFA from Andrews University. Her work has been included in exhibitions at the Museum of Contemporary Art, Chicago; The Armory Show, New York; Shulamit Nazarian, Los Angeles; Perrotin, Seoul; Stephen Friedman Gallery, London and Nicodim Gallery, Bucharest among others. Pierre's works are in the permanent collection of the Pérez Art Museum Miami and the CC Foundation in Shanghai. She will have a solo exhibition at Shulamit Nazarian, Los Angeles in September 2019. Pierre will be an artist-in-residence at the Studio Museum in Harlem from October 1, 2019 – September 1, 2020. The works produced at the residency will be presented at MoMA PS1 in the summer of 2020.(text and courtesy ShulamitNazarianLosAngeles)