American artist Nick Cave shows his 'Sound Suits' in the ICA in Boston. Is his exhibition proving that fashion is entering the art world more and more or is it showing the work of an artist who wants to surprise his audience by crossing the borders between art, fashion and kitsch?
Rob Perrée tries to give an answer.
ART/FASHION/KITSCH?
The work of Nick Cave
In October last year Wangechi Mutu – the Kenyan born Brooklyn artist – presented her work at The Brooklyn Museum. It was a big exhibition in the rather small Elizabeth A. Sackler Center for Feminist Art of the museum.  Her first exhibition of this scale in New York. Beautiful work, but it did not have enough space to show its beauty. Her big collages – sensual, erotic, and mysterious – could not breathe. They were competing with each other and with the limitations of the space. About ten people were in the rooms with me.
At the same time in another part of the museum there was an exhibition of the work of Jean-Paul Gautier, the French fashion designer. In dark rooms with spotlights and projections he showed his decadent designs for stars like Madonna ( 'cone bra', among others) and Marilyn Manson and his famous stripes design sweaters. His work filled room, after room, after room. And all these rooms were packed with visitors. Many young, many women, many black.
Gautier defeated Mutu in a spectacular way.
Two years earlier the Metropolitan Museum in New York presented 'Alexander McQueen: Savage Beauty'. The British designer, who died the year before, managed to attract more than 600.000 visitors. Even for a museum that has the policy for many years to show fashion that number was outrageous.
What is going on? Is fashion taking over art? Is fashion art? Is the fashion world more influential than the art world? Is it a money thing?
These questions swirled in my head when I saw the exhibition of Nick Cave (1959) in the ICA in Boston.
Legitimate questions?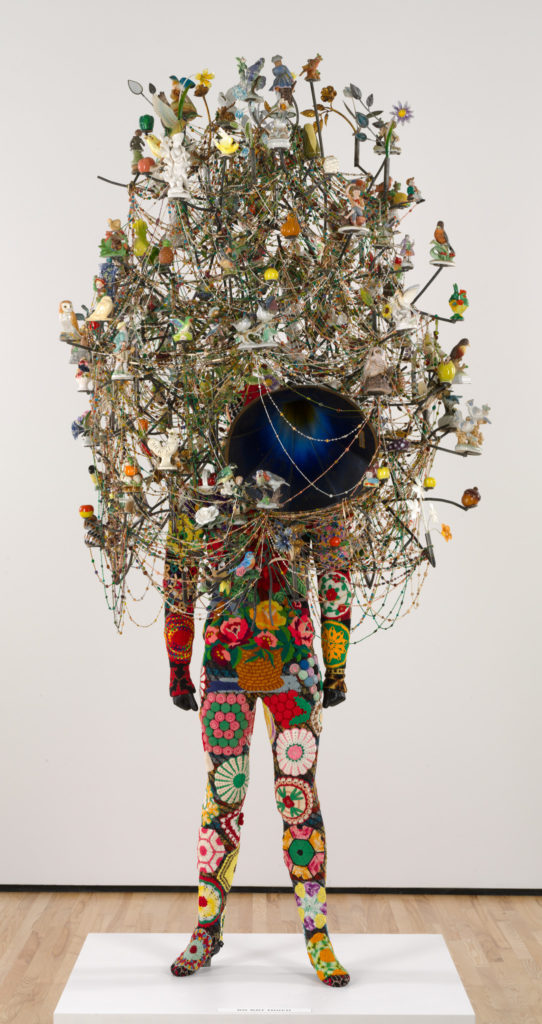 Sound Suit, 2013, courtesy of the artist and Jack Shainman Gallery New York, photo James Prinz Photography.
Nick Cave is an American artist, born in Fulton Missouri and now living and working in Chicago (South Loop). He studied at the Kansas City Art Institute. He did not want to limit himself to one discipline. He chose sculpture, performance and dance. In every interview with him that I have read he tells that the beating of Rodney King in 1991 stood at the beginning of his career. He was shocked, enraged and baffled by it. Because he also recognized the situation – King was not the first black man beaten up by the police – he wanted to respond. "I was looking down at the ground and saw a twig and thought maybe I could make a sculptural piece out of twigs." He fastened twigs and branches on a pair of pants and a jacket. When he walked in it he realized that his 'costume' was rattling. As if it was protesting. At the same time it felt like protection, a shield, not just of the physical, but also as a mental protection of his spirit.
From that moment on he started to make his so called Sound Suits: sculptures made out of a range of existing objects and materials. Fabric, little toys, sisal, buttons, feathers, beads, sequins, pipe cleaners, rugs and blankets. They are often very colorful and playful. More than life-size, mainly because of the high rising 'heads'. They can function and be presented as a sculpture, but they are also wearable.
The first time I saw them I was just coming back from New Orleans. The Mardi Gras reference was more or less forced on me. But they also must refer to tribal dresses used in Africa within the context of ritual activities. Robes used by Shamen. The showy look of his suits reminds me of the pageantry in Renaissance paintings and in the plays of Shakespeare. Even the assemblage sculptures of Surrealists like André Breton or Meret Oppenheim come in mind.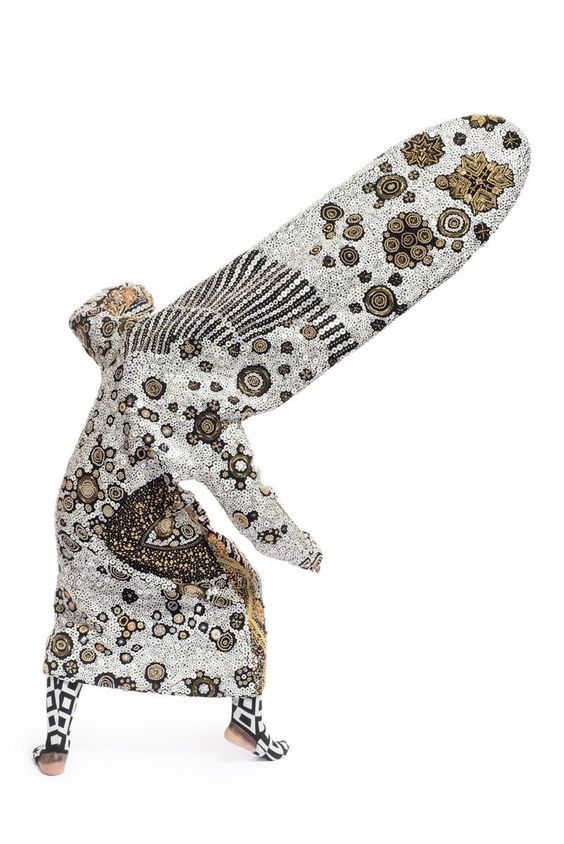 Sound Suit, 2012, courtesy the artist and Jack Shainman Gallery New York, photo: James Prinz Photography.
These references may be logical and may legitimize the work of Cave as art, but for a long time his work was approached from a fashion perspective. Articles on his sculptures were published in Harper's Bazaar, the Style & Design section of Time Magazine and in Vogue. Especially the eight lavishly illustrated pages in Vogue gave him a lot of free but fashion-world-publicity. Art magazines were more hesitant to pay attention to his work.
Nick Cave does not deny the influence of fashion on his work. The abstract designs of Miyake, the colors and the bombast of McQueen, he can see the similarities, but for the same reason he could, he says, relate them to "Haitian voodoo flags". In other words: its fine with me, go ahead with your interpretations.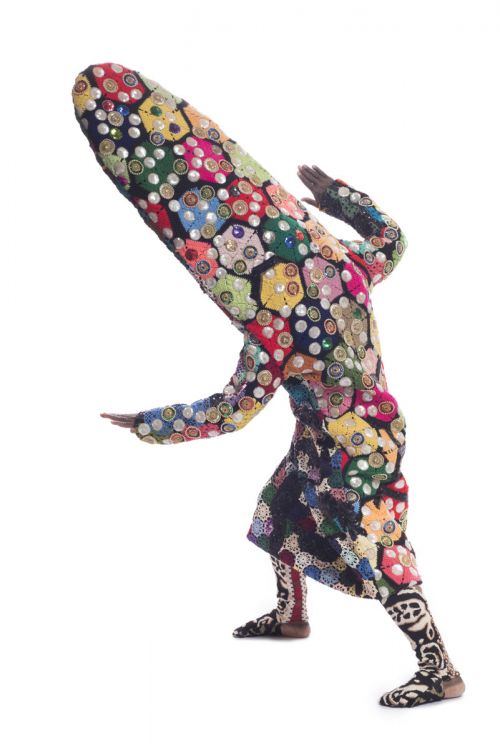 Sound Suit, 2013, courtesy of the artist and Jack Chainman Gallery New York, photo James Prinz Photography.
Important or not, it is not that strange that many people consider his suits fashion or at least related to fashion. Many of these art lovers are conditioned to think that way. They expect art to be hanging on the wall, standing on a pedestal or spatially installed in a room. Art you can wear and 'talks' on top of that does not fit into their concept. Even the fact that Cave organizes performances in the museums where he presents his Sound Suits does not seem to change that prejudice. In their eyes these performances, mostly in cooperation with dancers of a local ballet company (Alvin Ailey for instance), look more like a ballet than a traditional performance. The movements are choreographed dance movements; the sound is the music that goes with ballet productions. So, these presentations don't give the suits an art status.
After I had seen the exhibition, my questions were neutralized. I like his suits precisely because they are different from what I normally see in museums and galleries. They are funny, they are alienating, they are cute, they are sometimes touching, and they trigger my fantasy. They make me think, but they also make me laugh and happy. Emotions that are rare in a museum. Even if they are empty as a sculpture, you still feel the presence of a human being. And, although he created more than 500 hundred suits by now, he manages to keep them original and surprising.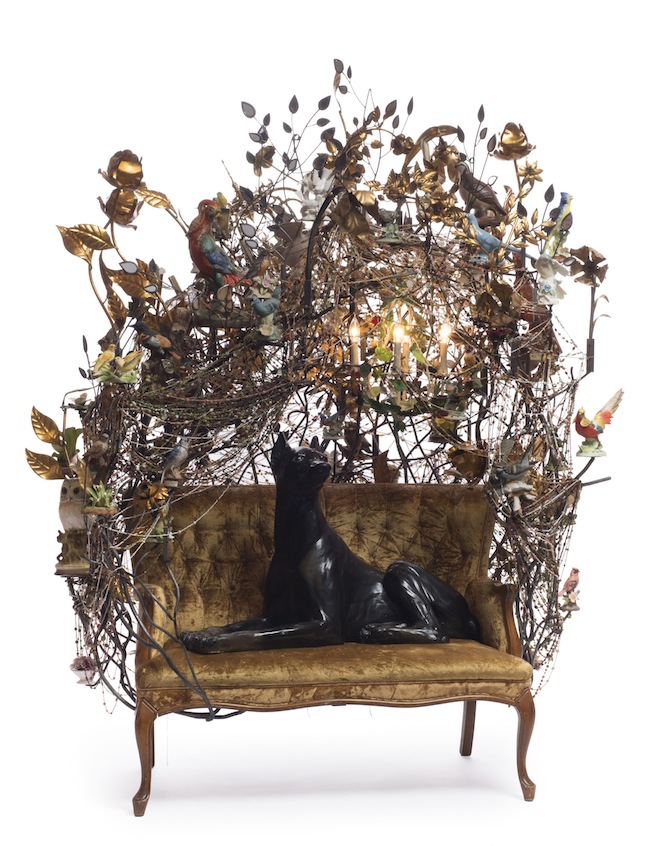 Sculpture, 2013, courtesy of the artist and Jack Shainman Gallery New York, photo James Prinz Photography.
In this exhibition he also presented his new furniture sculptures. He calls them 'Rescue Pieces'. He uses existing, Victorian sofas and chairs and decorates them with artificial branches and leaves filled with ceramic birds and metal flowers. Ceramic dogs are resting on the chairs and sofas. As kitschy as kitsch can be. Nick Cave goes Jeff Koons. I hope these sculptures are meant to be a comment on artists like Koons or a comment on the average taste of his countrymen. If not, than I hope these works are incidents in his oeuvre. I can imagine that Cave is looking for other ways to express himself, but this way feels like a dead end street.
Last year Nick Cave presented the installation 'HEARD-NY' in Grand Central Station in New York City. His Sound Suits were transformed into horses. Cave wanted to create a dream state, a land of wonder, in a space were people are just passing, running to catch a train, walking fast to be on time at work. He wanted to drag the people out of this daily craziness into his dream world. Dancers of the Alvin Ailey School let the horses come to life. Drums gave them a voice. 'HEARD-NY' was a big public success. The authorities had to close a couple of entrance doors of the station because the building could not handle all the extra visitors.
Brief bio: Rob Perrée is art historian, independent writer and curator, founder and editor in chief of Africanah.org. He lives in Amsterdam and Brooklyn, New York.
The exhibition of the works of Nick Cave is on till May 4th in the ICA Boston.
https://www.artsy.net/artist/nick-cave