Oletha DeVane
Saint for my City, 2009
About:
Oletha DeVane is an accomplished multi-media artist whose paintings, prints, sculpture and video are linked to diverse cultural interpretations of universal myths and the spiritual connections underlying cultures. She derives her inspiration from her faith, Greek mythology, Yoruba religion and biblical references. DeVane's interest is in the idiosyncratic ways in which materials create the underlying meaning and her sculptures and prints conceptually link the physical and spiritual world.
Born in Baltimore, Maryland, Oletha DeVane received her B.F.A. from the Maryland Institute College of Art and M.F.A. in painting from the University of Massachusetts in Amherst. Her first major exhibition was at the Springfield Museum of Art in Massachusetts in 1976. Since then, her work has been featured in numerous solo and group exhibitions in Maryland and throughout the U.S. The Reginald F. Lewis Museum of African American History and Culture in Baltimore commissioned DeVane to create a permanent video installation documenting Maryland's history of lynching in 2003.
An artist and educator, DeVane, is currently the head of visual arts in the Upper School at McDonogh School in Owings Mills and was honored in 2007 as a recipient of the Rollins/Luktemeyer Chair for Distinguish Teaching.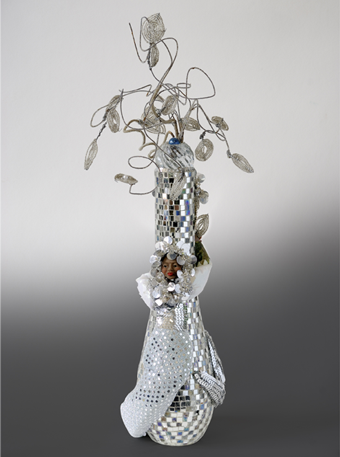 Persephone, 2008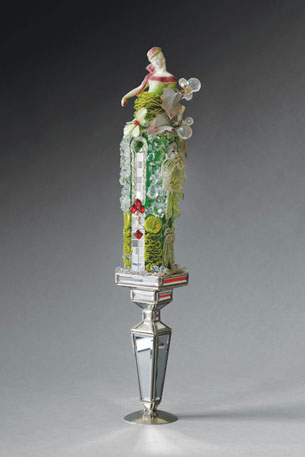 An Ideal, 2010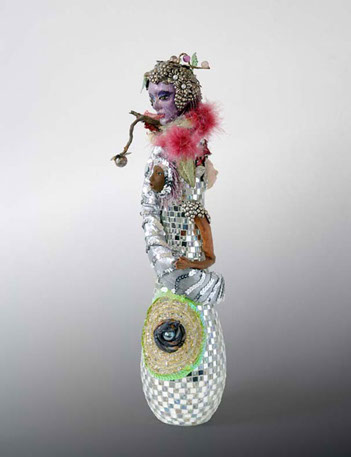 Mother and Daughter, 2008
"everything has a secret soul which is silent"
-Kandinsky
"I am a visual artist. I'm interested in the underlying spiritual meaning and search for ways to infuse the works with symbols of identity and mythology. The sculptures, video and prints are about connections between the physical and spiritual world and are rooted in cultural myths or personal stories. Each of the series of "Spirit" sculptures, which combine found objects, beads, clay, glass and other materials, are assemblages to invoke the spirit and are personal prayers, stories or myths. I've always been interested in the idiosyncratic ways in which materials convey meaning whether it's through painting, video, mixed media, printmaking or collage. I feel I'm allowed to use multi faceted ways of expressing an idea."