"I have been looking into my identity for years. From my childhood on until today. I remember that I always felt misplaced, unsafe, insufficient, different, not wanted. I could not understand where I was, or why I was here. I did not know where I belonged to. I felt as if I came with a different purpose in life. I did not understand why and therefore my communication was limited or misunderstood most of the time. I became quiet and speechless."
Osaira Muyale from Aruba in conversation with Rob Perrée.
Art is a communication agent that can help you to open the door to your soul.
In conversation with Osaira Muyale
A few months ago I visited Aruba. Just for a few days, a short holiday. My intention was to relax, no art, no artists. However, the first evening I met the artist Osaira Muyale in her blue studio 'O'. My intentions shattered before they got the chance to effectuate, but I did not regret it at all.
Over the years I had seen a couple of her works, which were fascinating, but I never had the chance to meet her and have a conversation. She just finished her new installation 'Paradise Park' and I had the opportunity to see the work. It was an amazing experience. It looked like a dreamland populated with blue sculptures, a mixture of human figures and animals (e.g. horses), sometimes mixed together in one sculpture. Body parts were popping out of the walls or they were 'flying' above my head. Because the rooms were bright white and the sculptures bright blue, all set in bright light, they created a density that felt like walking in the clouds. Strangely enough, the modest music that filled the rooms stimulated the silence that was surrounding me. The atmosphere gave rise to dichotomy of feelings. Dreamlike but at the same time confronting, it made me feel light, like I was floating in the cloud, but it also had a strange sense of foreboding. I wanted to be intimately involved with it, but it also provoked a desire to flee. The essence of a fairy tale visualized.
Detail from installation 'Paradise Park', 2014.
"I create a dream world in a real world to caress my ears."
Osaira Muyale (1964) was born in Oranjestad, Aruba. Her mother is Dutch, her father Aruban. Her grandparents were Lebanese and Spanish. They moved to Matividiri, a village in the north of the island. Beautiful nature, but away from city life. She learned to climb the rocks and to ride the horses bareback. Her father, a well-known architect, encouraged her to love nature. She married young, into an influential Aruban family, became a traditional housewife and a caring mother of two. The scenario was cozy, but oppressive to her creative impulses and couldn't last.
From 1982 on she made already art, but she wanted to professionalize herself and to broaden her view. From In 1990 she went to Amsterdam to study art at the Rietveld Academy. And…. be away from the island for a while. After 3 years she came back to Aruba to start 'Gallery Eterno'. In 2002 she closed the gallery and in 2010 she opened 'Studio O', a studio and artist in residency with restaurant potential.
Recurring themes in her work are identity, memory, mystery and the need to communicate. Her work is always very personal. Art historian and Professor José Manuel Noceda Fernandez calls her work "(…) sponge-like, absorbing and recording diverse chapters of daily experience and translating them into images charged with meanings."
She draws, paints, makes installations, photos and video works and she does performances. Found objects play a big role in her work – clocks, dolls, broken tailor dummies, chairs etc – , as does poetry and text.
Her work is shown internationally.
Rob: My first reaction on 'Paradise Park' is: you've created your own world as if you want to say: this is my identity, please come and join me. Does that make sense?
Osaira: It is true. I have been looking into my identity for years. From my childhood on until today. I remember that I always felt misplaced, unsafe, insufficient, different, not wanted. I could not understand where I was, or why I was here. I did not know where I belonged to. I felt as if I came with a different purpose in life. I did not understand why and therefore my communication was limited or misunderstood most of the time. I became quiet and speechless. My eyes became my satellite dishes. They subsidized my senses. I learned to close my ears when words were unnecessary. I opened them when words sounded like music.
You have to understand, I was born in Oranjestad, Nassaustraat 156, Aruba. Aruba was a small Dutch island with not more than 64.000 inhabitants. Everybody was family of everybody. The only 'attractions' were Carnival, The Tivoli Club, De Veer Theatre and the Trocadero Hotel. More was not allowed. At home we had different customs en habits. Our family was not big, because of all the nationalities. When I was ten, my father – who was an important architect and business man – decided to move the family to Matividiri, a small town in the north coast, surrounded by nature. Only 2 or 3 families were living there. We had no telephone and to get in the town center it took like 15 minutes, which was in my eyes extraordinary far.
I grew up with horses, birds, goats, plants, rocks, the sky, the ocean and silence.
Most of the time I was dreaming of being in another world.
Part of the installation 'Paardenkracht' as presented in the exhibition 'Tropisch Koninkrijk' in Zwolle, 2013.
R: Did your being a woman complicate your search for identity? I can imagine a macho-like culture like the Aruban……
O: As time and space have been important in finding my identity, I believe that, as a woman, this has not been an easy road to travel. I have been observing the female and male behavior during this journey and, believe me, I could write a book about these observations. I have been raised in a man's world. My family is mostly male. My father has been raised in a macho culture. It wasn't easy, but this complex journey made me stronger as a woman. I understand this man-culture better and I know the interaction and the reinforcement a woman has to play along.
R: Memory plays a big role in your work. Why?
O: Memory is the back up of my existence. Without memory I will be lost. After 50 years of researching my identity, my memory belongs to my eyes. I only remember important moments. I wipe off the rest of the information. To create space for new visions. I have been learning how to embrace negative memories and turn them around to see the good possibilities. It makes life easier. It helped me to, so to say, open the drawer and search each memory patiently.
R: Your work is always personal, intimate almost. For the viewer it can be confrontational. Or it makes it easier to identify with your work. Does that awareness play a role in creating your work?
O: My work has different layers of understanding its totality. First of all it is personal and intimate because it's a study on my own identity. Therefore it can be confrontational for some men or women. Maybe they have other priorities in life. Or maybe they can not visualize a world that is not their own. Because I am a woman, my work will be perhaps closer to women's life, but I had conversations with male visitors in my gallery and those made it clear to me that other subjects and interpretations arise from the work that I, or the visitor, had never thought of. That is the beauty of contemporary art. It is interpersonal because you are the mirror of mirrors. Art is a communication energy that can help you to open the door to your soul.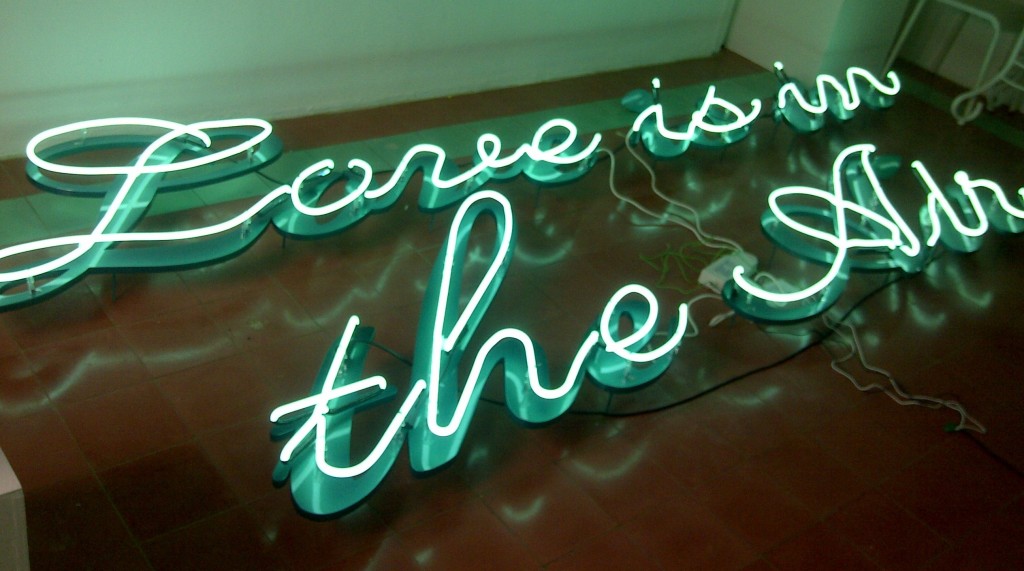 Love is in the air, Aruba, 2012. One work out of the ongoing project 'Parenthesis'.
R: Your work is personal, but also committed to the world you live in. Is that a contradiction or a logical combination?
O: 'Project Parenthesis' (texts in neon mounted on the walls of public buildings and referring to social themes like immigration RP) is an ongoing project with only beautiful words. It started in 2002. It investigates the relation between light, space and memory. It communicates with the people. It addresses solidarity and collective consciousness. It is installed in Aruba, New York, Ecuador, Lebanon and Nepal. So, what I try to say is: my work is personal but also global. First I listen to my thoughts and after that I can see it global. In that way I can understand my work better. So, no contradiction, there is a relation.
R: You have travelled a lot, you have studied in Amsterdam, your work is open to international influence, but you have chosen to live on Aruba, an isolated island. How come?
O: Is true, but that is one of the reasons why I opened up an art space where I could interact and make exhibitions with national and international artists. After 2002 I've started another gallery at my own private residency until today, Studio-Art Salon Osaira Muyale.
And don't forget, I have a family. I would miss my kids to much being alone some place else.
R: When I was walking around in your installation three names came into my mind. Louise Bourgeois, James Turrell and Yves Klein.
O: Louise Bourgeois helped me in my search for my identity. She enlightened my road. Memory is also important in her work. Only, she was born 50 years before me. I met her once. We shared a glass of cognac early in the morning. In 1996, at her studio in New York. What I recall from Turrell, he was primarily concerned with light and space. I install light at the moment I feel that the work is complete. The sound is the last thing I add.
Klein was enchanted by the color blue, his blue. I have been working more and more with this color. It is a hypnotic color. I started with blue and red in 1995. The color red took over till 2008. Than blue started to influence my work. I started painting the inside of my yard, than the floor, than the outside and than the whole studio.
Blue represents for me an in-between-space. Water, the sky, I live in a space between water and sky, in all senses of the words. The more I understand the smaller my space becomes and the more space my work needs.
Time Machines, 2009-2010-2011.
R; The ear is returning in many of your works.
After my solo exhibition in 1995 – 'Mystery of the Soul' – at Eterno Studio Gallery I was invited to participate in the Biennial of Havana. That was in 1997. The theme of the biennial was "The Individual and its Memory'. I used symbols of my solo for my biennial installation. I called the work 'Silence'. I used the ear as a symbol of the theme. Listen to yourself to listen to one another. Until today I work with this symbol. It also has to do with the communication I was talking about earlier.
R: Using sound in 'Paradise Park' has to do with it?
Not really. I have used sound before, mostly in my videos. The sound in this installation represents silence, beauty. Between Holland and Aruba. Between the Atlantic Ocean and the Caribbean Sea. Between Papiamento and Dutch.
You can hear the silence flow, the sculptures dance and the light sing.
R: You work with many media. 'Why?
O: The medium is the language I can communicate with. The more media I work with the better I understand the subject. I can see it in different visual perspectives, visualize it from different angles. I explore a subject by working with different materials. I have to explore the space of a subject through media.
R: Installation seems to have your preference though.
O: An installation works as an absolute work. The involvement of the viewer makes my work understandable, it makes me feel heard.
R: You often use found objects. Do you want to make Aruba literally part of your work?
O: Every where I go I find objects, not only on Aruba. I find them and they find me. They also represent the right time to make a new beginning, a new work. Sometimes it is like a puzzle. It takes time to put them together. Found objects are fragments of the total work.
Silhouet (detail), 2000-2012.
R: Is Aruba inspirational for you?
O: I was born and raised in Aruba. This already makes Aruba important for my journey. However, Aruba does not have a Contemporary Art Museum; I haven't been brought up with art and culture from Aruba. My father was an inspiration. As an architect he was very creative. My mother's family is into art and worked with artists. And, in general I can say that time, space and memory is important in my work. So that involves Aruba.
R: Are you a storyteller?
O: Yes, all my work represents a story. A story of my life, my culture, my identity. It starts popping up in fragmented stills and blooms into a panorama, a story. I write also poems and in my art I use often words. Words are important for me.
The installation 'Paradise Park' is not open to the public yet.
For more information about the work of Osaira Muyale go to www.osairamuyale.com
Rob Perrée is art historian, freelance writer and curator, founder and editor of Africanah.org. Published numerous article and books on contemporary art. Lives and works in Amsterdam and Brooklyn.