Pamela Phatsimo Sunstrum:
Polyhedra
1 April – 7 May 2016
Tiwani Contemporary London
Private View: Thursay 31 March 2016, 6:30-8:30 pm
rsvp to info@tiwani.co.uk
Polyhedra, 2016.
About:
Tiwani Contemporary is pleased to announce Polyhedra, a solo exhibition of new work by Johannesburg-based artist Pamela Phatsimo Sunstrum. This will be Sunstrum's first solo exhibition in the UK, following the group exhibition Mythopoeia at Tiwani Contemporary in April 2015. Sunstrum's multidisciplinary work alludes to mythology, geology and theories on the nature of the universe.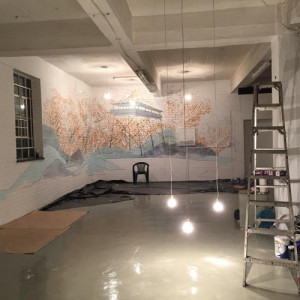 #Beacon *slash.dot slash dot* , 2015.
The exhibition will include a number of new drawings, a large window drawing and a new, previously unseen video animation. Several of these works were born of a study of 18th-century European philosophers' preoccupation with the sublime. Sunstrum embeds elements of geometry within her works as a meditation on the scale of the universe and the geometric laws that govern all objects. The goddess-like female figures in Panthea, a series of six monumental drawings, were inspired by the divine geometry inscribed in the Platonic Solids. Here, Sunstrum blurs the physical gestures between the human figure and geometric forms in an experimentation with scale and movement, and references Nancy Spero's use of figures to signify geometry and mythology.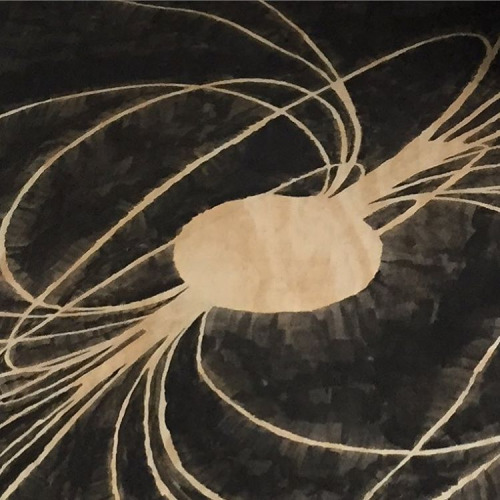 #Beacon#Pulsar#Vansa, 2015.
The title of the exhibition is drawn from Sunstrum's animation of the same name, a poetic cosmogony and personal interpretation of the order of things: stars, earth forms, the insides, the outsides, and the beyond-what-we-can-see. Polyhedra merges time-lapse photography of the milky way with Sunstrum's own water-colour paintings and the work of Tempest Anderson, an early 20th century explorer and pioneer in volcanic photography.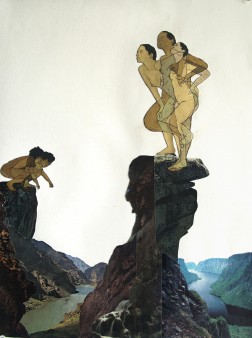 Having Lost, 2009.
A new site-specific window drawing will layer a landscape drawing and a historical map of the constellations of the Southern Hemisphere, drawn on both sides of the gallery's window facade. The drawing aims to distil the complex dimensionality of the Earth by reducing cosmological events to a system of flat geometric shapes. Sunstrum views mapping the stars as one of the earliest attempts to understand the universe, and her work can be considered a literal attempt to project drawing into space.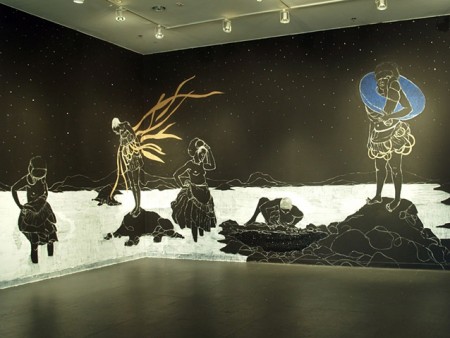 Imagine it Infinite, 2009.
Sunstrum will install polyhedron shapes on the floor of the gallery, echoing the geometry elsewhere in the exhibition and pointing to Plato's theory that triangles are the building blocks of the universe. According to Plato, triangles make up five three-dimensional objects – five polyhedra – that signify the four elements, with the fifth element being heaven. Sunstrum's polyhedra represent a direct bridge between the Earth's geometry and the wider cosmos.
About Pamela Phatsimo Sunstrum
Pamela Phatsimo Sunstrum was born in 1980 in Mochudi, Botswana, and currently lives and works in Johannesburg, South Africa. She has as at times times called various parts of Africa, Southeast Asia, Canada and the United States home. Motivated by her experiences in these diverse locales, Sunstrum explores how one's sense of identity develops within geographic and cultural contexts. Her drawings – narrative landscapes that appear simultaneously futuristic and ancient – shift between representational and fantastical depictions of volcanic, subterranean, cosmological, and precipitous landscapes. Recent exhibitions and performances include FRAC Pays de Loire, France (2013), Brundyn Gallery, Johannesburg (2014), MoCADA, New York (2011), and the 2012 Havana Biennial.
.
________________________________________
Copyright © 2013 Tiwani Contemporary