Amoako, Peter (Amoako GH)
Slavery Installation, 2018
About:
Amoako was born on the 7th of September, 1986 in a small kente weaving, print-making and farming community called Safo, located at the Kwabre district in Ashanti region of Ghana. A community full of vibrant young artists performing their day to day activities alongside family life and farming. My grandfather was the custodian of the community stool. And one of his paramount duties was to train weavers, carvers, dyers, and kente pattern designers; he was popularly known as "Master of all Kente Designer" He was called Opanyin Kofi Kokoo (Mr. White). Composing variety of colours with threads or yarns, unifying the love of his community within colours, lines, shape, form, texture and space… Undoubtedly, every single day of my life became a practicing moment for me. I grew up to understand the processes involved in creating traditional woven kente cloth and carving Adinkra symbols on calabash as block stamp for printing – Adinkra Symbols. This training demanded a diligent preparation towards concept development, very clear knowledge on calculations, formula and adapt to uniformity. The movements of lines and patterns in creating kente designs have always opens a new memory in my artistic practice. Today I swim through the gamut of painting & Sculpture, installation art, weaving, songwriting, and Lectures at the Takoradi Technical University. I had my secondary school education at Kumasi secondary and Technical school (KSTS) from 2002 to 2005 where I had my Senior Secondary School Certificate Examination (SSSCE). I further went to Takoradi Polytechnic from the year 2006 to 2009 where I had my higher National diploma (HND) in Commercial arts, painting option with first class division. Moreover, during the year 2010 to 2012 I enrolled in a degree program at Takoradi Technical University where I had Bachelor of Technology in Animation and Illustration, first class division. After completing my nation service in 2013, I gained admission to study at the University of Education, Winneba offering master of philosophy in Art and Culture, and completed in 2015. Now I am a Lecturer at the faculty of Applied Arts and Technology, Department of Industrial Painting and design, where I lecture and practice my art fully.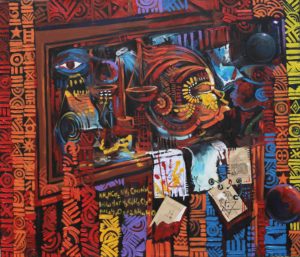 Fafa Adwene, 2018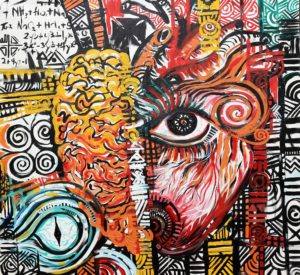 Sacred Beast Mood, 2018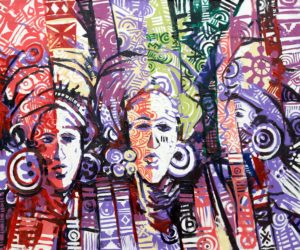 Safo Kente Hemaanon, 2018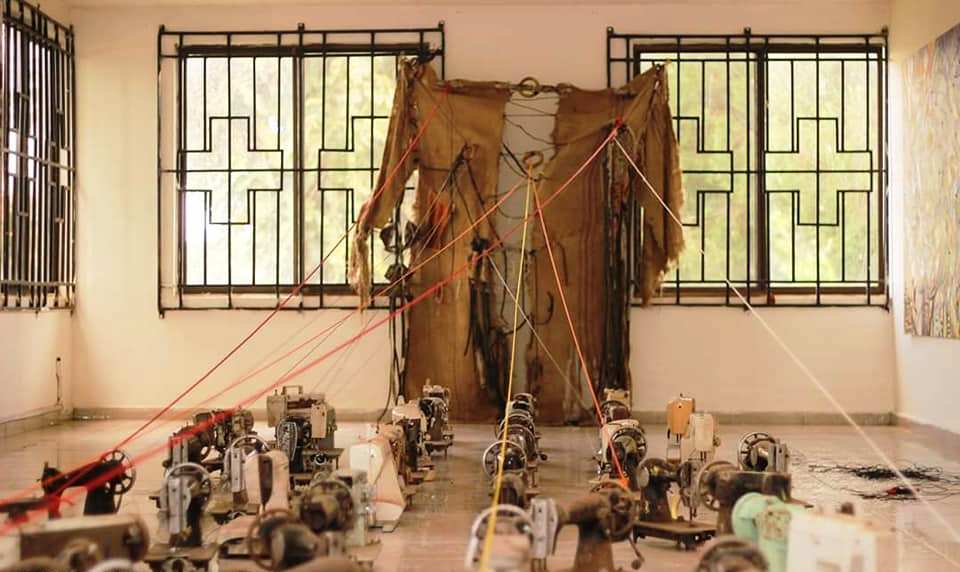 The Smock of Modern Slvery, 2018
Artist Statement
Art is a sacred language like any other and needs to be learned, explored and dialogue with the past which can act as a catalyst for future works.
Amoako is, in his own words "a multilingual, and fascinating painter." running through the gamut of abstract symbology, Weaving, sculpture, songwriting, singing and installation art.
His multi- facetted work combines conceptual rigor on his traditional cultural heritage and expounds on current socio-cultural issues, politics, modern slavery and economy matters. His works stand on the crossroad of material and technique, where painting looks at the textiles as a source of transformation and experimentation.
Amoako focus on developing his concepts through the indigenous traditional cultural heritage, weaving, stamping and dyeing which inspire and humbles him with its soulful, untimely patience, revealing its character and spirit by strokes of colours. He has become a cultural translator who brings the dialect of indigenous fabric design to the vernacular of global creativity, and eloquently translates the indigenous fashion culture of Ghanaians through the visual language of painting. Amoako continue to capture the inner originality of his own cultural soul, and transcends the minds of his viewers to embrace and move through the deep shadows of Ghanaian cultural heritage and its overwhelming subject matter.