Purvis Young is one of the artists in 'Speaking of People', Studio Museum Harlem, from November 13 till March 8.
First published: October 2014
About the artist:
"Through the decades, Young served as an eyewitness to changes in social conditions and Miami's transformation from a modest city to a bustling metropolis that now carries many of the social, economic, and political problems that come with being a large city," said Peter Boswell, MAM assistant director for programs/senior curator. "In this context, Young's paintings act as a form of protest against injustice and as a testament to the resiliency of the human spirit in the midst of often dehumanizing urban conditions."
Figures and White Horses, 2008.
Purvis Young is often and erroneously referred to as an "Outsider" artist, a term reserved for untrained artists with no concept of art, other than their own. Contrary to the term 'Outsider', Young was inspired by what he saw and read of the works by Van Gogh, Rubens, Rembrandt and Cézanne from books in the public library, as well as National Geographic magazine and public television documentaries. He was introduced to art as a child by relatives who were figurative artists and cartoonists.
Untitled (Head).
Although he was never formally trained, Purvis Young was socially and artistically aware. Limited in the resources available to him at the time he began painting, Young used whatever materials he could find on the street, scrap lumber, parts of packing crates, and cast-off doors. He initially gained public attention over 25 years ago by hanging his paintings on the fences and exteriors of buildings on a three-block length of NW 14th St. in Overtown known as Goodbread Alley.

Time.
Even after gaining fame and financial stability, most of his paintings were executed with house paint on wood that has been exposed to the elements, resulting in the extremely raw quality that his work displays. His imagery includes wild horses, marching people, railroad tracks, pregnant women and angel heads. Young has explained that they represent various life experiences and that they each symbolize a vision of hope. I have a large Purvis, which is titled "Night Celebration," and it is one of my favorites. See another artist who began his
(press release Miami Art Museum 2010, the year Young died at age 67)
Sitai Construction Site, 1999-2002 (destroyed).
About the exhibition:
Speaking of People: Ebony, Jet and Contemporary Art explores the ways contemporary artists use Ebony and Jet as a resource and as inspiration in their practices. Published by Johnson Publishing Company for over sixty years, both magazines are cultural touchstones for many African Americans and often represent a commonality between people of diverse backgrounds. Considering Ebony and Jet from a variety of perspectives—as journalistic material and important documenters of black life, as metaphor for African-American culture and as theoretical spaces for black thought and exchange—the exhibition examines the magazines' material and cultural legacy as artists perceive them. While much of the work in the exhibition utilizes Ebony and Jet imagery and text as source material, for some, the concept of these iconic publications and their institutional histories provides the starting point for artistic production. As popular, widely-circulated print publications, the magazines ushered in a particular phenomenon of collection and display in black domestic spaces. Somewhat analogously, many of the artists included in Speaking of People maintain their own personal archives of these iconic publications.

Rainbow Warriors, 2000.
The first exhibition devoted to this topic, Speaking of People features over thirty works by a multi-generational, interdisciplinary group of sixteen artists. Speaking of People includes photography, painting, sculpture and sound works that will occupy the Museum's Main galleries and Project Space. Artists in the exhibition include Noel Anderson, Jeremy Okai Davis, Godfried Donkor, Ellen Gallagher, Theaster Gates, Lyle Ashton Harris, David Hartt, Leslie Hewitt, Glenn Ligon, Kerry James Marshall, Ayanah Moor, Lorna Simpson, Martine Syms, Hank Willis Thomas, Mickalene Thomas and Purvis Young.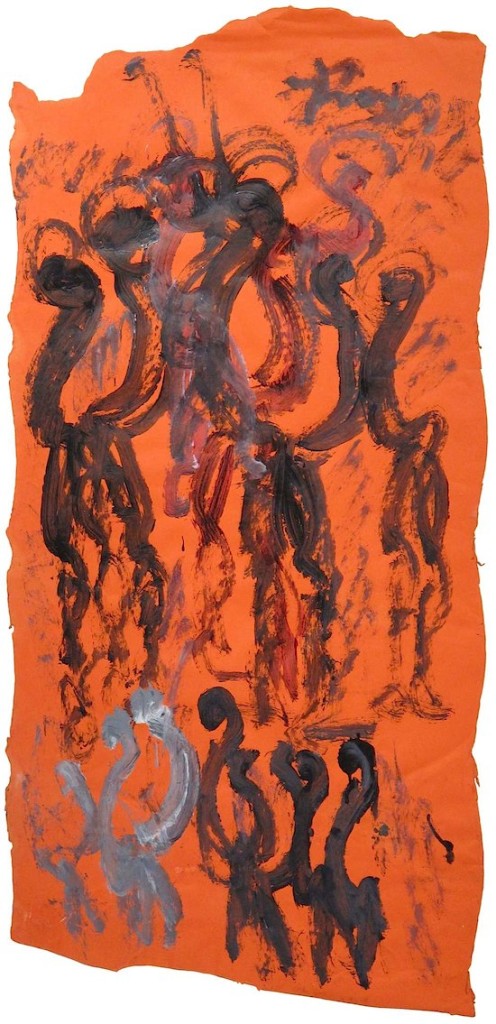 Accompanying the exhibition will be a fully illustrated exhibition catalogue with essays by Assistant Curator Lauren Haynes; scholars Siobhan Carter-David, Romi Crawford and Elizabeth Alexander; artist Hank Willis Thomas; as well as a foreword by Studio Museum Director and Chief Curator Thelma Golden. The publication is designed by The Original Champions of Design, New York.
Speaking of People: Ebony, Jet and Contemporary Art is organized by Lauren Haynes, Assistant Curator.