Richard Gray Gallery Chicago.
Retreat by Theaster Gates
August 22 – October 4, 2014
Black Artists Retreat, in collaboration with Valerie Carberry Gallery and Richard Gray Gallery, is pleased to present Retreat, an exhibition organized by Theaster Gates. Retreat explores ways in which artists of color perform retreat in diverse forms with manifold meanings and how retreat, both as an act of withdrawal and an act of contemplation, yields a position of strength and perspective when communicated through art.
The exhibition will feature artists Derrick Adams, Erika Allen, Elizabeth Axtman, Bethany Collins, Tony Lewis, Kelly Lloyd, Valerie Piraino, Mitchell Squire, Wilmer Wilson IV, and Nate Young. It will be held in Valerie Carberry and Richard Gray's adjacent galleries on the 38th floor of the John Hancock Center.
Kingdoms Come, 2013.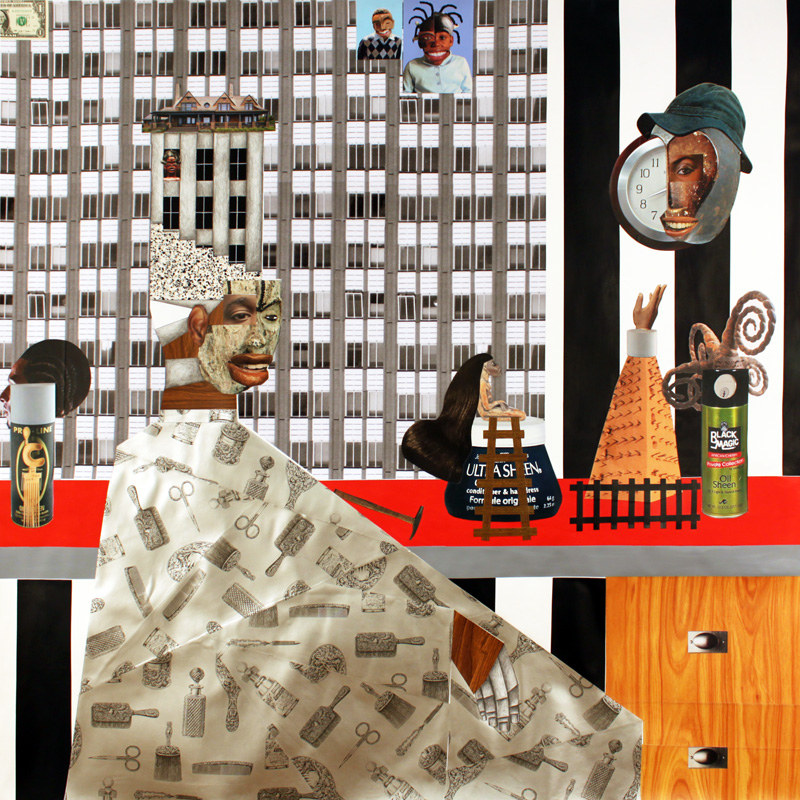 Kingdom Come, 2013.
Derrick Adams is a multidisciplinary New York based artist whose diverse practice spans collage, sculpture, performance, drawing, and video. Adams explores the force of popular culture in our lives and plays with perception in relation to objects and texts. An alumnus of The Skowhegan School of Painting & Sculpture and the Marie Walsh Sharpe Space Program, Adams received his MFA from Columbia University and his BFA from Pratt Institute. Work from his ongoing Deconstruction Worker series was most recently seen at Rhona Hoffman Gallery, Chicago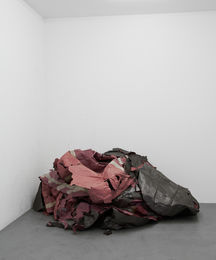 Untitled, 2014.
Tony Lewis confronts the structure and meaning of language in a body of work that is primarily made in graphite on paper.
By manipulating and obscuring selected words from found quotations, Lewis analyzes language and its effects through his painstaking process of application and erasure.
Lewis received his MFA from the School of the Art Institute of Chicago and his BA from Washington and Jefferson College in Washington, Pennsylvania. The artist's work was featured in the 2014 Whitney Biennial and was recently on view at Massimo de Carlo Gallery in London.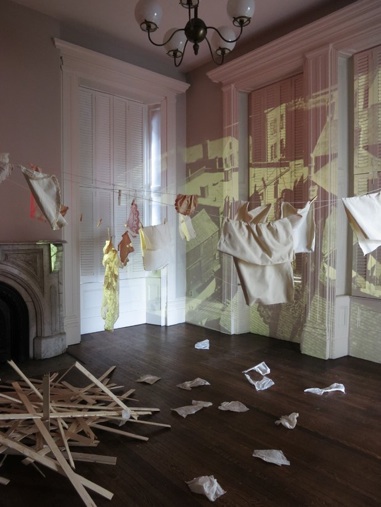 A scene twofold, 2012.
Valerie Piraino is a New York based installation artist whose work explores issues of race and identity often in an historic context. Piraino who was born in Rwanda received her MFA from Columbia University and her BFA from Maryland Institute College of Art. She was artist-in-residence at the Studio Museum in Harlem in 2009-2010. Her work was most recently seen at Chicago's Jane Addams Hull-House Museum in an installation entitled A Scene, Twofold, as a part of Critical Whiteness, the ongoing series of contemporary art interventions within Hull-House.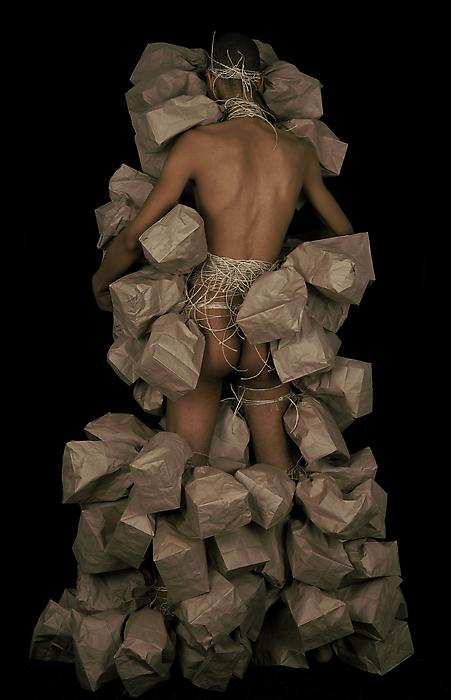 Untitled (Back), 2013.
Wilmer Wilson IV is a performance artist whose work employs the human body in distinct ways to confront the impact of cultural histories on contemporary politics. Wilson received his BFA in photography from Howard Univer sity College of Arts and Sciences in 2012. Wilson's work From My Paper Bag Colored Heart was most recently seen at VOLTA New York.