Rodney Ewing

Fact & Fiction
The stories we learn about individuals—whether they be historical or taken from recent headlines—can be incomplete narratives. We learn facts and statistics, or sensationalized intimate details that are used to push an agenda or to sell interest in a publication. Since we are fond of colorful stories,
I thought it would be interesting if the events that describe non-fictional characters were actually taken from fiction.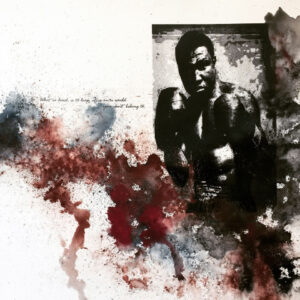 Rodney Ewing (b. 1964, Baton Rouge, La.) is a visual artist, whose drawings, installations, and mixed media works focus on his need to intersect body and place, memory and fact, and to re-examine human histories, cultural conditions, and trauma. His work has been exhibited at The Museum of the African Diaspora in San Francisco, The Drawing Center in NY, and most recently at the Museum of Modern Art, San Francisco. Ewing is a grantee of the San Francisco Art Commission Individual Artist Grant (2016-2020) and his work has recently been included in the collection of Tufts University Art Gallery.
Rodney received his BFA at Louisiana State University in Baton Rouge, and his MFA at West Virginia University. His work has been included in numerous group and solo exhibitions, including the San Francisco Museum of Modern Art, Museum of the African Diaspora SF, University of San Francisco, Alter Space, Pro Arts Gallery, SomArts, ASC Projects, Root Division, Ictus Projects, de Saisset Museum, Rena Bransten Gallery, Jack Fischer Gallery, Nancy Thomey Gallery, Frey Norris Gallery, Lisa Dent Gallery, Dog Patch Gallery, The African American Art and Cultural Complex, Performance Art Institute, San Francisco Public Library Main Branch, Swarm Gallery, and Kala Art Institute, and nationally at The Drawing Center (New York), the Veterans Museum (Chicago), Los Angeles Contemporary Exhibitions (Los Angeles), Johnsonese Gallery (Chicago), Richmond Center for Visual Arts (Kalamazoo), Beta Pictoris Gallery (Birmingham), and Greymatter Gallery (Milwaukee).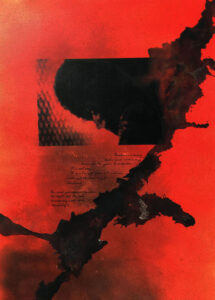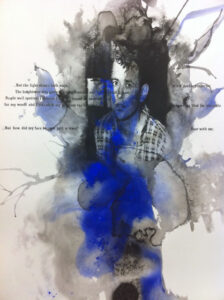 As a topic-based artist, Ewing's interdisciplinary practice involves extensive research of overlooked historical objects, individuals, spaces and events of the Black Diaspora. His narratives explore and translate the actual and emotional dimensions of these subjects to draw the viewer in toward the piece and immerses them in a reorienting experience of images, words and ideas. Ewing's layering of visual elements create an experience that is unique and nuanced within the context of his prints, sculptures, drawings, or installations. With his work he is creating a platform that requires us to be both present and profound in our observations.