Sethembile Msezane (RSA b.1991)
A quiet revolution II, 2017.
About:
She completed her BAFA (2012) and a Masters in Fine Art (2017) at the University of Cape Town (UCT). Msezane maps out how the process of commemorative practice informs constructions of history, mythmaking, and ultimately addresses the paucity of the black female body in the monumentalisation of public spaces. She was shortlisted for ANTI Festival International Prize for Live Art (2017). She was a TEDGlobal Speaker in Ausha, Tanzania (2017). She was a TAF & Sylt Emerging Artist Residency Award winner (TASA) (2016). Msezane is the first recipient of the Rising Light award at the Mbokodo Awards (2016). She is a Barclays L'Atelier Top 10 Finalist (2016). She performed at the removal of the John Cecil Rhodes statue at UCT (2015). She is a Sasol New Signatures Merit Award winner (2015).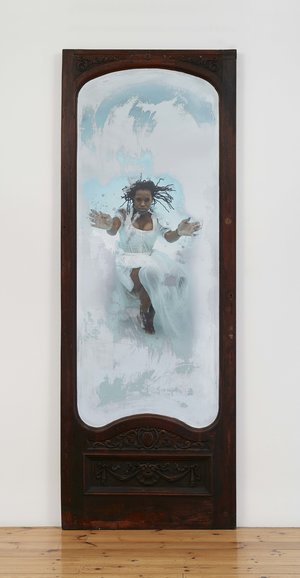 A quiet revolution I, 2017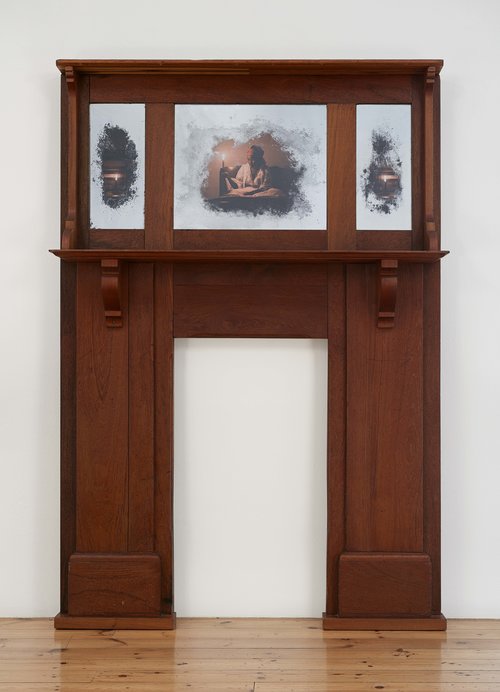 Phindukhulume, 2017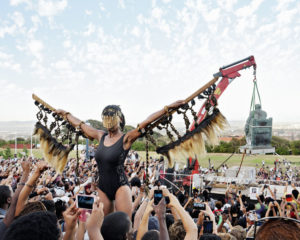 The Day Rhodes Fell, 2015 (performance)
In the century-old statues that occupy Cape Town, Sethembile Mzesane didn't see anything that looked like her own reality. So she became a living sculpture herself, standing for hours on end in public spaces dressed in symbolic costumes, to reclaim the city and its public spaces for her community. In this powerful, tour-de-force talk, she shares the stories and motivation behind her mesmerizing performance art.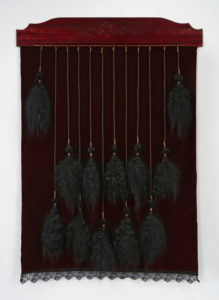 Strange Fruit.
Msezane has had solo shows at Gallery MOMO (2017) and FNB Joburg Art Fair (2017). Selected group shows include 1:54 Contemporary Art Fair, London (2017), Dis(colour)ed Margins at the National Gallery of Zimbabwe (2017), Women's Work and The Art of Disruptions at the Iziko South African National Gallery (2016), Re[as]sisting Narratives an exhibition at Framer Framed, Amsterdam (2016), Dance, if you want to enter my country!/ Global Citizen at GoetheOnMain, Johannesburg (2016), Nothing Personal at SMAC Gallery, Cape Town,  #theopening at Greatmore Studios, Cape Town (2016), Translations at Emergent Art Space and Reed college, Portland, Oregon (2015), Anywhere the Wind Blows at Brundyn+ (2014). Her work sits in prominent collections such as Zeitz MOCAA and Iziko South African National Gallery.(text website artist)