Shabu's mixed-media paintings explore the frail condition of humanity and the callous ways in which we treat each other. In a ravenous world, wheeled by the rich and powerful, he genuinely and relentlessly empathizes with the kind, the poor, and the displaced.
Zihan Kassam on the work of the Kenyan artist Shabu Mwangi.
 Shabu Mwangi, the conscientious.
 Into the psyche of the Kenyan artist Shabu Mwangi.
He doesn't say a lot but when he does, it's good. And even though the world needs more people like him, it is usually the quiet, conscientious individuals like Shabu Mwangi that are the solitary souls — wallflowers who are overshadowed by those who shriek, screech and squeal the loudest.
So, when Shabu invites me to his studio in Guantanamo slum, I am honoured. We take a closer look at his emotive, amorphous figures that often feel distraught and numb at once. We discuss the forgotten factions who suffer at the mercy of neglectful governments, greedy autocrats, war or domestic abuse. Shabu's mixed-media paintings explore the frail condition of humanity and the callous ways in which we treat each other. In a ravenous world, wheeled by the rich and powerful, he genuinely and relentlessly empathizes with the kind, the poor, and the displaced.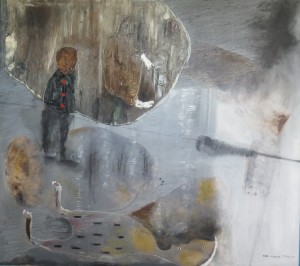 Border Control, 2015.
"Many of my paintings are about injustice," he explains. "We have lost the feeling of being human. We don't pay attention to how we are hurting others anymore." In his painting 'Border Control', we catch a figure in uniform, a man in a position of authority. He gapes down at another man lying on his back. In the background, a women watches frightfully. "This is about what is happening at the Somali-Kenya border. It is hell for Somalis. They aren't fleeing because they want to. They do it because they have to." Delving in to the issue of forced migration, Shabu sees nationalism as a dangerous psychological phenomenon where arbitrary physical borders disconnect people and breed violent, unnecessary hostilities.
Observer, 2013.
What is interesting about how Shabu shares his convictions is his minimal aesthetic; his use of indistinct human figures with only nominal details. Combining rich and crude colours, he makes his paints from woodchips, suit, iron powder and hydrogen peroxide. He incorporates Indian ink, charcoal and pastel, finishing with a misty wash of white oil paint. With an earthy look about his paintings, he creates a smooth, tranquil effect that coexists with his melancholic subject matter. Proud owner of 'Border Control', John McDonald describes both its irony and allure. "Border Control is typical of how he treats tragic human conditions; with an ethereal poetic beauty and certainly the subject is relevant to us at the point in history where we are at."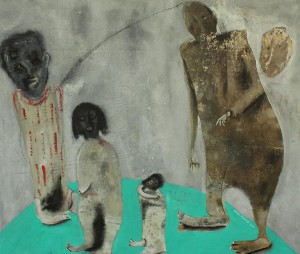 Fugitive at the Frontier.
While his mellow, easy-going personality may lead you to believe that Shabu grew up in a comfortable environment, with no need to develop emotional armour, this could not be further from the truth. For much of his childhood he was a streetboy in the extremely poor slum of Guantanamo, in Lungalunga, named after the US detention camp for how drastically unsafe it is. Shabu witnessed how political corruption in Kenya begins at the top, with the government, trickling all the way down, and rearing its ugly face even amongst the underprivileged where it negatively impacts family and community dynamics. Shabu makes an interesting connection between poverty and intimate relationships in the slum. One untitled Shabu painting features a pregnant mother reaching for the father. He addresses the vast number of broken relationships in the slum. "Fathers are absent, like mine, whom I have never met to this day. So who will be the caretakers of the next generation then?"
If one is lucky in life or 'blessed' as some call it, they will cross paths with a philanthropic soul who recognizes their talent or good intentions, someone who will take a risk to assist them and lift them up. Very likely it will be someone who was also facilitated in this way. And so, compassion begets compassion and the cycle endures. For Shabu, that humane force was the Irish Catholic sisters from Mukuru Arts and Craft Centre that gave him the opportunity to cultivate his potential as an artist and work in-house. This is where Shabu began to experiment with different ideas, learning how to manifest his messages through drawing and painting. He showed serious talent and only a few years later Shabu was exhibiting at venues like the Belgian Embassy, Le Rustique Restaurant and the One Off Contemporary Art Gallery in Nairobi. In 2012, Shabu participated in a group exhibition at the Kenyan Embassy in the USA and the Out of the Slum exhibition for Mukuru slum artists in Essen, Germany. In 2014, his work hung at Pop-Up Africa at the Gallery of African Art on Cork Street in London, UK.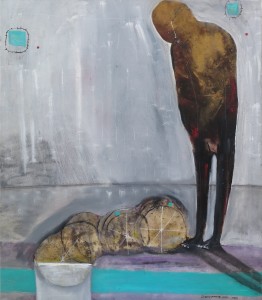 Nationalism Descending, 2015.
There was interest developing around Shabu's profound imagery and provocative subject matter and his work started being collected by local and international audiences. As soon as he began doing well, Shabu put together a team of peers and started a project to do what others had done for him. In 2004, Shabu founded the Wajukuu Art Project, offering vulnerable children from the slums basic counselling and support through creating art. The collective was registered in 2007 with members Joseph Waweru, Ngugi Waweru, Razaraz Tumbiti, Sammy Mutinda, Josephat Kimathi and Freshia Njeri. Wajukuu has grown quickly, with new initiatives such as the quarterly Wajukuu Slum Art Festival (next one in April) and documentary sessions about social and political issues as well as Art and Health. It is Shabu's hope that slum children will be educated on real-life issues and become better equipped for the future.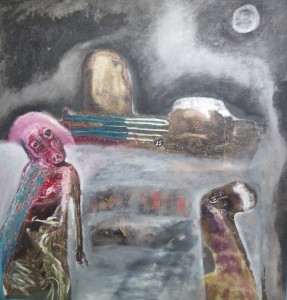 Mpeketoni, 2015.
In his painting 'Mpeketoni', we see another one of his intuitive and sensitive figures, hurt and helpless at the same time. These are Shabu's benevolent people that are slowly giving up; the gentle-hearted that know that bloodshed is never a solution. With her typical tilted face and open mouth, Shabu's flustered woman communicates with her male housemate. Her face is marred by blood, which Shabu has painted in the bright shades of magenta and cherry that pop up now and then in his work. In the background we see the low rise housing of Mpeketoni, the site of a terror attack in Kenya in June 2014 where over 60 people were killed. Although Somalia-based militant group Al-Shabaab claimed responsibility, it is widely believed that the episode was motivated by tribal clashes and a desire to land grab by Kenyan politicians. According to Shabu, "this was not an outside job. The enemies were living in the same homes as the innocent, unafraid to harm their fellow citizens for their own gain."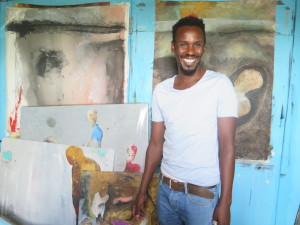 Shabu continues to portray the plight of the neglected and mistreated. For those who need a more literal, more embellished message or perhaps a more realistic depiction of the world they think they know, this type of artwork is not for them. It neither spoon-feeds nor begs your approval. The world likes noise, and lots of it, but only a few have the ears for messages put across in such a quiet, subtle and sensitive way. Shabu's peculiar characters resonate with perceptive, introspective individuals who can hear the wind through the clamour. It appeals to those who consciously refuse to be the doddering robots that bow to the age of confrontation and competition.
Shabu Mwangi: shabumwangi@gmail.com
Zihan Kassam is an artist and art-writer based in Nairobi, Kenya.