Sokey Edorh
sangueva, 2000.
About:
His mixed media paintings consistently balance the dual purposes of visually powerful imagery and intellectually critical analysis to make poignant commentaries on contemporary African social and political realities. His artistic production is constantly informed by the need to work through the implications of language, symbolic systems, and communicative abstraction. He uses an elaborately conceived symbolic alphabet system, invented by him and nurtured within the compass of history, both directly and allegorically throughout his work. The text, which he alone can decipher, draws inspiration from the ideograms that are found on the dwellings of the Dogon hunters in Mali, West Africa, and used in rapturous poetry that are addressed to the harvest gods as divine litany like that of the ancient Egyptians to their gods. To the artist, it is a fit metaphor for the liberation of oneself from dictatorial systems that forbid free expression.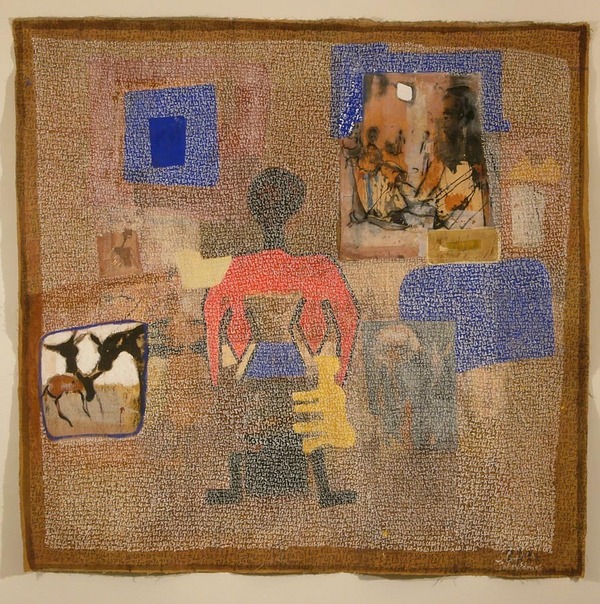 Mama Africa, 2006.
Sokey Edorh's pictures draw a line through time, from the prehistoric shaman's encounters with malevolent spirits, through personal journeys and experiences, and with references to art history. There is a rough and ready quality about them, as they possess a muscular artistic language, physical materiality and visual complexity that enliven his themes and content with a rich and vibrant tactility They evince a rejection of traditional standards of composition and design, an ambivalent and often brittle emotional tone that reflect contemporary urban life and values, and a general lack of concern for pictorial idealization. The artist is constantly experimenting with new ideas and materials and unafraid of taking risks in his search for creative excellence. A trip to Korhogo in Northern Cote d'Ivoire shortly after returning home from his stay in France, sparked an interest in exploring the use of clay, a vessel for memories, history and regeneration, with earth-toned colors, and in abundance in Africa in his work. Today, few contemporary artists match his epic reach with this medium.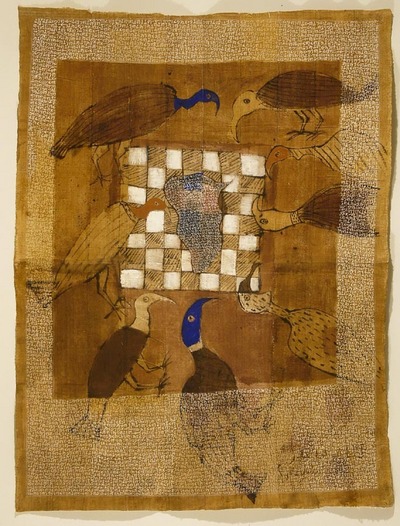 The Vultures II, 2004
Sokey Edorh was born in Tsévié, Togo, in 1955. He studied philosophyat the Universite du Benin, Lome 1984-86 before proceeding to France for further studies at Academie de Beaux-Arts, Bordeaux, where he graduated in 1989. He is a widely traveled artist, who has exhibited widely in Africa, Europe and the US. He is in several public and private collections around the world including the National Museum of Art, Bamako, Mali; Fondation Jean-Paul Blachere, France; Lemhbruck Museum, Duisbourg, Germany and the Newark Museum, Newark, NJ among others. He is also the recipient of several awards including First Prize Young Painters award, TVT, Lome in 1977; Pollock-Krassner Award, 1993, Heinrich Boll Foundation award, Germany 1994 and the Prix Djamilatou Bikami at the 2008 Dak'art, Biennale in Dakar Senegal.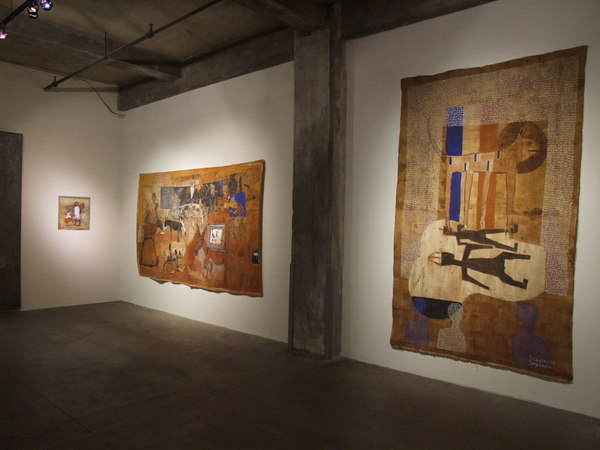 Installation view 2008.
+
Sokey Edorh: The Man Who Has Subdued Clay
Thanks to a favorite material borrowed from the vast African breeding ground, Togolese painter Sokey Edorh places his work among those that matter in our time. His work aims at depriving Africa of all prejudices. He is one of those who, from their childhood onwards, "ferment" and question their human and physical environment. Not gifted with writing skills, he chose to draw the forms. In 1974, in his third form in middle school, he brought his passion to his school yard (Tsevie School. about 30km from Lome, the Togolese capital) by putting up makeshift exhibitions. This leaning towards painting almost led him to sever links with his family. His parents didn't want him to become an artist but Sokey Edorh held on to the idea of becoming a painter, his raison d'etre. During his university studies, he didn't hesitate to use his paintbrush to expose social inequalities. In 1987, using a concoction of henna leaves, he represents two policemen in a painting titled "The Policemen" whose favorite pastime consist of extorting money from the public. A sign of boldness, since a year earlier, the artist has been forced to take down his exhibition at the university cafeteria where he showed men being tortured and hanged, prisoners and kings devouring their populations, while the latter were shouting "Long live the King!". The painter's tenacity has causedthe Togolese writer Kangni Alem to say that his approach usually obeys the scheme of a merciless struggle against the progress and grip of the desert of the mind. Comments which are comforted by these words from the artist himself: "The desert is advancing, my desert is advancing. Hope is far away from me". The former student in philosophy wrote these words during a workshop for artists in which he participated in 1994 in the desert in Niger.
After graduating from the Ecole Nationale des Beaux-Arts in Bordeaux, France, Sokey Edorh himself has called the artist that he was before an amateur. After an understanding of the pedagogy governing visual arts, he grasped the necessity to apply an all-out technique to his work and directed it towards deeper and sharper research. He henceforth set out on a quest of what may set him apart from other painters. His expectations were met during a journey to Korhogo, in the North of Cote d'Ivoire where the idea occurred to him to use clay as material for artistic creation. This building and sacred craft material indeed fills him with wonder. There is somehow some complicity between him and clay and he seems to be on the same wavelength with this red soil that inspires him and gives him the possibility to renew himself, as Edwige Aplogan, an artist from Benin noted. For the later, art has no other end but to be integrated into life and to report about its times. This is an idea that Sokey Edorh doesn't agree with. He thinks that the artist doesn't have to report about his times. He explains it through his material, clay, which formerly was used to paint cave symbols and which he integrates into his own painting today.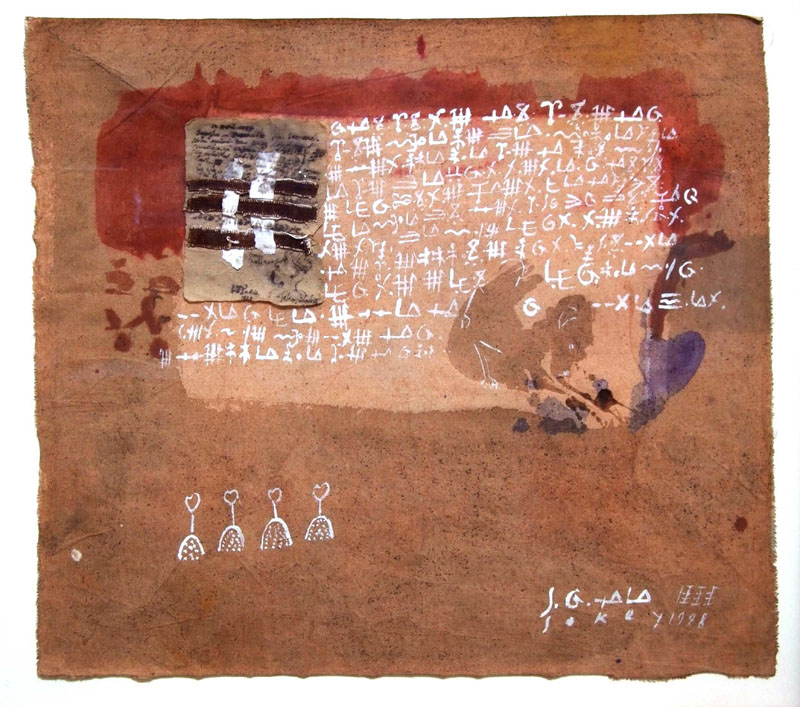 Untitled, 1998.
Another trip to Mali, in the land of the Dogons has given him the idea of old-fashion materials to describe the present. A curious person by character, he was struck by the close relationship between the Latin alphabet and the Dogon script reserved for the initiated which he however managed to decipher. Since then, he has been delivering his messages through canvases that are fraught with multitudinous signs and symbols which, only he knows. As abstract works, the artistic productions of Sokey Edorh, in using clay or traditional ideograms, are rooted into the soil and history of Africa. The ideograms which his paintbrush are really the same as those we find in our libations, scarification or cabalistic signs during ritual ceremonies. The artist was indeed right to say that he work for the emancipation of his continent.
Magnim Palam
Lome, Togo