Sonia Boyce
P.-P.-Arnold-Just-call-me-angel-of-the-morning-2021.
About:
Artist and academic Sonia Boyce OBE RA (b. London, 1962) came to prominence in the early 1980s as a key figure in the burgeoning Black Arts Movement of that time with figurative pastel drawings and photo collages that addressed issues of race and gender in Britain. In 1987, she became one of the youngest artists of her generation to have her artwork acquired by Tate and the first Black-British female artist to enter the collection.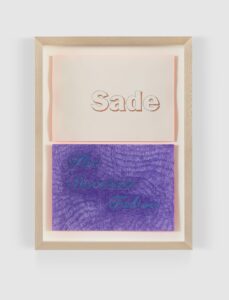 Sade-The-Sweetest-Taboo-2021
Since the 1990s Boyce's practice has taken a significant multi-media and improvisational turn by bringing people together in a dynamic, social practice that encourages others to speak, sing or move in relation to the past and the present. Incorporating film, photography, print and sound in multi-media installations, Boyce's practice is fundamentally collaborative and inclusive, fostering a participatory approach that questions artistic authorship and cultural difference. At the heart of her work are questions about the production and reception of unexpected gestures, with an underlying interest in the intersection of personal and political subjectivities.

For nearly forty years Boyce has consistently worked within the art school context. Since 2014 she has been a Professor at University of the Arts London, where she holds the inaugural Chair in Black Art & Design. A three year research project into Black Artists and Modernism culminated with the 2018 BBC Four documentary Whoever Heard of a Black Artist?, exploring the contribution of overlooked artists of African and Asian descent to the story of Modern British art. The artist's 2018 retrospective at Manchester Art Gallery caused controversy when John William Waterhouse's Hylas and the Nymphs (1896) was temporarily removed from public view. The withdrawal of the painting formed the basis of Boyce's six-screen film and wallpaper installation Six Acts (2018).(text Simon Lee Gallery)