Suzanne Jackson
Self Portrait, 2013
About:
Finding the various strengths of pure acrylic paint as structure and narrative continues.
Formed acrylic shapes are integrated dimensional surfaces in the paintings, and in drawings. These are my visual responses, recognizing ancestral traditions that continue to resonate in contemporary retentions and expressions. African American Classical music (also known as jazz), Blues, and Indigenous World music forms strongly influence my work process as references to specific musicians, to movement, and to elements in nature. Pushing possibilities of materials, I work as if each beginning is a large-format drawing evolving into painting, held together mostly by pure pigment. Reused Acrylic shards and fragments directly applied alter gestural content and surface.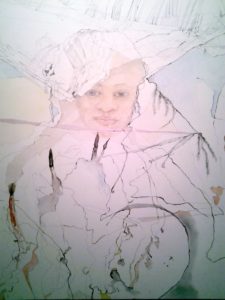 B-Natural, 2013
The paintings synthesize selected cultural memory, integrating drawn, implied or painted line. Pinching, crimping and pleating become linear reconstructions of the painted surface. Refined elements of layered Acrylic emphasizes structural tensions and fluidity of form in the final effect. Flexible two-dimensional surfaces are realized into "almost "three- dimensional form.
Within each work are suggested responses to my curiosity about passed-down stories and lesser-known day-to-day traditions that are in continuing practice within African American heritage and culture.
By continued searching to find "spirit" references especially in Indigenous-American cultural traditions, established and evidenced in the entry origins of African-American cultural experiences, I am following the paths of ancestors.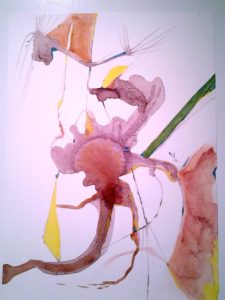 Purple Songs, 2013
"Suzanne Jackson creates large mixed media works that are expressive, spontaneous, and even playful. She creates each piece by layering a vast array of papers with acrylic and canvas. Her work is a hybrid of collage, painting, and sculpture that breaks the conventional rectangular frame. Her highly textured and colorful works seem to dance on the wall, sometimes bursting out into the space of the viewer. Her works mix monumentality and ruggedness with warmth and freedom."
Albany Museum, Albany, Georgia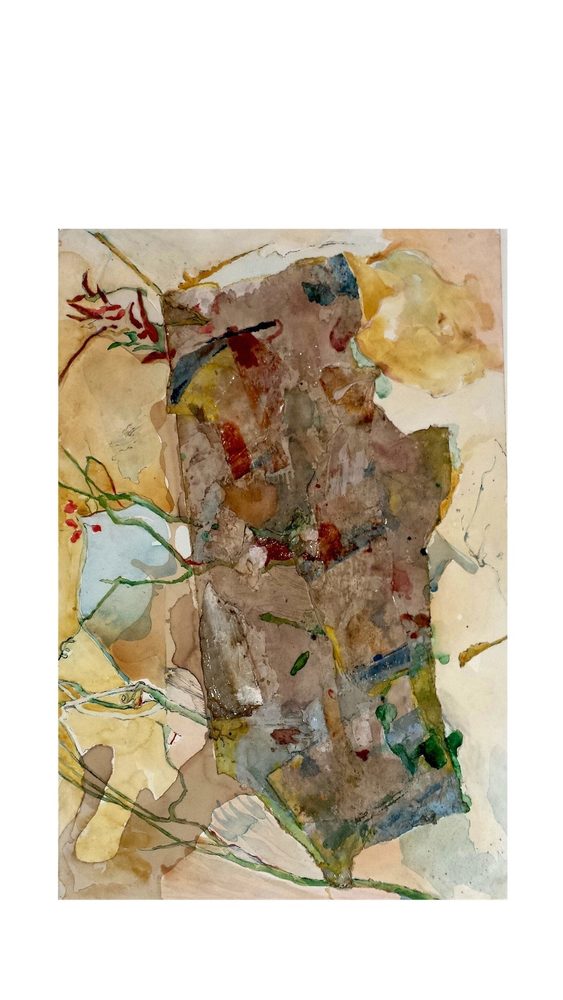 Root Edge, 2017
SUZANNE JACKSON has had a distinguished career, exhibiting her work in prestigious museums and galleries worldwide with her paintings and biography featured in numerous publications. Jackson's works can be found in public and private collections nationally and internationally. Works have been included in 2019-"SUZANNE JACKSON, FIVE DECADES", Jepson Art Center; "Life Model, Charles White and His Students", LACMA; 2018-"West-By-Midwest", Museum of Contemporary Art Chicago; "Soul Of A Nation, Art in the Age of Black Power", Brooklyn Museum; Pacific Standard Time: Art in L.A. 1945-1980", Now Dig This! Art and Black Los Angeles 1960-1980, opening July 2013 at Williams College Art Museum; touring from MoMA PS1, Long Island and The Hammer Museum, Los Angeles, CA.; "Places of Validation, Art and Progression", California African American Museum, Los Angeles; The 30 year retrospective, Marks From the Matrix, Normal Editions Workshop, Normal Il.; The Getty Research Institute Oral History Interviews- "Modern Art In Los Angeles", "Gallery 32 and Its Circle"; 2013 and 2010 selections, U.S. Embassies, Monrovia, Liberia and Belgrade, Serbia Art in Embassies Program, U.S Department of State. Selected one person exhibitions include Danville Museum of Art, Danville, VA; Ferst Fine Arts Center, Richards and Westbrook Galleries, Georgia Tech University, Atlanta; Parkersburg Art Center, West VA; Peninsula Fine Arts Center, Newport News, VA; Carnegie Art Museum, Oxnard, CA.
Suzanne Jackson received a B.A. in Art from San Francisco State University and holds a MFA from Yale University School of Drama, Design.