It is obvious that, for these Zimbabwean artists, migration is not just a topic or a social issue, but life experiences. Just as those who work in South Africa to make a living, many of the artists are also here, above on everything else, to make a living through their creativity.
Lifang Zhang on Zimbabwean artists migrated to South Africa
Takudzwa Leeroy Guzha. The sick in prayer, ink on canvas, 202p
Takudzwa Leeroy Guzha's Circle and beyond
Migration inside and outside the work by Zimbabwean artists in South Africa
Closing his residency at Post Studio Arts Collective, Zimbabwean artist Takudzwa Leeroy Guzha is heading for his home country from Makhanda, a quiet town in South Africa where Rhodes University is located. He might pass through Johannesburg, viewing the mountain-sized mine dumps by the roadside. This artificial landscape would remind him of his late grandfather, who was a migrant miner working at the Witwatersrand Native Labour Association (WNLA) famously known as 'Wenera' by Zimbabwean locals. His grandfather might have added some tiny height to the toxic sand-coloured mountain gleamed with golden slags. Guzha now has experienced the same trip between Harare and Johannesburg to seek for a better life. The difference is that Guzha takes the journey as an artist, telling the migrating and mining story of his grandfather, who had travelled the very same route many times from the colonial period of Southern Rhodesia to the independent Zimbabwe under Mugabe's rule.
*
Circle is the first visual element one can identify in Guzha's work, whether painting or sculpture. "Everything exists in a circle. The life is a cycle. Everything. Some things keep repeating themselves but sometimes just in a different way." This view of fatalism does not sound likely from a young person like Guzha. However, before embarking on his own trip to South Africa from Chitungwiza, a dormitory town of a few kilometres outside Harare, he has seen the "circle" of migration among his family members, his relatives and his friends. "They just finish studying and they go, finish and they go. Some of them studying there, working there and they just come back and go."
*
Migrating to South Africa is not a unique story of Guzha's family. Over the past decades, the political and economic crisis in Zimbabwe has transformed the country into a major global source of migrants. Zimbabweans are deemed to be one of the largest groups of migrants in South Africa, legal and illegal. These diasporas assist their family back home to obtain food and necessities for survival. Many of these Zimbabwean migrants today have viewed South Africa as a place to build their future rather than just a place of temporary opportunity.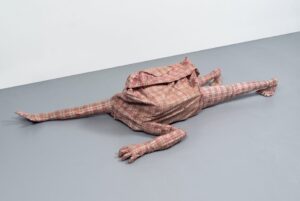 Dan Halter, Kuzvava Dumbu, 2019, found plastic-weave bags and wire frame. Source: website artist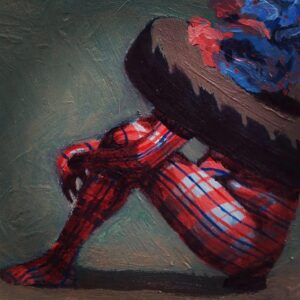 Ronald Muchatuta, Children of the necklace VI, 2015, oil on board. Source http://afripopmag.com
Among the Zimbabweans who work and live in South Africa, artists such as Dan Halter, Gerald Machona, Richard Mudariki, Ronald Muchatuta, Vulindela Nyoni and Wallen Mapondera have settled their lives in this country and made significant contributions to its cultural landscape. Many of them have been continuously engaged with migration in their artistic practices. For instance, Dan Halter expands his personal experience as an immigrant and deals with migration in a broader context to intervene in the global issue with his artistic practice. His sculpture series which is shown in the exhibition Cross the River in a Crowd at WHATIFTHEWORLD Gallery in Cape Town, depicts the struggling moments when the immigrants are trying to cross the river at the border of South Africa at the risk of being attacked by crocodile. Ronald Muchatuta's renowned series The African Immigration, also referred to as The Necklacing Series address the issue of xenophobic violence in the specific context of South Africa. In Children of the Necklace VI, the figure is squatting down on the ground and supported by the legs and arms, with a fire-shaped pattern coming out of the huge "necklacing" tyre. It seems that the head is burning and the whole body is fading away, deplorably, in the colour of the woven bag which is a symbol of migrants. Their works have created an artistic archive for the experience of the immigrants.

Takudzwa Guzha, Manyowani Fondoka, 2019, photo Lifang Zhang
Pondering on the stories repeating themselves from the generation under colonial rule to the generation of "born-frees", Takudzwa Guzha decided to focus on migration in his work after three years of art training at National Gallery of Zimbabwe, as a student from 2015-2016 and as a resident artist in 2017. During his art residency at Post Studio Arts Collective in the same country where his grandfather once mined, Guzha's project explores the life of migrant mining workers since the Rhodesian period, engaging with the experiences of Zimbabwean migrants in South Africa today. Some of his works were exhibited at the Fine Art Department at Rhodes University in October, 2019. He displayed them in a dimly lit room with the walls painted black, recalling the scene of mining underground. Guzha uses found objects such as wheels, shovels and gumshoes to represent the life of miners as labour force, and the wood rings and seed beads, which are regarded by many Zimbabwean locals as amulet to protect them from dangers, to symbolise their spiritual being and their self-identity as a person beyond merely a component of the mining system. These objects tell the stories of the migrant workers, whose lives are connected with the mining tools of shovels, picks and wheelbarrows. The wood rings not only materialised their religious belief but also their longing for home. As in Manyowani Fondoka (2019), these are all bound together by the electric wires. Nowhere to escape once the underground bulbs are switched on. With the gumshoe representing the weak protective measures, Nyoka Musango (2019) speaks to the miners' vulnerability in the hazardous working condition as well as in the society of home and abroad. Living in South Africa himself, Guzha started to question the cause of this circle of migration, of hunting for life and of living apart from family. "What is wrong with my home country?", he asks.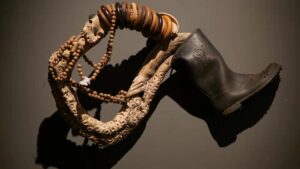 Takudzwa Guzh, Nyoka Musango, 2019, photo: Lifang Zhang
It is obvious that, for these Zimbabwean artists, migration is not just a topic or a social issue, but life experiences. Just as those who work in South Africa to make a living, many of the artists are also here, above on everything else, to make a living through their creativity. Some of them have experienced the same unavailability of jobs, food and other daily necessities back home, besides which, the unavailability of art materials and markets. For survival, they have the urgency of need inside and outside their works. Thus, an "adventurous attitude" is inherently within their practices. As many other artists, Guzha has been trained to create work with anything that is available around them, in the house, along the road or at the dump sites. This (un)availability, to some extent, has led to the scene of contemporary art of Zimbabwe being predominantly featured with found objects. With availability becoming the decisive factor to make art, it also became the vehicle that drives them into the circle of breaking rules in art.
As an emerging artist and an ordinary Zimbabwean youth, Guzha has followed the trajectory of many Zimbabweans, starting a new phase crossing the border. Luckily, art gives him not only the way of living, but also his own "wood ring". It is the amulet to keep himself; the language to express himself; the joy in the misfortunes; the colourful ones among the countless circles.
Lifang Zhang is a PhD student in Art History at Rhodes University. She is part of the Arts of Africa and Global Souths research team.
Artist Bio:
Takudzwa Leeroy Guzha was born in 1995. He attended primary school in Zengeza and started studying art when attended high school at Rio Tinto Mhondoro.
Takudzwa's passion for art led him to focus on art as a career and continued his art education at the National gallery of Zimbabwe School of Visual Art and Design from 2013 to 2016 and he successfully completed his studies with a certificate of competence.
Takudzwa has participated in several exhibitions since, including – the 2013 Annual Schools Exhibition and Born Free Exhibitions at the National Gallery of Zimbabwe (NGZ), the Young Artist Exhibition at Gallery Delta Harare and the Green Shoots Student's end of year show at NGZ.
Takudzwa has also won several prizes for his work including the Award of excellence at the 2016 Green Shoots NGZ Students end of year show and the Best New Artist at the Wild Geese Art Festival, Harare in 2016.
He is the artist at Residency at Post Studio Arts Collective in 2019.
Post Studio Arts Collective is an establishment set up for the advancement of contemporary visual art practice and education in Zimbabwe. Post Studio Arts Collective aims to play a role in shaping the future of visual art through the sharing of expertise, education and promotion of artists, and raising awareness on cultural as well as socio-political structures through art. Post Studio Arts Collective anchors and connects individuals and organizations that work professionally within the Fine Arts industry through realization of projects.
For more information please visit their website at: https://www.poststudioart.org.