A collector, a historian, an arbitrator and an advisor, each of his roles stems from his genuine interest in the arts. The functions Thom Ogonga assumes are all indicators of the renovations and revolutions occurring on the local art scene. Add to the list the designation 'voyeur' as Thom Ogonga beholds a lucid vision of the abundant future of art on his side of the globe.
Zihan Kassam on Kenyan artist Thom Ogonga.
Untitled, woodcut print.
Thom of all Trades
Following Thom Ogonga
As the winds of change blow through the East African arts scene, a good way to make sense of the transformation is to peer into the lives of practicing artists. Kenyan artist Thom Ogonga wears almost every hat being tried on by Kenyan contemporary artists today, and the variation in his schedule is evidence of the transitions in play.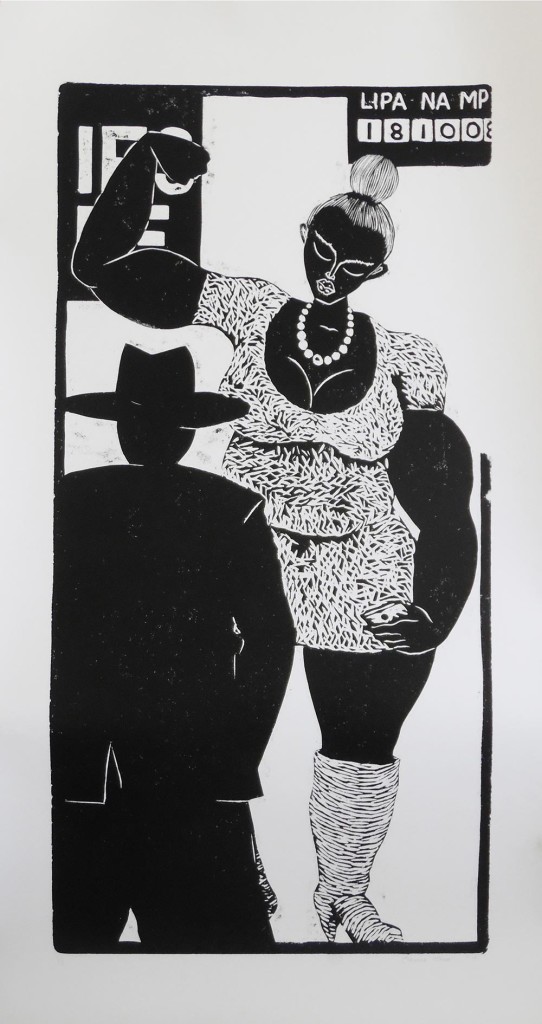 Untitled, wood cut print.
Well-known and well-liked, Thom Ogonga has a seat reserved for him at almost every art institution in Nairobi. He could begin his morning as a student at the Cultural Journalism Workshop at the Goethe-Insitut, while later he might attend an exhibition opening at the Alliance Française or Circle Art Gallery. This very likely will be followed by a pub-talk with fellow artists, where they will discuss the past, present and future of Kenyan art. At sunrise the next day, you can catch Ogonga making his wood-cut reliefs at his current studio at Kuona Trust Art Centre, or perhaps he is visiting with old-time friend and famous artist Michael Soi at Nairobi Go-Down Arts Centre. In the evening Ogonga could be mediating another session at Nairobi's new Art Critic Forum, or otherwise he's participating in another art-talk in town.
*
For those with only a vague impression of Thom Ogonga, he is the Kenyan artist who produces traditional woodcut prints; black and white figurative depictions of Nairobi nightlife. Ogonga has exhibited at countless venues in Nairobi for almost two decades now. Those who know him personally are privy to his insights on the nocturnal inclinations of city folk who drink, dance and flirt into the night. His fascination with bar conduct stems from an interest in human behaviour. But Ogonga doesn't judge the ladies of the night, or the boisterous-drunken wooers who desperately pursue them; but rather he investigates the emotional connectivity within a metropolis plagued by gluttony, disloyalty and the need to let loose after a challenging week in the crooked capital. Ogonga also explores the emotional bonds and the camaraderie in urban watering holes.
*
"Like many young men in the city, I spent a lot of time in the bars and discos while trying to find my path as an artist. I tried many things and then one day it just dawned on me – the city is what I know," says Ogonga about his subject matter. "I enjoyed going out, and while everyone drank themselves silly, I gathered content and listened to their stories."
Ogonga's depictions of bar culture are as old as his career in the arts, which began at Kuona Trust Art Centre when it was based at Nairobi National Museum in 1997. He was an apprentice under luminary Kenyan artists Justus Kyalo, Richard Kimathi and Patrick Mukabi. He further developed his technical skills through workshops by Theresa Musoke, Robino Ntila, Yony Waite and the late Joseph Opiyo. Ogonga was inspired by German artists Max Beckmann, Otto Dix and George Grosz, all of whom he learned about at the Goethe-Institut library in 1998 where he was encouraged by Walter Scholies (the then director of the Goethe-Institut). In 2002 Ogonga left Kuona to work from home, and in 2003 he moved to the GoDown Art Centre where he held a studio until 2005.
Untitled, wood cut print.
After 2005 Ogonga would ping-pong between public and private studios. At first he moved his practice to his home-studio while simultaneously holding an administration position at Kuona Trust but later decided that his office job was distracting him from creating art. It's a time old question: can real artists persevere in an ordinary office setting? Only very few and only for a limited time. For the true artist, the compulsion to return to making art is too strong to resist. In 2011, Ogonga escaped his desk job to return to art-making at the GoDown. After a year, he set up a home studio once again at his new family home in Lower Kabete. Since July 2015, he has been working mornings from a small studio at Kuona Trust where he has generated a compelling and rather provocative series of prints with the working title "Monica."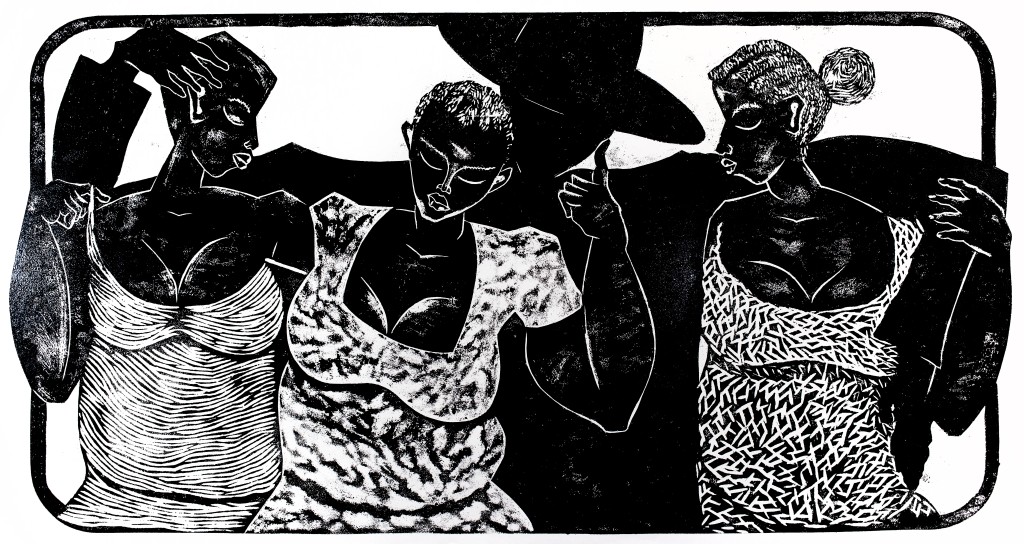 Untitled, wood cut print.
"Monica" follows a voluptuous waitress popular with male clientele at Echoes bar – a typical Kenyan pub in Thom Ogonga's residential neighbourhood. He describes it as follows: "Up to the turn of the millennium, Lower Kabete was a sleepy village, but urbanisation has caught up with it and urban dwellers are moving in. Echoes is the cool bar in the village, mostly frequented by working class white collar residents and campus students." Ogonga's latest images reveal a rotund barmaid in revealing attire, serving her thirsty customers. His upcoming exhibition, expected to show next year, will include thirty works in total with a sneak peak at a joint exhibition in September 2016. The black and white oil-based ink prints will be approximately 60 by 42 inches. The MDF boards used to create the prints have been tidied up and will be part of the exhibition.
*
The titles of writer and mentor are two more titles that can be added to his long list of functions as an artist. Thom Ogonga has a sizeable following on his blog "The Alternative Writer," which was created "to share information with artists while encouraging them to document their practice and inform them on current trends, opportunities and other artists they should look at." Ogonga spends a significant amount of time with Nairobi's emerging artists and is completely enamoured by the youngest artists on the local scene, "artists like Lemek Kaaka, Longinos Nagila, Onyis Martin, Asteria Malinzi and Partick Karanja, who are confident and who are giving their all to their practice." This is in addition to his working with almost every major Kenyan artist over the last 20 years, as well as international artists like Tapfuma Gutsa, Peter Klashorst, Jacob Jari, Jelili Atiku and Olu Amoda.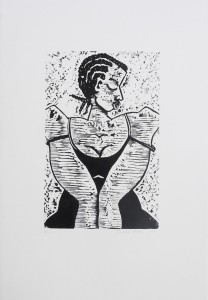 Untitled, wood cut print.
"Many of the artists before us enjoyed superstardom without knowing how to deal with the consequences especially financial planning or knowing how to give back to the industry," says Ogonga. He really hopes that Kenyan art history does not repeat itself. He encourages aspiring artists to move away from the stereotype of being unschooled, unkempt, irresponsible and eternally drunk; and he is excited to see "young Kenyan artists producing work that is conceptual and research based. They are cultivating a culture of holding each others' hands and working together in collectives." Ogonga bears witness as young Kenyan artists reinvent themselves and the world around them. He encourages them as they redefine the purpose of art and their value as artists, and prepare for and produce the future of East African art.
*
A conscientious fellow, it seems Thom Ogonga is not too different from the young artists he entertains. In his very first year of practice, Ogonga was already exhibiting his artwork in the Komplicated Socialization (1997) exhibition at the Goethe-Institut. By 2001 he began, "approaching work conceptually and making story-based art" through the Nairobi Day & Night Club collaborative project with Patrick Mukabi and Peter Klashort at Nairobi National Museum. This was one of the first conversations on the art scene that revolved around sex and prostitution.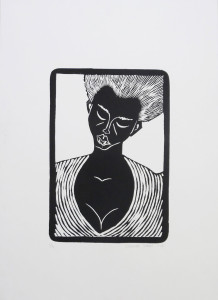 Untitled, wood cut print.
Ogonga has engaged in a handful of solo exhibitions, including his paintings and a video installation at Management Reserves the Right of Admission at Kuona Trust, and his show in 2012 at the Riziki exhibition at Alliance Française where he showed his prints alongside his paintings for the first time. The controversial Sex & the City exhibition at Alliance Française in 2014 was a joint show with John Kamicha & Michael Soi that offended the sensibilities of conservative Kenyans and caught the attention of the press. It examined sexual behaviour and explored courtship rituals. "It looked at the glamour and destitution in the lives of sex trade workers, and the legal and religious repercussions of sexual deviance."
*
Delving in to other sensitive and challenging subject matter, Ogonga curated the "Enjoy Responsibly" exhibition at Kuona Trust in July 2015, which included works by his artist friends including Peterson Kamwathi and Anthony Okello. It looked at substance abuse, death caused by alcohol, artist abuse of drugs, and domestic violence as a result of inebriation.
Even though life in the big city can be toxic, Thom Ogonga sees light at the end of the tunnel. He continues to study new things, working as a custodian of the art sector and pushing it forward to make it something that everyone is collectively proud of. Ogonga recently participated in the first Curator's Workshop in Nairobi, a collaborative project between the Goethe-Institut Nairobi and Kuona Trust. He also makes an informative art-guide for many of his counterparts visiting from Kampala, Addis and other art hubs in East Africa.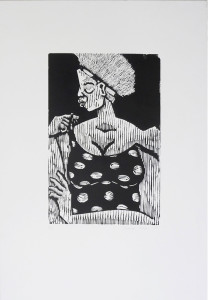 Untitled, wood cut print.
A collector, a historian, an arbitrator and an advisor, each of his roles stems from his genuine interest in the arts. The functions Thom Ogonga assumes are all indicators of the renovations and revolutions occurring on the local art scene. Add to the list the designation 'voyeur' as Thom Ogogna beholds a lucid vision of the abundant future of art on his side of the globe.
Zihan Kassam is an artist and art critic from Kenya.
Courtesy Ogonga: Circle Art Gallery