The proliferation of many new spaces for art's distribution particularly those of art-centres, provides liberation from commercial motives which can extend aesthetic freedom offered to artists and their practice. The networks that these multiple spaces create, and the environment of continuous questioning of 'what is the purpose of art' and 'what can art achieve' has been constructive for artists to continuously push boundaries. Additionally these new spaces create a platform for wider audiences to encounter art.
Craig Halliday on the contemporary visual art practice in Nairobi.
Cyrus Kabiru, from C-Stunners series.
Tracing the Emergence of Contemporary Visual Art Practice in Nairobi, Kenya
In any art world, works of art lack agency without the domains that mediate art's distribution. It is, after all, these spaces that make the work of art available, giving art a place in a community or society. The art scene in Nairobi is a hub of creativity in Kenya and the wider East Africa region. Art commentators have enthusiastically described the last decade as a "renaissance" in visual art from Kenya, while some artists have called it a "cultural awakening". Even if one chooses not to contest these views, the question of 'what has contributed to this' still remains. This short article addresses this, by tracing the emergence of contemporary visual art practice in Nairobi, through the perspective of the domains of distribution – notably the role of galleries and art-centres.
Contemporary art's slow start following independence
Shortly after the echoes of uhuru (freedom) settled across Kenya, following independence in 1963, culture's value was officially recognised in national development plans. (1) However, art was never subsumed by the government in the project of nation-building. A national gallery has never been created and poor to non-existent government patronage has unfortunately been a recurring issue. (2) A market for artists' work was nevertheless found through foreign visitors and commercial galleries, active since early independence though largely owned by non-indigenous Kenyans. As highlighted by sociologist Howard Becker, artworks often bear the mark of the market. (3) In Nairobi the art market contributed to an overemphasis of paintings depicting 'exotic ethnic groups', 'wildlife' and 'landscapes' – described as a "hangover from colonial times" that "catch the eye of the tourist but say nothing of any interest about Kenya's cultural history." (4)
'The Nativity', one of five murals painted in Muranga memorial church by artist Elimo Njau in 1959 – before he founded Paa ya Paa.

From independence right through the 1970s writers, poets, musicians and playwrights used their art as "a new source of inspiration in protest". (5) Visual artists were seemingly detached from this – keen to exploit economic opportunities of commercial galleries and tourists, which critically, enabled many to pursue their art. An exception to this was Kenya's first major contemporary art venue – 'Paa-ya-Paa Art Centre'. (6) The philosophy of the centre was to 'rise above' art created to suit tourist taste and demand. Artists here introduced the values of 'modern art' that stimulated intellectual critique and interrogation.
A recurring feature in the emergence of contemporary art practice in Nairobi's art world has been the influence of Kenya's socio-political climate. Kenya's first president, Jomo Kenyatta, became anxious by mounting criticism in the 1970s. As a consequence political freedoms receded. Following Daniel Arap Moi taking office, after Kenyatta's death in 1978, democratic and civic space shrank. Creativity was described as going into "hibernation". (7) For the artist this meant working in a culture of restriction and paranoia.
Art for the people or art for the market
During the 1980s visual art remained accessible in few spaces. To a large extent art simply did not reach the majority of Kenyans, nor was the majority of the art works produced intended to do so. An exception and a form of protest to this was the 1983 'Sisi kwa Sisi' (8) art movement.
With Europeans largely controlling Nairobi's galleries discontent grew regarding their influence in Kenyan cultural production. A group of artists left frustrated by this cultural climate, and looking to create a wider art appreciating society, joined forces and took their art to the people – highlighting the possibilities for artists to escape the constraints of commercial galleries.


Open air exhibitions took place across Nairobi, resulting in new exposure, audiences and types of aesthetic experiences. Thousands of people accessed visual art who were otherwise largely excluded from settler-owned galleries. Art works (predominantly in the form of painting) addressed colonialism, post-colonialism, disappearing traditions, inequality, oppression, corruption and greed. Abstract or wildlife art was not displayed – a critique of Nairobi's established galleries which seldom displayed work with socio-political content. However, openly exhibiting such work drew the attention of the deeply suspicious authorities (following the attempted coup of 1982) who closed down some exhibitions.
A likely consequence of censorship and restrictions on freedom of expression during this period is the set-back of critical attitudes in Kenya's artistic community. That is not to say, however, that artistic development and talent paused. Creative energies were burning fiercely across Nairobi. For many artists this was boosted by the taking over of Gallery Watatu (9) by Ruth Schaffner in 1984.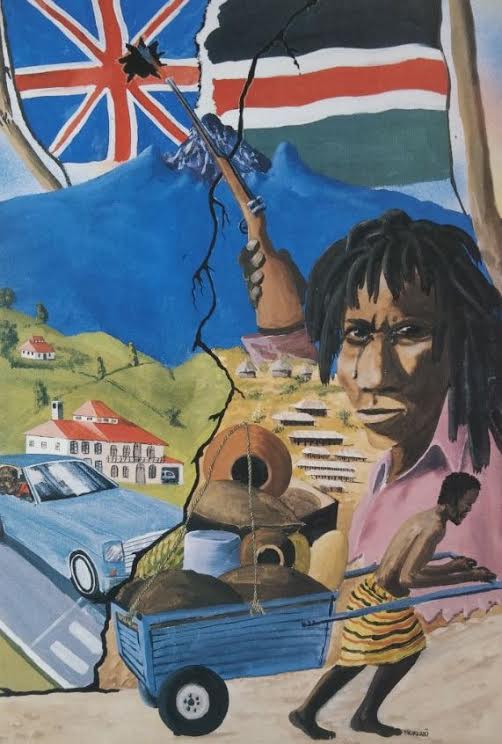 Matunda ya Uhuru (the fruits of freedom), painted by Etae Sukuro and made for display in art fairs or street exhibitions with the hope of raising a 'critical consciousness' (1980s).
Over the coming decade, Schaffner profoundly developed visual art practice in Nairobi and exposed many artists to international markets and audiences. (10) The gallery's commercial drive put artworks beyond the pockets of most Kenyans. Schaffner's marketing was closely linked to her belief that Africans had a different way of seeing, and that 'Western' techniques corrupted this – particularly those artists exposed to university art education. While this did not result in artworks conforming to a particular style, it did result in fewer university graduates' work being shown – with work appearing overly 'western' being excluded and more seemingly 'naïve' artworks getting promoted. The nurturing of 'naïve' art was criticised for encouraging the adoption of a self-conscious 'primitivism'. This should not detract from the talent, pervasiveness and aesthetic expertise that ran through the veins of a number of artists and into their art work. However, in presenting representations of contemporary visual art as 'primitive' or 'naive' and successful artists as 'self-taught', Schaffner created a new 'authenticity' and marketability of contemporary visual art. Speaking in the late 1980s, art journalist Margaretta wa Gacheru stated:
"People who want to use art to say something more about the pressing issues at hand, who want to be the conscience of the nation and decolonize the mind, are quiet with empty tummies, or they have left art, or they have died." (11)

The march of democracy and growth of art-centres
In the 1990s space for the enjoyment of civil and political freedoms expanded as pressure from citizens compelled the government to amend the constitution – making Kenya a multi-party state. An influx of foreign donors became major sources of funding in the field of art and culture. Binyavanga Wainaina, (the founding editor of literary magazine Kwani?) stated these changes "led to the growth of many, many, many independent artistic institutions and artist production houses….enabling people to imagine things for themselves". (12)
Banana Hill Art Studio, founded in 1992 in the home of artist Shine Tani, then moving to its own space in 1994, was the first of many new art-centres to emerge in Nairobi. Shine recognised the role of supportive networks and supported artists (mostly painters and sculptors) with materials, food, accommodation and financial support. A social space for artists was soon created, which promoted co-operation, sharing of knowledge and skills between one another. Banana Hill was the start of a changing landscape for contemporary art in Nairobi, with other art centres soon emerging. Previously the only spaces easily accessible to artists were galleries, where artistic interaction wasn't actively encouraged and inevitable commercial aspects drove artists to work in a style appealing to tourists.
James Mbuthia, Presidential candidates 1.
In 1995, Rob Burnett founded Kuona Trust Arts Centre – originally set up to offer one-off artist workshops. However, as artists gathered in large numbers more possibilities and opportunities were offered. Kuona Trust became a central point in Nairobi's visual art world and today has over 35 artist studios, a library, exhibition space, and offers workshops, artist in residence programmes, and holds regular artist talks. In the words of the founder, Kuona Trust became a space "where artists work together, growing as a community while owning their ideas and their work outside of the commercial art world." (13)
The role of the workshop (which can offer technical skills training, exposure to new environments, a space for reflection and opportunities to share experiences and knowledge) remains a central feature at Kuona Trust; as it does for some other art-centres, cultural institutions and galleries. The workshop creates a social space of learning and interaction whereby artists learn through one another and not necessarily from one another. The 'Wasaani' workshop – instigated by Kuona in 1997 and held nearly every year since – is a case in point showing the strengths of bringing international and national artists together, enabling them to form networks, build partnerships and be confronted with new art concepts and practices. Workshops also enable artists to develop and sustain relations beyond their immediate art space (such as the studio, art centre or gallery), and to foster relations outside the art world. Some diverse examples include the 1998/99 Kuona Trust run workshop in the refugee camps at Kakuma and Dadaab; the Healing Through Art workshop run at Kenyatta hospital with the aim of rehabilitating children through art practice; art education workshops run by organisations such as Mobile Art School Kenya, or community peace and reconciliation workshops run in Kibera by art groups such as Maasai Mbili.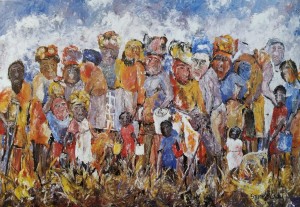 Sane Wadu, Exodus, 1998.
The internationalism of workshops and residency programmes held at Kuona, and other art spaces, exposed artists to new forms of art and how art could be used in diverse ways. For instance, in the late 1990s Kuona began implementing public art projects, initially with international artists on residencies but later with artists from Kenya. Art-centres also create alternative sites for art distribution and reception through exhibitions and open studios – creating spaces where artists are increasingly able to interact with their audience.
Through the years "Kuona has seen a need to demonstrate how art can be used to educate and inform and make powerful statements". (14)  Moving away from the confines of commercialism, a number of artists at Kuona Trust work towards thematic exhibitions pertinent to Kenyan society. Burnett's early aim to "build audiences for Kenyan contemporary culture" (15) is becoming better realised, albeit gradually. Speaking in 2015 Sylvia Gichia, the current director of Kuona Trust, says "we have young interested Kenyans, who are aspiring lovers or enthusiasts of the creative scene…. Our exhibitions are at least 50% local [Kenyan] faces". Gichia hopes that the thematic exhibitions at Kuona Trust will "illicit a serious conversation… We try to use art in this space, as a safe space, to have these types of conversations". While principally a space for the development of contemporary visual art and artists; Kuona Trust demonstrates how art centres, at times, become creative spaces for civic engagement, enabling freedom of expression to thrive.
Art practices being (re)informed and (re)evaluated
The political and social climate in Kenya was fundamentally changing at the turn of the millennium. Press freedom and civil society activism was growing by the day. In 2002 President Moi was defeated by Mwai Kibaki at the ballot box, after a quarter of a century in power. In the words of Kenyan Nobel Prize winner Wangari Maathai:
"A new-found spirit of enthusiasm pervaded the country…when the new government was formed that something extraordinary happened: across Kenya, the "social machine" began to move again." (16)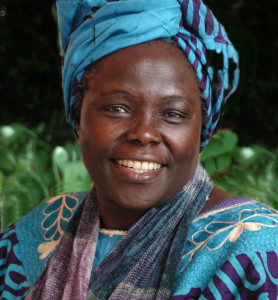 Wangari Maathai. Photo Copyright: Martin Rowe.
As part of a fundamentally changing society the art world was changing too. A wave of art-centres and spaces for art distribution were started. These spaces along with technological advances and a growing interest from the international art world opened global networks. The internet provided possibilities for artists to connect and become instantly exposed to trends and movements happening around the world. The emergence of online platforms radically transformed the manner in which visual art became distributed and consumed. Stimulated by global art movements and happenings, and visibly reacting to socio-political happenings in the country – such as the 2007/8 post-election violence – artists from Kenya further interrogated the role of art, who it is for and what purpose it serves – contributing to art practices being (re)informed and (re)evaluated.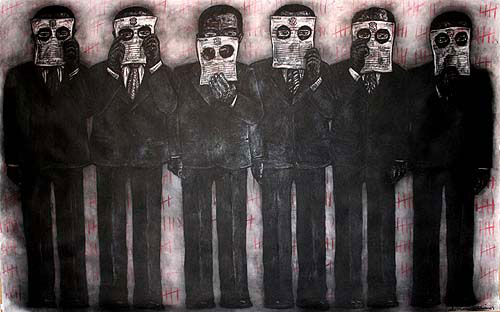 Peterson Kamwathi, Sitting Allowance series, 2008-2009.
For a long time painting, print and sculpture had been the choice of media for many artists. However, a number of artists were keenly, and successfully, turning to conceptual art, performance art, photography, and installations. In some cases this was actively encouraged by galleries and art centres. Work produced addressed contradictions in modern Kenyan life, such as identity based politics, ethnicity, corruption and political violence. Artists came to express a deep faith in art as a platform for freedom of expression. Art centres, cultural institutions and some galleries eagerly supported this artwork, creating spaces for critical social discourse. Some artists also proactively conceptualised and executed their own shows. (17) Peterson Kamwathi, one of Kenya's leading visual artists, describes these changes:
"There is a lot more happening to the arts, a lot more brave expressions. Not striving to serve the tourist market, more engagement with socio-cultural issues. This generation of artists is more visible and assertive than the older one…There are a lot more opportunities to address these issues." (18)

Art practice in this era was clearly something very different from before. The changing art landscape signified widening cultural and democratic arenas. Many of the new spaces for art distribution and reception were initiated and controlled by Kenyans proactively taking charge of their own cultural agenda. These newly established, or continuously developing, art spaces widened their scope of activities and in particular placed an emphasis on how art could be used in areas of civic engagement, civil society, community development and political discourse.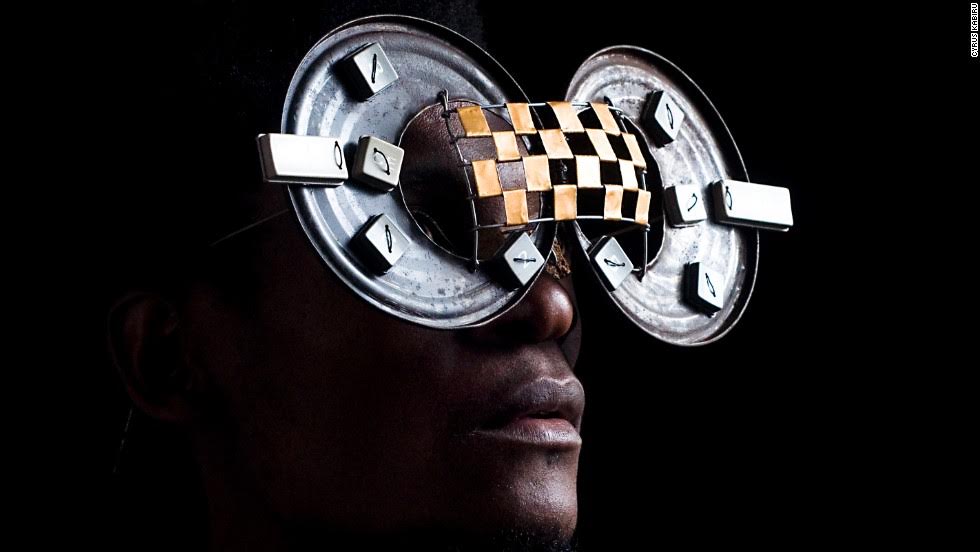 Cyrus Kabiru, C-Stunners series which started around 2011.
Soon becoming a platform for wider civic space, following its establishment in 2003, the GoDown Art Centre has become a significant space for developing the talents of independent artists across multiple art forms. As people become increasingly aware of visual art, thanks partly to a critical and invigorated artistic community, GoDown's director Joy Mboya states that through its initiatives and activities the GoDown "promotes the role of art as a positive force in society". (19) One early example of this was 'Kenya Burning' – a photography exhibition visualising the trauma and memory of the 2007 post-election violence – creating a space for society to remember and reflect on these events – contributing to discussions of, ethnic and national identity in Kenya.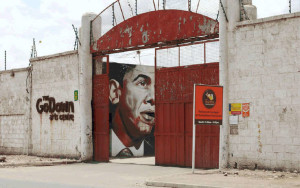 GoDown Art Centre.
In the city's informal settlements, or 'slums', art centres have also been established – challenging the view that visual art is a luxury and something only to be enjoyed by the elite or well-off. These art-centres are the foremost source of contemporary visual art in their communities, playing vital roles in creating an understanding among the local populace of the value of art. While principally a space for artists to develop their practice, art centres such as Maasai Mbili (20) (based in Kibera) and Wajukuu (21) (based in Mukuru) work creatively in the development of the community. They do this through public art projects and murals, education and awareness-raising events, peace and reconciliation projects, creating positive young role models in society, art education and youth empowerment. Artists from these centres have exhibited and travelled internationally with their art; which is deeply connected to the experience and realities of slum life. These artists not only paint slum life but are also changing it through their interactions and activities which contribute to building a strong, informed, critical and creative society. Art-centres incorporating elements of social development indicate a rising use of art to achieve diverse aims, other than that of pure artistic expression.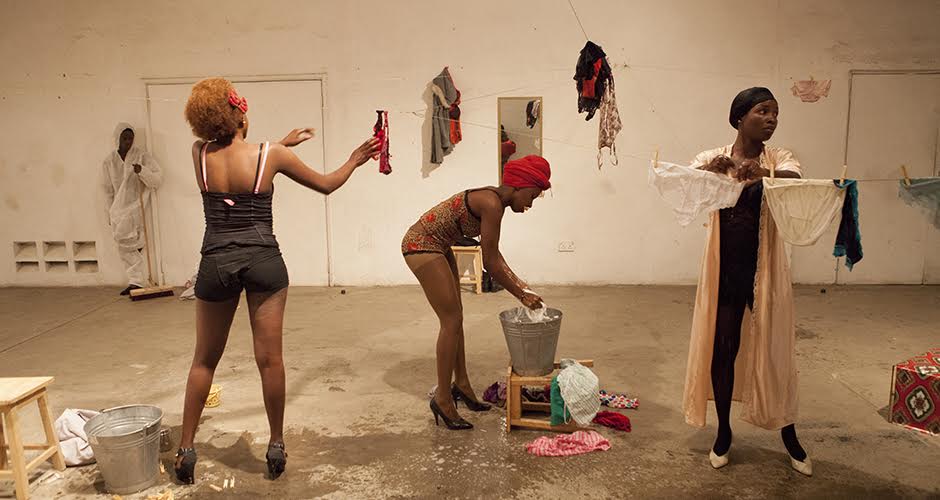 Miriam Syowia Kyambi, Between Us, 2014 (peformance).
The practices of artists from Nairobi, who are socially engaged or politicised, draw parallels to what Jacques Ranciere terms "critical art [which] is an art that aims to produce a new perception of the world, and therefore to create a commitment to its transformation." (22) This 'critical art' is not only fostered in art-centres or placed in public spaces but is also found in Nairobi's galleries – which are connected to international art institutions and networks. On a local level these spaces orchestrate projects and exhibitions that develop collaboration and critical conversations. For example, Nairobi's Goethe Institut aims to foster the "development of pan-Africa projects that aim at an artistic reflection of the current political, economic and social problems on the continent." (23) Commercial galleries are not exempt from this either. A case in point is Circle Art Gallery, which promotes the ever critical and daring artist with the aim of curating "challenging and thought provoking contemporary art". These galleries and exhibition spaces mark a shift in attitudes regarding which art is exhibited and for whom. This enables artist's greater opportunities to exercise their artistic freedoms, whilst interrogating the possibilities of using art to address socio-political issues, and providing a platform for society to engage with their work.
Summary
Spaces for art distribution extend beyond the scope of galleries and art-centres discussed in this article. However, what has been emphasised is their significance in the emergence of contemporary visual art practice in Nairobi. The early proliferation of 'wildlife' and 'exotic' art works marketed by Nairobi's distribution domains demonstrated the monopolisation of taste and subjects marketed towards a non-sophisticated art-buying majority. Additionally the control by cultural gatekeepers, such as Ruth Schaffner, can become easily criticised for seemingly hindering creative freedoms and expression because that would mean that artists working in Nairobi became constrained and restricted. Nevertheless, many artists adapted, and continue to do so today, a fluid position – creating work for different audiences and domains of distribution; highlighting their multiple identities and strategies to fulfil both their economic and artistic needs. The proliferation of many new spaces for art's distribution particularly those of art-centres, provides liberation from commercial motives which can extend aesthetic freedom offered to artists and their practice. The networks that these multiple spaces create, and the environment of continuous questioning of 'what is the purpose of art' and 'what can art achieve' has been constructive for artists to continuously push boundaries. Additionally these new spaces create a platform for wider audiences to encounter art. These are no longer made up of a majority of non-Kenyans but are reaching a range of communities and people of all backgrounds and statuses. However, structures of power do nevertheless exit in Nairobi's art world and it is critical for one to remain aware of this – as these can create boundaries that influence what is possible within these spaces, who can enter and with which interests. What is clear nevertheless is the contribution that galleries and art-centres have made in the huge range of contemporary visual art and art practices found in Nairobi today.
Notes:
[1] The 1970-74 national development plan states that culture contributes to the "realization of national unity and cohesion and the creation of national pride and sense of identity among our people."
[2] In the 1970's a campaign for a national art gallery was launched by the former Vice-President Joseph Murumbi. After the death of Kenyatta in 1978 the second president to Kenya, Daniel Arap Moi, is said to have theoretically agreed to its establishment. However this never came to fruition. The Government of Kenya did, in 1980, acquire Murumbi's significant personal collection of art and ethnographic objects from across the African continent. It was entrusted to the National Archives, which set up the Murumbi Gallery showcasing these artworks and objects. In 2013 some of this collection moved to the 'Nairobi Gallery'. The search for a national gallery and its establishment remains unfulfilled.
[3] See 'Art Worlds', (1982), University of California Press
[4] See 'Cultural Policy in Kenya', by Kivuto Ndeti, Published by the Unesco Press (1975)
[5] ibid
[6] The Paa ya Paa art centre was established in 1965 by artist Elimo Njau and other cultural workers.
[7] This is described by Joy Mboya, director of the GoDown Art Centre. See 'Cultural Production and Social Change in Kenya Building Bridges' (2007), Twaweza Communications.
[8] The literal translation of Sisi kwa Sisi is 'For us by us' but Etale Sukuro who was a driving force behind the movement says that in effect it means "For Kenyan artists and their Kenyan audience by Kenyan artists and their inspirational sources – the Kenyan people"
[9]'Watatu' is the Kiswahili word for three people, a reference to the three expatriates (Yony Waite, Robin Anderson and David Hart) who started the gallery in 1969. After Schaffner's death in 1996 Gallery Watatu went into slow decline, closing in 2013.
[10] Artists represented by Gallery Watatu participated in a number of international art exhibitions in the 1990's. These included: Wegzeichen – Signs (1991); Africa Explores (1991-1994); Africa hoy/Africa Now (1992-1993); Recontres africaines (1994); Johannesburg Africus (1995); Seven Stories About Modern Art in Africa (1995-1996); Osaka Triennale (1993); Dakar Biennale (1993, 1996)
[11] See the article – 'NAIROBI; Kenyan Artists Struggle to Maintain Artistic Integrity Against the Lure Of Tourist Money', http://www.nytimes.com/1988/07/31/arts/nairobi-kenyan-artists-struggle-maintain-artistic-integrity-against-lure-tourist.html
[13] See the exhibition catalogue 'Action and Vision: Painting and Sculpture in Ethiopia, Kenya and Uganda from 1980', (2002) Triangle Arts Trust for Rochdale Art Gallery
[14] ibid
[15] ibid
[16] See 'The Challenge for Africa', (2010) Arrow Books, London
[17] An example of this is the Stereotype I and II exhibitions by artists John Kamicah, Thom Ogonga, Anthony Okello, Michael Soi and Sam Hopkins. The exhibitions, which were in reaction to the 2007/2008 post-election violence, critically questioned issues to do with ethnicity, stereotypes and how these have and continue to be used by those in power to entrench politics of 'tribalism' in the country
[18] See 'Peterson Kamwathi', (2011) Goethe-Institut, Kenya
[19] See 'Visionary Urban Africa: Built Environment and Cultural Spaces for Democracy', (2014), Visionary Urban Africa magazine, March 2014
[20] Maasai Mbili is a community based art group founded in Kibera, Nairobi 2001. The collective, of around 10 visual artists, is engaged in contemporary art programmes and community outreach projects and workshops.
[21] Wajukuu (in Swahilli means grandchildren) was established in 2004 by a group of young artists from Mukuru. The aim of the centre is to nurture artistic talent, cultivate a sense of dignity and self-esteem among the young of Mukuru, and to contribute creatively to the development of their environment.
[22] See 'Dissensus: On Politics and Aesthetics' (2006)
[23] See 'Filling the Blank Space of Global Art Peripheries: Measurements of Art Mobility and their Ambivalence in Nairobi, Kenya', Artl@s Bulletin 2, no. 2 (2013): Article 6.
Craig Halliday is pursuing a PhD in the role of visual art in Kenya's democratisation.  Prior to this Craig completed a MA in African Studies, MSc in International Development and has worked and lived in Kenya, Myanmar, Sierra Leone, Tanzania and Zambia. When not working or studying Craig is a keen photographer and has a painting studio in Norwich, UK, where he lives.