Overall, Koyo Kouoh constructed an artistic Frankenstein. Unfortunately the star curator proved unable to supply the body with the necessary lightning. The limbs were sourced in South-East Asia, its intestants in Europe; the head came from Africa, while the torso was imported from the extensive American continent. So, even though having ticked all boxes of global presence, the spark did not cave in: the overall connections and ideas did not make the exhibition come to life.
Vincent van Velsen on the EVA International 2016, Ireland's Biennial.
Kemang Wa Lehulere, Teeth are the only bones that show, 2015.
The Postcolonial Möbius Strip
On Still (the) Barbarians…EVA International 2016, Ireland's Biennial
In Discourse on Postcoloniality, Aimé Césaire discusses different contemplations on the situation in post-World War Europe. In 1950, when Césaire published his essay, the dust from the devastations of war just vapored down. Meanwhile at numerous places connected to the European continent battles continued, or were initiated. Egypt, Algeria, Syria, Congo, Indonesia, Vietnam, Palestine and many other nations suffered from violence and devastations applied by the same European hands that had just started to rebuild their own premises. Unfortunately, the awe that accompanied the destructions deployed on their own buildings, soil and men alike did not bring the continents rulers to a consciousness that lead to a seizure of their rampant devastations overseas. Casualties and effects, home and abroad were not connected, thus did not make Europeans withdraw their violence upon many Others.1
Moreso, the peoples overseas had been terrorized for centuries already: structurally exploited and suppressed, while occasionally being exterminated. According to Césaire, the mechanisms that the Nazis had put into place during their reign, to get rid of rightful inhabitants, possible opponents and unwanted voices, had been extensively practiced overseas before. The idea of employing a workforce as slaves in factories to supply necessities, compensated by minimal shelter and bare nutrition, fenced of like cattle, or being starved and murdered after being expropriated and stripped from all possible valuables, had been a daily practice in every colony since colonialism began. Therefore, to Césaire the sole difference between the fascist tactics and the colonial endeavours, was its location. The European continent itself for the main part had been void of these types of comprehensive exploitation and extensive extermination. Only during the Nazi quest for Lebensraum and their related racist distinction between those entitled and those to be removed, the Europeans were made directly familiar with colonial practices when witnessing them deployed on their neighbours and locality. This intense confrontation with their own overseas modes of working left Europe dreadful.
Irish Colonization
Somewhat similar, before the global British Empire came to existence, the English experimented colonial practices on their neighbours. Mainly overlooked in the (post)colonial realm, due to its proximity and etnicity, the Irish island should be considered a laboratory: the earliest endeavour of exploitative, colonial powers. This statement by Cameroonian born curator Koyo Kouoh of the EVA Biennial 2016 might come as a blunt surprise to many. The arguments however, surely show a shared background in colonizing practices. Land appropriation (from the rightful inhabitants), starvation (The Great Famine of 1845-1852), suppression (social structures, religion and culture), exploitation (labour and land), violence (post-Easter Rising), and migration (structural fleeing) are all obviously present throughout Irish history. In addition, forcing ones language upon a foreign people and suppressing their own, is an important part of colonization too. Consequently Kouoh opted for a bilingual catalogue: as Irelands Biennial is ought to be articulated in its own speech.2
Within the exhibition, the position of language can be found in the work by Kostas Bassanos. He applied the sentence 'The Barbarians are due here Today' in Greek on the roof of Cleeve's Condensed Milk Factory. Dealing with the impossibility for many to comprehend its meaning, the billboard-like structure touched on language both as means of exclusion and as a mode of propaganda; while the sentence itself was derived from the poem Waiting for the Barbarians by Constantine Cavafy – which functioned as inspiration for the title of the show, as well as its overall motto. In addition to language, time related acts constitute an important aspect of foreign occupation. In a theoretical realm Peter Osborne wrote about the politics and power of governing time. In the biennial John Waid addressed this matter concerning the Irish context. The time on the Irish isle has been equalised with the British clock, which means the now is always 25 minutes and 21 seconds out of sync with the real or natural time within Irish premises: causing a structural estrangement.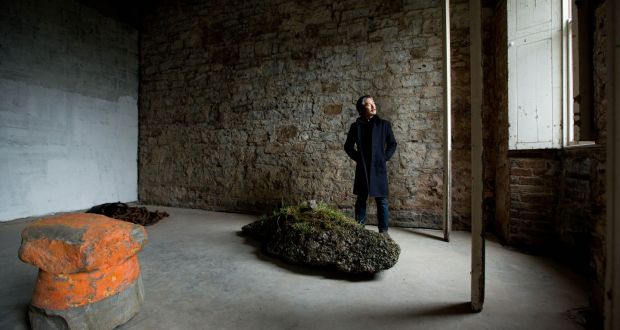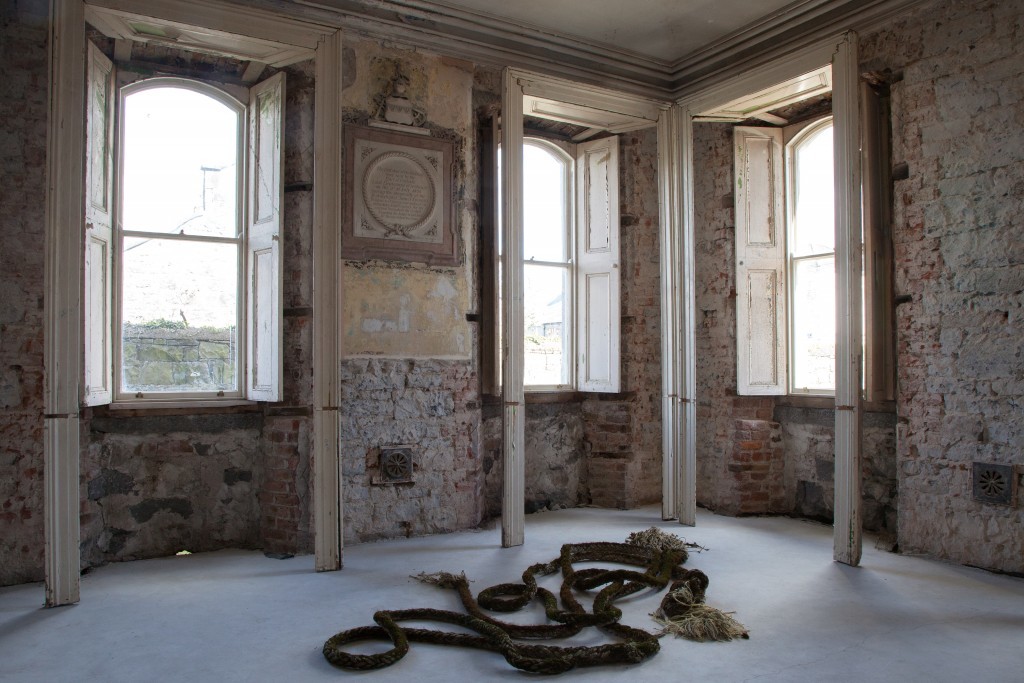 Michael Joo, The beautiful striped wreckage (which we interrogate)….2016.
On a different account, the hands of time were also addressed by Michael Joo. His enticing installation The beautiful striped wreckage (which we interrogate)… (2016) in the dilapidated Sailor's Home dealt with ways in which human elements over time fade back into the natural world. From halfway up the rickety stairs, the installation on the first floor could be viewed. It consisted out of a double screen video projection comprised of an almost still image. It showed an 'emaciated Buddha'-sculpture from the British Museum collection. The object was 'sourced' from Pakistan during colonial times and today is part of the permanent collection of the museum. On the ground floor Joo had put back the original window- and doorframes of the building, while scavenged objects from the surroundings populated the floors in different spaces. These included items sourced from the Shannon River and a piece of dugged out concrete from the dwelling's overgrown hinteryard. It metaphorically connected to the way nature is able to take human manufactured objects back into its womb. Adequately embodied by the deprived Sailor's Home itself, which hinted at a human history that would slowly be obscured by its environment. Similar, the Buddha Shakyamuni slowly ascetically starved itself in order to gradually fade away out of the world. The work seems to relate to Tiffany Chung's excavation of a past lost. In the first entered room of the Limerick City Gallery of Art, she exhibited a piece of buried history, next to a video of the digging-act itself and prints of ancient city maps dating back from a pre-colonial era. Both Joo and Chung applied acts of archaeology that dealt with remembrance, culture, nature and museological representation of a past fading.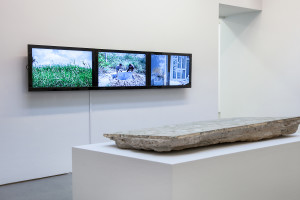 Tiffany Chung, an archaeology project for future remembrance, 2013. Photo Miriam O'Connor. Courtesy the artist.
History Blending
In the overarching theme leads towards a curatorial narrative that dealt with various modes of blending differing elements together in new ways existed. Also, the fading of differences over time, seemed to be an unconscious leitmotiv. In her curatorial statement Kouoh referred to Okwui Enwezor's concept of the colonial Siamese Twin. In his piece Inclusion/Exclusion: Art in the Age of Global Migration and Postcolonialism 3, he stated that most of the time the attention goes solely towards the colonized as a victim, and the way they nowadays have to deal with their sore history and resulting poor socio-economic position. Enwezor stretches that at the same time the question of how the colonizer is ought to deal with their actions is an utmost relevant issue only addressed by exception – if ever at all. The inherent connectedness between colonizer and colonized most of the time is presented as a one-way street; while effects and affects surely run both ways. Kouoh pointed at this aspect exactly when she used the term Barbarians. Who embodies the uncivilised other, is only a matter of perspective. Such as to the Europeans who were confronted with their own mode d'emploi, as stretched by Césaire, the Nazis were the exceptional barbarians. At the same time the Europeans extensively applied similar barbarous tactics on many Others. This ambiguity contains an important message.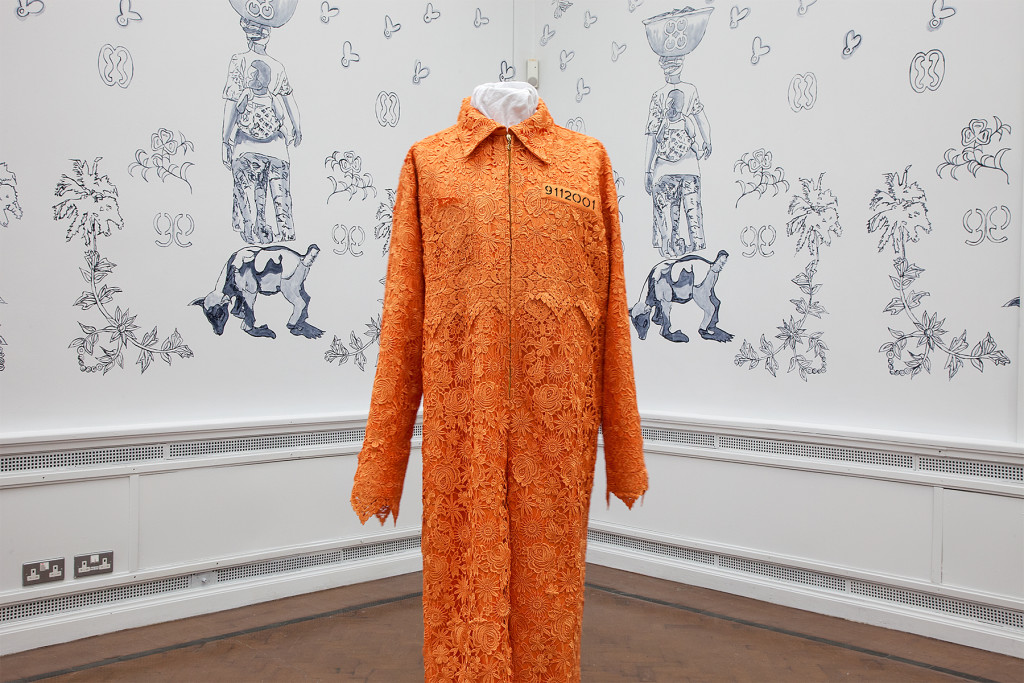 Godfried Donkor, Rebel-Madonna, Lace-Collection, Photo Miriam O'Connor, Courtesy the artist and EVA International.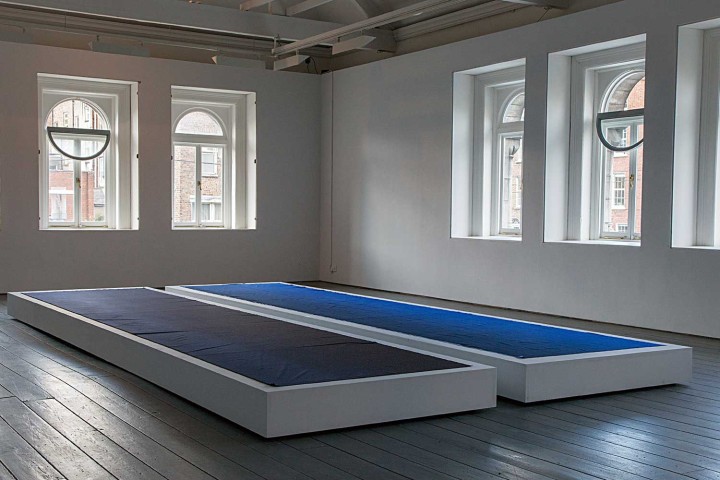 Willem de Rooij, Blue to Black, 2016.
Otobong Nkanga, The Weight of Scars, 2015.
Within the exhibition there were a few great examples of this practice of blend. Godfried Donkor, for example, presented two beautifully handcrafted garments: a jumpsuit and straight jacket that were made on basis of traditional Limerick lace patterns and pieces from Donkors personal archive. A mix and match of warp and weft, was able to delicately weave divergent histories together. Furthermore, Willem de Rooij extended his 2012 Blue to Black piece with a second part: Black to Blue (2016). Back then, the wax print piece came about in collaboration with Kouoh-lead RAW Material Company. In Limerick, the African cloth was flanked by its new batik brother: a wax print sibling. In a sense the two pieces together relate to the timeline of Dutch colonialism and the related migrational history of wax print and its meaning, techniques and fabric alike – as meticulously described by Nina Sylvanus in The fabric of Africanity: Tracing the global threads of authenticity (2007). Otobong Nkanga's large scale tapestry The weight of Scars (2015) hung adjacent to De Rooijs pieces. The tapestry characterizes abstract interactions with soil, by means of anonymous hands, tools and systems grappling and scarring the landscape for its resources. Other mention-worthy contributions were made by Uriel Orlow, Bradley McCallum, Journal Télévisé Rappé, Vo Tran Chau, and Jeremy Hutchinson. These artists respectively dealt with a circular dia-narration and installation concerning Mandela's Robben Island garden; a painterly depiction of political convicts from the International Court of Justice in The Hague; news items told in musical ways; abolishing historical class distinctions by turning personal pieces of clothing from different descendents of a former king together in a new patchwork; and a reflection on indigo production and the way Palestinian soil is exploited for the sake of economical gains, while, of course, simultaneously hinting at the borders, topologies and geopolitical status of this nation under siege. In all these pieces (hi)stories fade in to each other and blend in various ways.
Biennial Culture
Noteworthy is the fact that Still (the) Barbarians puts forward an exhibition as a scattered whole, in which it is hard to connect the dots. Several strong individual works do relate to the general thematical outline sideways, and are able to survive the curatorial damage done on basis of their individual quality. However as a curatorial endeavour the biennial is not able to convey a solid well structured and artistically supported message. Its highlighted relation to the 100th-annual remembrance of Easter Rising – the 1916 Irish resistance/uprising against the British occupation – feels fraudulent, as it was only carried out in words, never in works. Remarkable too, is the fact the curator and list of artists indicate the highest level of international biennial contributors, complemented with several upcoming and/or local artists. Nonetheless, it resulted in quite a generic overview of an artistic jet set, while the works themselves were not presented at its best. Here an important shortcoming of the curatorial effort comes to light. The selected and presented works prove unable to establish a synthesis. The overall positioning does not take into account possible relations between individual works and how these could complement or intensify each other by constructing (new) affiliations – in addition to the individual meanings and narratives. The choice for positions and installation therefore just feels totally random, or motivated merely by practical considerations.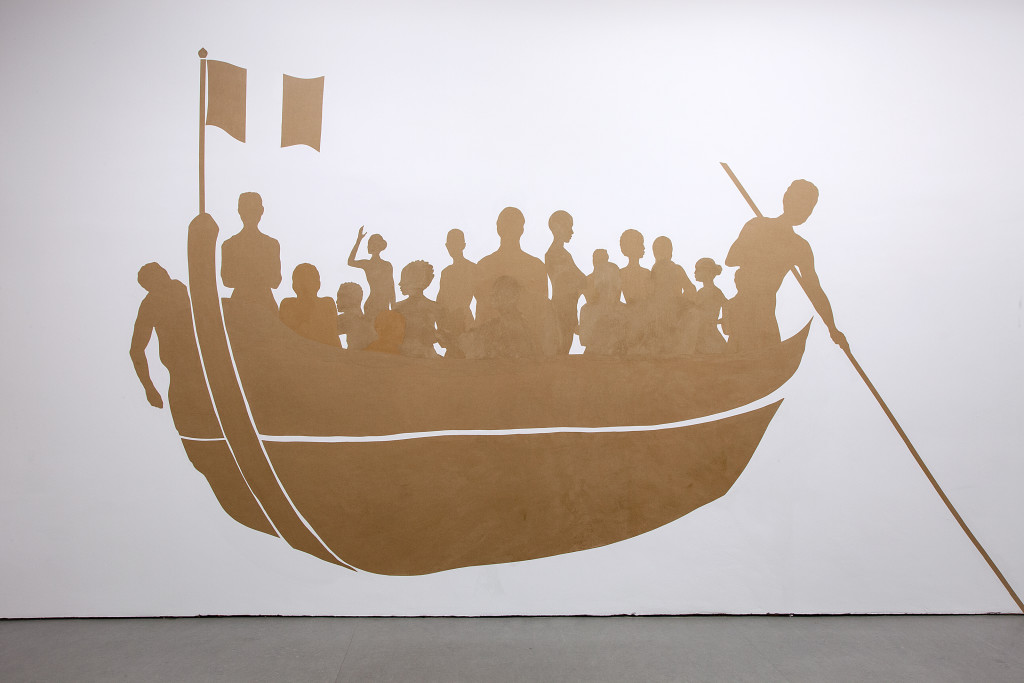 Mary Evans, Thousands Are Sailing, Photo Miriam O'Connor, courtesy the artist and Tiwani Contemporary and EVA Internationa.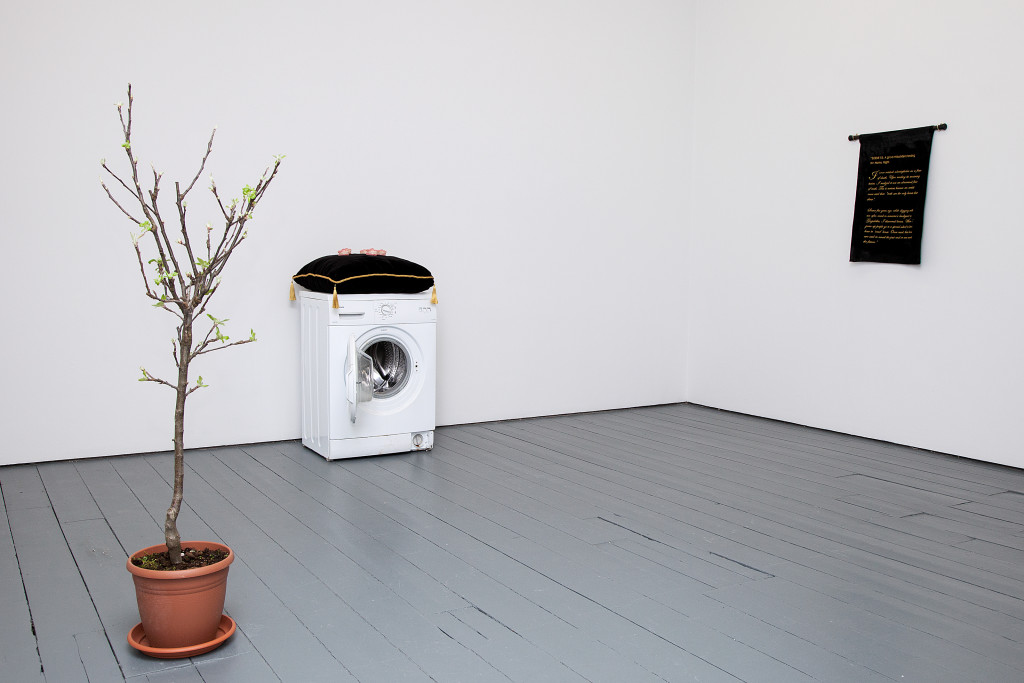 Kemag Wa Lehulere, Teeth Are The Only Bones That Show, Photo Miriam O'Connor, Courtesy the artist, Stevenson Gallery and EVA International.
A telling example of these not so well carried out curatorial choices on subject matter and individual work itself could be encountered in the Mona Vatamanu and Florin Tudor, who presented different depictions of the world map. These represented a redundant, but apparently compulsory visual in shows dealing with postcoloniality. Another overly obvious contemporaneous subject to cover was migration and refugees. Philip Aguirre y Otegui addressed their fragile vessels on the Mediterranean Sea by dully depicting them directly on a mural-map. Also memento, an elaborate series of On Kawara-inspired paintings by Samuel Erenberg was not able to convince. The works linguistically depict places and moments of events influenced by American foreign policy. However, due to their overly broad and trivial subject matter the paintings were unable to establish a relation between the real meaning of these concrete events and the painted dates. Similar, Mary Evans' mural was not able to convey a message beyond its snafu decorative physicality. Despite referencing Kara Walker's strong visual language, the piece was not able to reach a similar level of provocative ambiguity and just looked like fumble cut outs. Also, Kemang Wa Lehulere, who was tucked away in a corner on the first floor, was not able to fully live up to expectations. The globally lauded artist here aimed at applying his regular mode of working onto a Limerick fabulation; however the normally strong elements within his practice of unveiling dense histories relating to his personal experiences via politically fuelled elements seemed to have been compromised by the choice for applying these on a foreign locale.
Frankenstein and Möbius
Overall, Koyo Kouoh constructed an artistic Frankenstein. Unfortunately the star curator proved unable to supply the body with the necessary lightning. The limbs were sourced in South-East Asia, its intestants in Europe, the head came from Africa, while the torso was imported from the extensive American continent. So, even though having ticked all boxes of global presence, the spark did not cave in: the overall connections and ideas did not make the exhibition come to life. And while Kouoh did intend to apply a theme in relation to the Irish context, it came out as a contrived subject matter. The exhibition both lacked a vivid presentation, and it could have been executed anywhere. Indications of such flaws can be found in the artificial ways in which other locations in Limerick were included in the program. The works presented at the Hunt Museum did not constitute any connections with the museum itself; and obviously only functioned to make sure the biennial visitors would make a tour through the city, and a visit to this museum. The presented pieces were decontextual to their location, not able to relate to, nor reflect on their surroundings. The overall thematic approach therefore significantly lacked coherence and relevance. In this sense, the contribution by Irish-native Liam Gilick was highly contingent. While providing agency to the usually unheard, the framework for story telling in a bar, made sense if local embeddedness was the sole consideration. As part of a biennial on the postcolonial condition, it was a sheer example of pervasive serendipitous choice.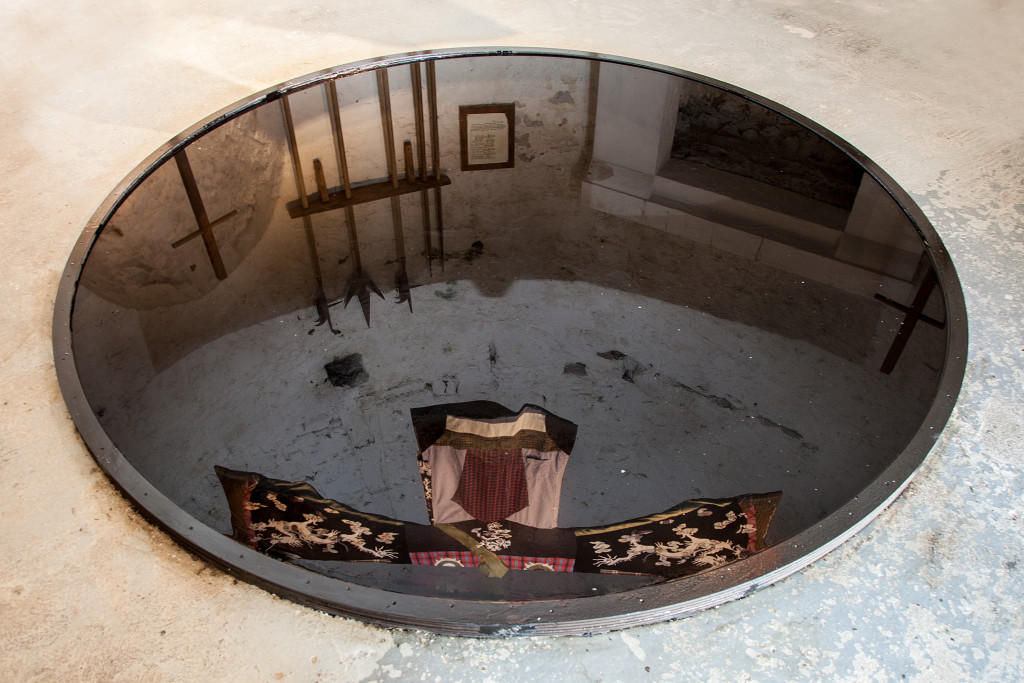 Vo Tran Chau, Water Image, Photo Miriam O'Connor, courtesy the artist, San Art and EVA International.
Still, the works presented in the EVA Biennial seem to unconsciously leap over the Siamese Twin – towards a next step. In the works by Vo Tran Chau, alike Michael Joo, elements of hybrid modes and syncretic ways of becoming are present. At the same time Project Studio's Road Movie (2015) addressed one of the most precarious borders of the world from both sides and thereby literally skirted on multiple perspectives. Moreso, the works by Godfried Donkor and Willem de Rooij metaphorically weave together histories and indicate possibilities for combinative futures; while McCallum literally depicted positives and negatives simultaneously in performances of justice. In this sense, the exhibition dealt with multi-perspectivity, and a merge of individual aspects into new narratives, identities and characteristics, in which (former) individual distinctions are hard to specify or trace back. This creolité-informed situation is exactly what the postcolonial condition entails in 2016. A condition best described by Jean Fisher as she speaks of the 'loss of boundaries between subject and object', which she relates to Deleuze and Guattari's deterritorialisation and modes of contamination, heterodoxy and transculturalism. For Fisher, these elements can be found in the Vampire figure who 'destabilises the apparent coherence of any rationalist discourse'.4 In the end, the current postcolonial condition seems indeed to be entirely destabilised. While, in the 1950's, when Aimé Césaire wrote his essay, the situation looked quite clear: trespassing exploitation-driven Europeans on one side colonized Others on the other. Nowadays, through migration, contamination, and economisation an all encompassing connectedness has formed. This is not a situation in which neither Barbarian or civilised, back or front, nor can beginning or ending be pinpointed framed or stably defined. To establish meaning this deterritorialised mode is reliant on perspectives, context and specific moments (in history). While, it's most important trait is the continuous fade of differing elements and possible parts, to constitute new essence and entities. Therefore the current condition could adequately be described as a postcolonial Möbius strip.
1. Discourse on Postcoloniality, Aimé Césaire et al, Monthly Review Press, 2000 (1950) – all further references to Aimé Césaire also stem from this publication;
2. Still (the) Barbarians, Koyo Kouoh a.o., EVA International, 2016 (catalogue);
3. Inclusion/Exclusion: Art in the Age of Global Migration and Postcolonialism, Okwui Enwezor, Frieze, 1996 – https://frieze.com/article/inclusionexclusion-art-age-global-migration-and-postcolonialism;
4. Introduction in Vampire in the Text, Jean Fisher, Iniva, 2003.
Vincent van Velsen is a writer, critic and curator with a background in art and architectural history. He writes for artists, galleries and institutions including SMBA and the Rijksakademie. He also is a regular contributor to Metropolis M, magazine for contemporary art in The Netherlands. Van Velsen curated exhibitions for Castrum Peregrini, Framer Framed and VBCN (Association of Dutch Corporate Collections). He sits in the programming committee of Kunsthuis SYB, is part of the advisory board of Momart and a member of the board at De Appel. Van Velsen is also editor at We Are Public and Platform Beeldende Kunst; and currently a resident at the Jan van Eyck Academy, Maastricht.
EVA International. until July 17 in Limerick City, Ireland.