William Kentridge | KABOOM!
Goodman Gallery Johannesburg, until 10 November 2018
Drawing for the Head & the Load (Tondo II), 2018
About:
KABOOM! wastes little time introducing itself. The title sets the scene for the exhibition, which largely draws on work produced for two recent performance projects by William Kentridge backdropped by war: the critically acclaimed The Head & the Load , which premiered at London's Tate Modern in July, and the celebrated 2017 production of Alban Berg's opera, Wozzeck .
Untitled (drawing from Wozzeck 17), 2016
The exhibition is organised around Kentridge's ongoing interest in juxtaposing fragments for both coherent and absurdist ends. The result is a diverse display of work in several mediums including a new three-channel film installation related to The Head & The Load , never-before exhibited charcoal drawings used for projection in that production, as well as other drawings produced for the opera, Wozzeck . In addition, KABOOM! features composite drawings made for Kentridge's recent performance of Kurt Schwitters's 1932 sound poem, Ursonate , at Performa 17 in New York and a new set of bronze sculptures that form part of his Lexicon series.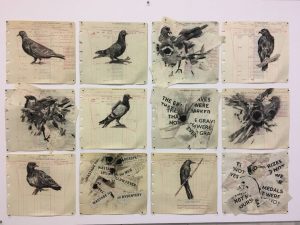 Drawing for the Head & the Load (twelve birds), 2016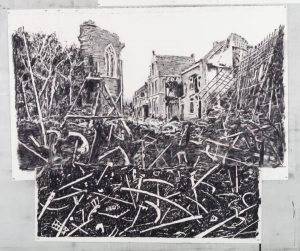 Untitled (drawing from Wozzeck 63), 2016
'Is it possible to tell a story without telling it through the story of one individual – the girl, the soldier, the hero, standing in for the whole war?' says Kentridge, reflecting on the creative process behind The Head & The Load . For the artist, the answer to this question lies in 'understanding history as fragmented' and using this perspective to assemble various disparate pieces that help construct a 'provisional understanding of the past.'

Drawing for the Head & the Load (Fallen Figures), 2018
For his design of Wozzeck , Kentridge drew inspiration from documentary photographs depicting the ravaged First World War battlefields of Flanders. The opera, which premiered at the Salzburg Festival in 2017, tells the story of a homicidal soldier – a tale brought to life by Kentridge through his characteristic charcoal drawings depicting bleak landscapes, denuded of their trees and scarred by shell craters.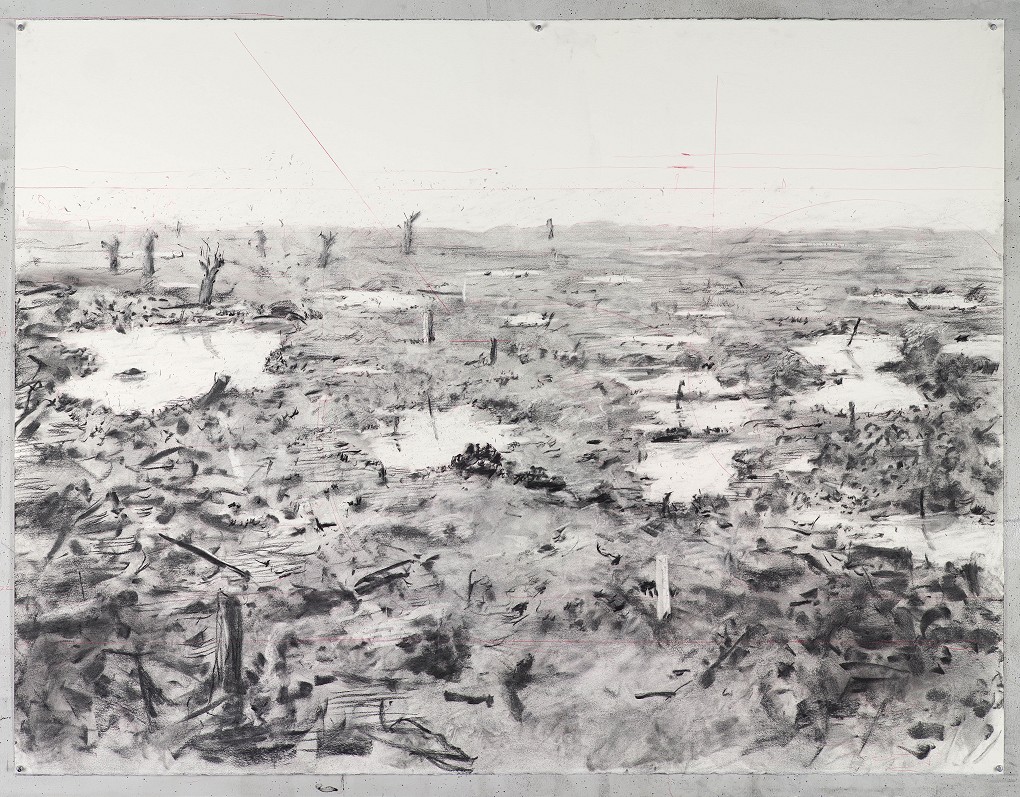 Untitled (Drawing from Wozzeck 3), 2016.
During the production process for Wozzeck Kentridge brought together a group of local performers to workshop the material. 'There were so many things not used,' Kentridge recalls of the rehearsals, 'so much left at the edge of the production… many of the items called to be looked at again, to be brought back onto stage.' It was from those unused elements that Kentridge would begin development on his next project: The Head & the Load .
A play on the Ghanaian proverb, 'the head and the load are the troubles of the neck', this large-scale production expressively speaks to the nearly two million African porters and carriers used by the British, French, and Germans during the First World War in Africa. The Head & The Load takes the form of a processional musical journey and features an international ensemble cast of singers, dancers, and performers accompanied by a chorus of mechanized gramophones alongside multiple film projections and shadow play to create a landscape of immense proportion and imagination.
According to Kentridge, the project explores 'the contradictions and paradoxes of colonialism that were heated and compressed by the circumstances of the war'. Among the various sources of text used to articulate this story, Kentridge drew on Schwitter's Ursonate , which was written after the First World War, but remained indebted to the sound poems developed by the Dadaists during the Zurich cabarets in 1916. The work's use in The Head & The Load speaks to 'sound of a rational argument hiding a deep irrationality.'(text and courtesy Goodman Gallery SA)