Xenobia Bailey (1955, Seattle) is one of the artists in the exhibition 'Fiber: Sculpture 1960-Present' in ICA Boston, from October 1 till January 4 2015.
About:
Xenobia Bailey studied ethnomusicology at the University of Washington, it was there that her interest in craftsmanship and fabric took full bloom. She worked as a costume designer for the renowned African-American community theater, Black Arts West, until her acceptance into Pratt Institute in Brooklyn in 1974. She received her BA in industrial design while she learned to crochet under needle artist, Bernadette Sonona, after which she began to create and sell colorful crocheted hats inspired by distinctly African-American patterns, themes and hairstyles.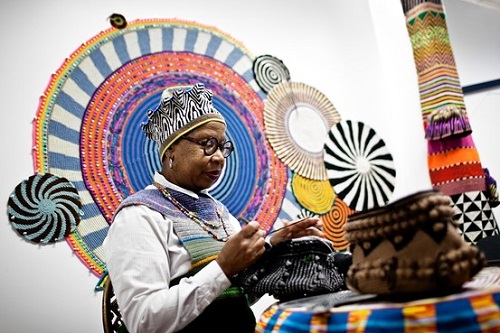 Bailey is best known for her eclectic crochet hats and large scale crochet mandalas, consisting of colorful concentric circles and repeating patterns. Her pieces are often connected to her ongoing project "Paradise Under Reconstruction in the Aesthetic of Funk". Her designs draw influences from in Africa, China, and Native American and Eastern philosophies, with undertones of the 1970's funk aesthetic. Her hats have been featured in United Colors of Beneton Ads, on The Cosby Show, and in the Spike Lee film Do the Right Thing (worn by Samuel L. Jackson as DJ Mister Señor Love Daddy).
Aesthetics of Funk, 2011.
Bailey has been artist-in-residence at the Studio Museum in Harlem, the Society for Contemporary Craft in Pittsburgh, and the Marie Walsh Sharpe Art Foundation in New York City. Her work has been exhibited at the Studio Museum in Harlem, the Jersey City Museum, the New Museum of Contemporary Art, and the High Museum of Art in Atlanta. Her work is in the permanent collections at Harlem's Schomberg Center for Research in Black Culture, the Allentown Art Museum, the Museum of Contemporary Arts, and the Museum of Arts and Design.

About the exhibition:
Fiber: Sculpture 1960–present is the first exhibition in 40 years to examine the development of abstraction and dimensionality in fiber art from the mid-twentieth century through to the present. Adapting age-old techniques and traditional materials, artists working in fiber manipulate gravity, light, color, mass, and transparency to demonstrate the infinite transformations and iterations of their material. Early pioneers such as Magdalena Abakanowicz, Sheila Hicks, Lenore Tawney, and Claire Zeisler demonstrated a revolutionary redefinition of fiber art in the 1960s and 70s, showcasing radical, non-representational forms. Fiber: Sculpture 1960–present addresses the cultural and critical forces that contributed to the initial efflorescence of the fiber revolution in the mid-century, its contraction in the 1980s, and its recent reclamation by contemporary artists.
Eva Hesse, Ennead, 1966.
Crisscrossing generations, nationalities, processes, and approaches, the exhibition features approximately 50 works by 34 artists—including works by the aforementioned artists alongside Olga de Amaral, Eva Hesse, Ernesto Neto, Rosemarie Trockel, Anne Wilson, and Haegue Yang—that range from small-scale weavings to immersive environments, all made in fiber.
FEATURED ARTISTS
Magdalena Abakanowicz
Olga de Amaral
Xenobia Bailey
Alexandra Bircken
Jagoda Buić
Alexander da Cunha
Ria van Eyk
Josh Faught
Elsi Giauque
Françoise Grossen
Eva Hesse
Sheila Hicks
Diane Itter
Ritzi and Peter Jacobi
Naomi Kobayashi
Beryl Korot
Ruth Laskey
Aurèlia Muñoz
Ernesto Neto
Sheila Pepe
Robert Rohm
Ed Rossbach
Kay Sekimachi
Alan Shields
Sherri Smith
Jean Stamsta
Lenore Tawney
Rosemarie Trockel
Piotr Uklański
Faith Wilding
Anne Wilson
Haegue Yang
Claire Zeisler
Faith Wilding, Chroceted Environment, 1972-1995.