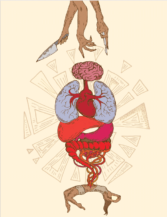 Successful artworks have the ability to instruct or persuade the populace, to give new meanings or perspectives on issues, to provide new knowledge or to build ones capacity in empathy for a certain cause. The use of art can provide a setting in which people can discuss issues, form connections, and potentially take action. Just how much people take away from this experience is difficult to tell.
Join the discussion with Craig Halliday.
Brian Omolo, Insurance Policy.