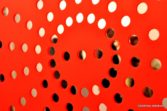 Mutuku likes to explore new approaches in his art practice, particularly the integration of organic and man-made materials with new digital and technological processes – for the artist "any medium can be art." Interrogating 'what can be art' and 'what art can be' is central to Mutuku's outlook. He says "if we stay stagnant in what has already been accepted in art then we come to a point where art can die…you need to ask yourself, are you really commenting on the time that you are living in."
Craig Halliday on Mwini Mutuku.
Visceral, Red Vinyl on Mirror, detail.