Mutuku likes to explore new approaches in his art practice, particularly the integration of organic and man-made materials with new digital and technological processes – for the artist "any medium can be art." Interrogating 'what can be art' and 'what art can be' is central to Mutuku's outlook. He says "if we stay stagnant in what has already been accepted in art then we come to a point where art can die…you need to ask yourself, are you really commenting on the time that you are living in."
Craig Halliday on Mwini Mutuku.
Visceral, Red Vinyl on Mirror, detail.
"if your fingerprint is not on the work then it's not really art."
Mwini Mutuku: Questions and Conversation
To question is to challenge our preconceived ideas of our self and others. It takes us on a pursuit of wisdom through which we dismantle levels of complacency we have grown content with. While at times we attempt to cast aside intricate questions – often because they are uncomfortable, inconvenient, or ominous – they nevertheless always return, continuing to disturb us until the day we confront them. When this journey begins it leads us to develop new hypotheses and conclusions as to who we are and the world around us. This process ultimately creates situations for new questioning which takes us on a perpetual voyage of discovery. Mwini Mutuku's art practice and work is all about questions; questions which explore and confront emotions that respond to various aspects of life; questions that lead to greater self-awareness; questions that bring about conversation. The artist states "Art for me is about connecting with other minds especially through conversation. In this way, I try to harness the ability of art to ease inter-personal exchange. To question 'art' is to question 'us' and for this reason I consider my work to be questions."
Mwini Mutuku grew up in Eastland's Nairobi. At 21 he moved to Malaysia to study for a Bachelor of Design (Hons) in Professional Design (Visual Communication) at Limkokwing University of Creative Technology. Returning to Kenya in 2011, he acquired an art studio in 2014 at Kuona Trust (Nairobi) where his artistic career began. Initially he focussed on painting – something he had a yearning for though never the opportunity to profoundly explore. During this period he re-evaluated his art practice and the direction he wanted it to go – not only in terms of the form and medium, but also its purpose. For Mutuku "If art does not lead to anything that is progressive then it is not interesting." The artist does not feel his work must provide the spectator with answers to certain questions – rather, Mutuku looks to advance art forms and challenge received ideas and in so doing create work that sparks dialogue or becomes the foundation for thinking in a certain direction.
The experience of living internationally, in addition to globalisation, technology and online expansion, exposed Mutuku to contemporary ideas, trends and art forms. This challenged conventional art practices found in Nairobi while it also fed Mutuku's intellectual outlook on life and continual philosophical inquisitiveness. The artist began developing his own visual vocabulary of patterns, shapes and motifs – believing "if your fingerprint is not on the work then it's not really art."
Influenced by the simplicity of minimalism – and moving away from painting – Mutuku says he started to "make art in an attempt to understand the 'self' and to question my place in the world." His artwork is clearly informed by conceptualism and, to quote Sol LeWitt, Mutuku believes "the idea becomes the machine that makes the art." It is these elements in addition to the use of novel materials and processes which gives the artist and his work a refreshing edge of non-conformity and individuality within the Nairobi art world. This short article looks into a selection of work, and their themes, created by the artist over the past two years.
Self-reflection, experimentation and emotions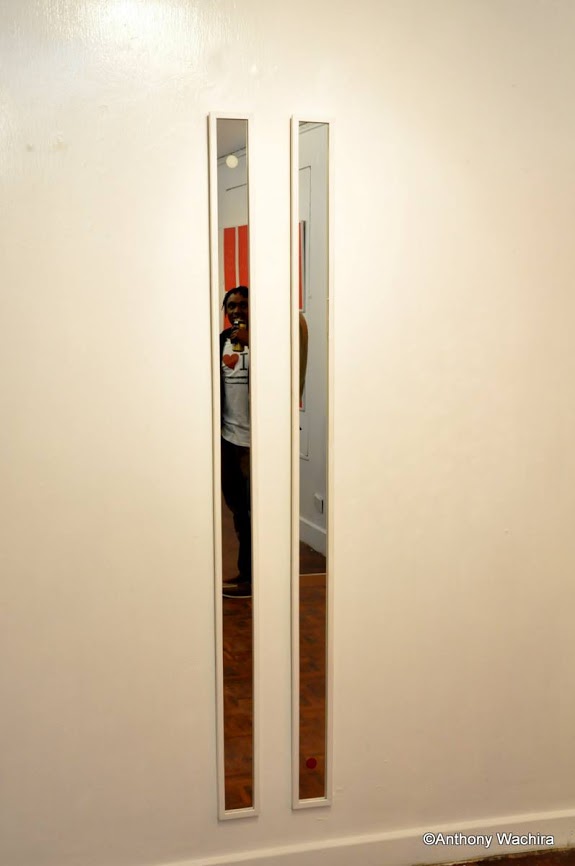 Visceral: Mental Mirrors
'Visceral: Mental Mirrors' intimately explored Mutuku's bi-polar disorder through mirrors, dots and colour. The exhibition, held in 2015 at Kuona Trust, was Mutuku's first solo show. The work included a series of mirrors covered with laser cut red vinyl revealing configurations of dots exposing the mirror's surface; a video installation displaying alternating arrangements of dots moving to the sound of a didgeridoo; a diptych of vertical mirrors; and a spherical mirror, or three dimensional dot, on a plinth. The work in this series delved into self-reflection, experimentation and emotions which have come to characterise the artist's work and his practice.
Mutuku's use of dots resemble marks – something left on us, which in one way or another determines certain moods and emotions. Depending on the configuration of these marks, at a given time or in a certain space, they impact on our behaviour, causing shifts in mood that affect one's emotions. Using these dots Mutuku creates a visual vocabulary. Each work reveals a different arrangement of dots (or marks), which at first appear arbitrary or disordered. Though the observer soon grasps the geometric blueprint upon which they are organised. Once this element of order is understood you notice a looming to and retreat from the over-all constellation of dots – or what could be understood as a state of equilibrium, a time in which all is well.
As we move between these different configurations – that resemble various emotional states – we try to create some sense of control, or order, in the hope of achieving balance in our life (be it physical, cognitive, emotional or mental). These states, expressed through Mutuku's work, expose the mood episodes experienced with bi-polar disorder, which are more varied than simply feeling 'up' or 'down' – as explained by Mutuku who says "Bi-polar makes you think there are two ends, or extremes to each situation, but there is also a multitude of extremes that deserve attention."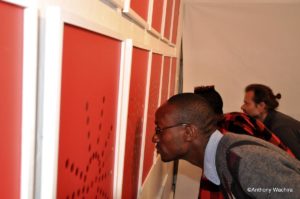 Visceral: Mental Mirrors, audience engagement.
The other elements in 'Visceral: Mental Mirrors' build into this sensory and emotional experience. The art works' white and red colour scheme impact people differently, changing moods or emotions – according to personal, cultural, and situational factors. The repetitive use of mirrors also serve a function, in that they are used to provoke self-reflection. A mirror is not subject specific – that is, until a figure enters its field of reflection. The viewer is then confronted with their own way of seeing, or perhaps an alternative way of being seen. The exhibition forces audience interaction which is integral to the work's purpose. Mutuku says "I wanted to literally and metaphorically reflect my condition. And I also wanted them to see themselves in my condition." The art work propels the spectator to become a participant as they are involved, implicated and engaged in a sensory experience – completing the work the artist began. Through revealing his own emotions, feelings and understanding of life with bi-polar, Mutuku creates a space which demands one's own emotions to be confronted. Whether the works are able to instantly communicate the complex concepts which Mutuku discusses is inconsequential. 'Visceral: Mental Mirrors' is about creating a space which, through our engagement and response to Mutuku's work, triggers deep feeling and emotional reactions rather than an immediate intellectual response.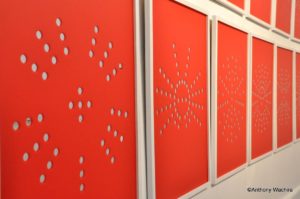 Visceral: Mental Mirrors.
"Any medium can be art"
Mutuku likes to explore new approaches in his art practice, particularly the integration of organic and man-made materials with new digital and technological processes – for the artist "any medium can be art." Interrogating 'what can be art' and 'what art can be' is central to Mutuku's outlook. He says "if we stay stagnant in what has already been accepted in art then we come to a point where art can die…you need to ask yourself, are you really commenting on the time that you are living in." One result of this has been the development of Mutuku's own signature style in which he employs the use of laser cutting – a process that is typically used for industrial manufacturing, though one that he has mastered to create his own aesthetic. The use of laser cutting, in which the laser beam destroys the surface it comes into contact with, creates an element of performance in which the act of destruction simultaneously becomes an act of creation. Though in keeping with all of Mutuku's work the ideas involved in each piece, or series, remain equally, if not more, important than the aesthetic and material concerns – as the artist explains "beauty dies, ideas don't."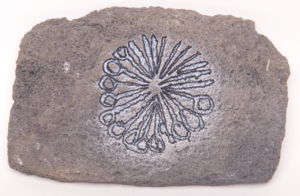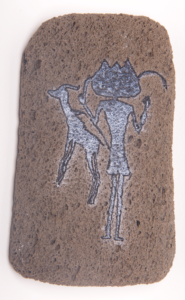 Ashes to Ashes, Art to Art, laser cut on pumice stone.
Working closely with the Trust for African Rock Art (TARA) Mutuku produced the series 'Ashes to Ashes, Art to Art'. The artist selected imagery from endangered sites of rock art and had these scorched onto 21 shaped pumice stones and framed these in individual caskets. By creating contemporary art from the visual culture of past societies the work comments on the danger of such pictorial history becoming extinct. In doing so, Mutuku highlights the transience of this early human artistic expression. If properly preserved, studied and documented then rock art can help us understand symbolic and religious systems, gender relations, cultural boundaries and change, and the origins of art and belief. However, if left to perish then we will lose that rich cultural heritage, which forms a bridge to understanding the past that can help with informing the present and inspiring the future. In creating a link with past and contemporary art forms the work can also be seen as a comment on whether enough is being done to care for contemporary art from Kenya.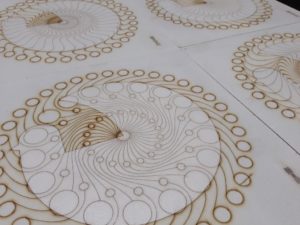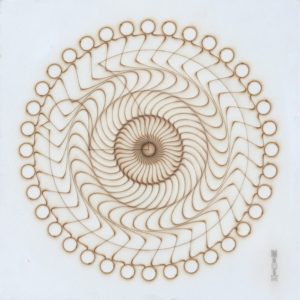 Kuku-ona Series.
In the series 'Kuku-ona' Mutuku uses the image of a chicken, which is synonymous with being afraid, to explore and express episodes of anxiety and fear. The series is made up of 33 artworks, created on painted MDF which are then laser burnt to reveal a recurring motif of a chicken within varied geometric circular patterns. These patterns, their round shape and symmetrical archetypes may be symbolic of life – revealing a relationship to the whole and how everything that exists emanates from one and the same oneness. By integrating the emblematic image of a chicken into this the artist acknowledges the attributes of fear that we share with much of creation. Rather than choosing to suppress fear he draws on his, and our own perception, of this and confronts one to recognise that no emotion, be it positive or negative, is ever futile. Each emotion, in this case fear, has a purpose of some kind. The question we are left with is what function does fear serves us and how can it be used to influence our decision-making in a given situation or approach to life.
Mutuku's most recent body of work is concerned with water – in particular the need of freshwater for all life. Today, however, freshwater is increasingly commodified, privatised and in times of shortage creates conflict – depending on who has access. Mutuku says "water is something that flows, according to the restrictions it encounters. It is also a powerful force when there are large amounts of it." In this sense one can look at water like money; it can make things happen, it is vital for growth, a shortage creates uncertainty, too much and you drown, if it is polluted or corrupted then it becomes toxic. Mutuku represents these analogies in his work, which takes the form of banknotes that are printed for the fictional 'Central Bank of Water'. These notes, which Mutuku creates digitally and then prints on paper, contain various references to these concerns. For instance, the image of a water bottle (rather than a tap) comments on the massive corporate profits made by multinationals who sell single-use plastic bottles – these inevitably end up polluting our world. Depicted on some notes is the figure of campaigner and activist Wangari Maathai – who was vocal about promoting sustainable management and equitable distribution of resources (including water) as one way to promote local and global peace. Almost fading into the background of each note is an outline of Nairobi city – purportedly named after a water hole known in Maasai as Enkare Nairobi, meaning "place of cool waters". Though today the city has huge inequalities when it comes to water access, the rivers that pass through face serious pollution problems, and recent water shortages have led to rationing. Mutuku's work raises disconcerting questions about money and worth. More precisely it highlights the 'paradox of value' which is the contradiction that despite water being critical to life, it is valued less than things which have no bearing on human existence. If we fail to question and address this absurdity now then a dystopian future of water scarcity is terrifyingly plausible.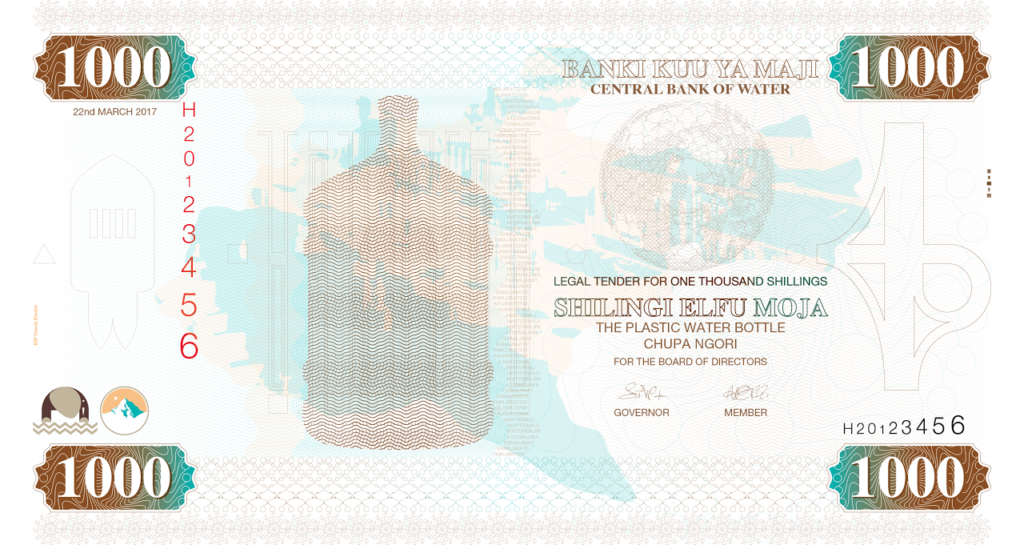 Money Series, bank note.
Summary
A growing body of exciting work does not cement an artist's career straightaway. However, Mwini Mutuku is certainly an emerging artist to keep an eye on. In addition to the many shows Mutuku has participated in across Nairobi, last year he was chosen to create a 'United Buddy Bear' for the German Embassy in Nairobi – which is an international public art project that aims to promote living together in peace and harmony. Additionally, his series 'Ashes to Ashes, Art to Art' was exhibited as part of Barclays L'Atelier 2016. This month (April 2017) the artist will be exhibiting his work in South Africa with The Absa Gallery, in partnership with the KKNK. As a young artist who has been practising for a relatively short amount of time Mutuku is unafraid to subvert traditional or accepted modes of artistic production. He explores the world of ideas through his art, which are presented to us across conceptual and minimalist forms. Experiencing Mutuku's work raises interesting questions, revelations of emotion, empathic responses, and at times causes a reimagining of our perceptions and values. It is these features of the artist and his work that not only prompt questions but create an invitation to have a conversation – something Mutuku strives for his work to achieve.
Craig Halliday is pursuing a PhD in the role of visual art in Kenya's democratisation.  Prior to this Craig completed a MA in African Studies, MSc in International Development and has worked and lived in Kenya, Myanmar, Sierra Leone, Tanzania and Zambia. When not working or studying Craig is a keen photographer and has a painting studio in Norwich, UK, where he lives.