What a timely exhibition is all I can say. And how important to see artists who are conscious of their surroundings and most importantly choosing to speak out about what they see and experience around them.
Matt Kayem on the online exhibition Speak Life
Visual: Anthony Jermaine
Speak Life
An Online Exhibition featuring Canon Rumanzi, Juliano Trabou, & Anthony Jermaine
A 2017 song by Damian Marley off his Stony Hill album not only inspired the title of this exhibition but also coincidentally fell in line with the work of the three artists. Speak Life is a song about positivity, hope, love and the effect of ones words and actions on a larger community. In a similar manner, Damian talks about how one's conduct in everyday life can have a wide effect on everything else. The song carries social commentary on the state of relations between both individuals and nations. He highlights the issues of war, greed, faith and religion. It is with this same voice that the exhibiting artists serve us with their responses of the world around them.
*
This is however a special showcase because it is virtual and available to a bigger audience online. So on the website, I click on the "Enter exhibition" button that leads me to the virtual gallery space. And in, I get received by the familiar darling white-cube with the works mounted neatly at eye-level. The eye-level is an aspect Ugandan curators don't usually give attention to and often we find ourselves craning our necks to look at art. But Nicole Remus, the curator nails the eye-level in this virtual experience. I also love the way she presents the works of the artists on the website. It dawns on me that this with no doubt is a well-curated and successful exhibition. Hovering around the room seems easy and less complex than other virtual exhibitions experiences I have had. The two conjoined rooms are well-lit and the windows even seem to bring in an illumination of white light which bounces of the floor – amazing! It's crazy what one can do with technology these days.
Juliano Trabou, Nature Are You Man
The line-up of artists include Juliano Trabou, Canon Griffin and Anthony Jermaine, an unexpected mash-up which surprisingly looks good together. Canon and Juliano's work agree aesthetically while Anthony and Canon's work can stand together conceptually. Anthony and Canon's work have that mature and conscious take on the topics they tackle in their works which is not so evident in Juliano's work. But at the same time, Juliano and Anthony's work share the use of text as a characteristic that builds a bond between them. Juliano Trabou is a fresh graduate of Nagenda International Academy of Art and Design but seems to have found his path already with his distinct style. Only that I've seen something similar to what he is showing us. Juliano's cartoonish figures with text look like Masai Mbili's signature style. It now comes together as the Nairobi collective, Masai Mbili has a relationship with Juliano's former school and has frequently done projects at the Entebbe based school. It is probably when the young artist interacted and fell in love with how the collective works and borrowed a few things. Of course someone outside Uganda will be quick to mention Basquiat as an influence to the young artist which we may not rule out. It will also depend on if the young artist knows the American giant. Perhaps, this neo-expressionist Basquiat style is irresistible and easy to pick for any young artist with a mind that is still everywhere but nowhere. I can name a couple of upcoming artist who start out this way and I too experimented with the style in the very early mornings of my practice. But we can't take away the fact that the youngster has owned the style with a few inventions to it. He has the recurring figure with a zipped or sewn-like mouth and the newspaper cutouts he adds to the paintings that make his work different from his predecessors'.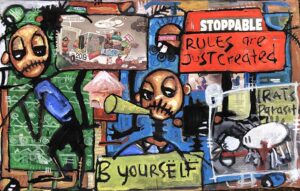 Juliano Trabou, Stoppable Rules Are Just Created
In Stoppable Rules Are Just Created, Juliano lures us to rebel against societal norms with a figure of one smoking what could be a joint. The same figure appears in Spice Your Mind where he is probably telling us to add some drugs to our brains. It is this freedom, 'the I say what I want' aura that makes his work worth a look or a penny. Whether it's KCCA Of Kampala where he touches on sanitation and rural-urban migration, Black Heart where he pokes at deforestation, the activist voice in Juliano's work speaks loudly and it can be easily heard.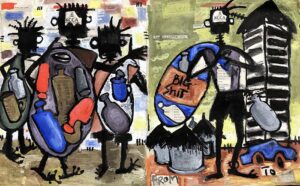 Juliano Trabou, KCCA of Kampala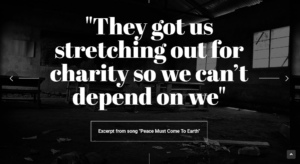 Anthony Jermaine
Perhaps my favorite in the room was Anthony Jermaine's because his was something new I hadn't seen on the Ugandan art scene- text art! We've seen it internationally with Bruce Nauman, Barbara Kruger, Christopher Wool and the like but I can't name any artist who exhibits words in the entire East Africa. Aside from the novelty aspect of Anthony's work, it's the power the words he exhibits that got me in. The words are lyrics picked from his songs in which the sentences are very relatable and relevant to these times. Take this for example, "They got us stretching out for charity so we can't depend on we", a statement that speaks volumes about the shady aid projects in Africa. The western world's hand in destabilizing Africa ensures that we go back to them to beg for help making us dependent on them, making it look like we cannot live without them. It's the west's sinister plan to keep Africa begging so they can continue stealing the minerals in Congo and collecting taxes from Francophone Africa. They dread the day Africa wakes up and starts living for itself. All this went through my mind when I looked at his work. My mind must have reacted like the Pentecostal church goers, 'this is it!', it must have exclaimed. This is the kind of stuff that gets artists behind bars – critiquing the status quo. But perhaps, that's what we artists are meant to do. We are meant to be the voices for those who cannot speak. I remember I had an argument with a few artists friends about whether artists should create politically charged work. This was owing to the political situation a few months ago in the country where we've been heading into the heated general elections which were filled with arbituary arrests of opposition candidates and supporters, murders and protests. All the ills were committed by the authorities in power fighting to keep a 35 year old dictatorship leading the country. And here comes the artist who has the influence and platform to speak up for the oppressed majority, and what do they choose to do? Keep quiet!?? How disappointing, I told my debating comrades.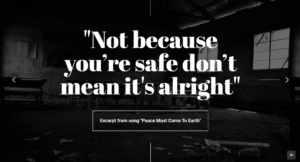 Anthony Jermaine
"Not because you're safe don't mean it's alright" was another of Anthony's work that spoke to me deeply. With this as well, it rewound my mind back to an argument I had with an individual who comes from the privileged class of Ugandans who called the rioters and demonstrators during the election period "hooligans". Since he was content with the oppressive government and not affected by its mafia-like ways, he couldn't fathom why anyone could hit the streets of Kampala to burn car tires and hull rocks at police. He couldn't understand the fact that a huge number of young Ugandans are jobless and hopeless and therefore don't lose anything fighting to have a share in this country. In fact, they gain when they fight to have freedom from the state-induced captivity. If I could relate just a few exhibited words to all this, that is how powerful the work was, I thought. Jermaine manages to communicate to us with just a few words from his song. It's that consciousness that Anthony puts out that adds the weight to his work. It's not surprising because he's someone I've had Afrocentric conversations with, maybe his inclination to these kinds of thoughts could be because he was born in Jamaica and moved to Uganda a few years back. We all know Jamaica to have birthed or contributed greatly to black consciousness. And to top it all, his work in the show is more closer to Damian Marley's song that inspires the title of the show.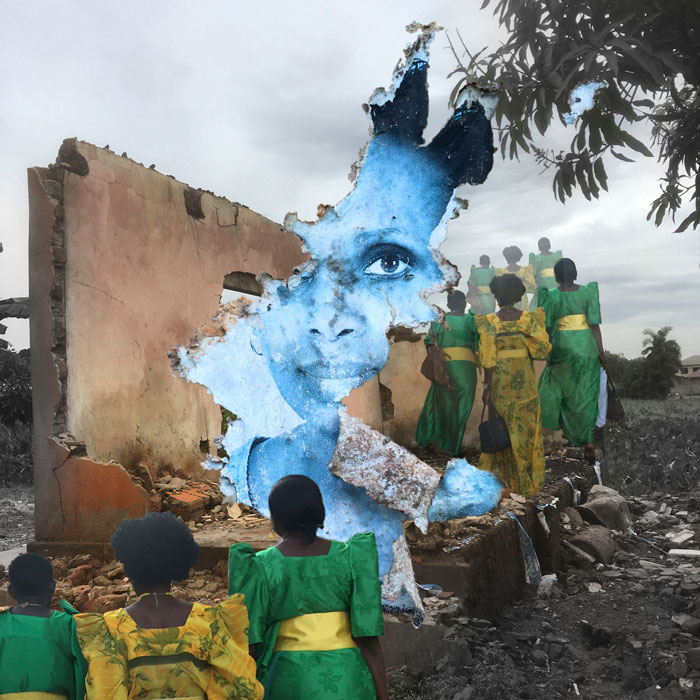 Canon Rumanzi, You Are Your Eye
Canon's work takes up most space in the first room where twelve of his pieces enjoy the wall space. The works belong to a body of work, #PoliticianEyes: Let ME help lead you. The works could be called 'found collages' as they are photos of defaced or vandalized posters of politicians. Canon as part of his practice goes around photographing anything that picks his interest around him, on the streets, anywhere and with this, he fell on a rather interesting topic. In the work, he captures faces of the remnants of the destroyed posters, some worked on by the forces of nature; rain and sunshine and others vandalized by passers-by. The sheer action of the posters getting destroyed by passers-by speaks a lot about what the public thinks about the people that present themselves to lead them. And in this work, the artist just amplifies the voice of the public or presents it out there and says, 'look what the people think about the politician', they wanna pluck his eyes out if given a chance. And indeed when you stare deeply at the eyes of the political candidates on the posters, you see the malevolence, you see it behind the innocent looking eyes, the often pretty faces and digitally enhanced clear skins – you see the wolf in sheep's clothing. You feel like you want to dislodge the pretty dark eyes from the socket. Untitled 1 bares what could be a bullet hole that tore through the beautiful devil's face and the wall making one see what's on the other side. Maybe the bullet was one of the stray ones fired during political riots in the city.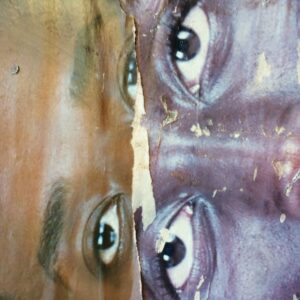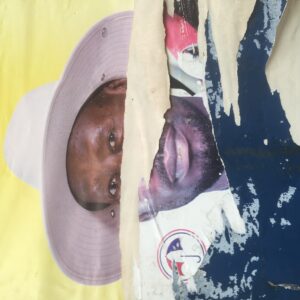 Canon Rumanzi, Untitled 2/Untitled 9
Untitled 2 captures the eyes I'm talking about, looking like those of a Catholic brother, all white with no evidence of drug induction. But what lies behind these pretty eyes is seen when the politician is elected into office. I love the coincidence in Untitled 3 which shows a torn Yoweri Museveni poster revealing a red wall. This could allude to the blood-shed the dictator's thirst for power has unleashed to the Ugandan citizens. It could also speak of the red wave since it's the color of the strongest opposition party – the National Unity Platform which has currently swept a number of seats in the new parliament and establishing it's self as the new force eyeing the top office. The red could be eating Museveni away slowly as time goes on as the artwork seemingly suggests. Untitled 9 has the vandalism placing Yoweri Museveni's top face with Robert Kyagulanyi, the opposition flagbearer's lower face with no eyes together. This probably captures the arch-rivalry of the two candidates who were vying for Uganda's top office. Museveni's eyes are full of disdain towards his main opponent and probably towards the Ugandans that he is sure will lead again.
*
Canon also has a video art piece where he puts together scenes on the streets of Kampala where he gets inspiration for these artworks. It reminds me Eria Sane's work when it begins and then somewhere he comes to talk in the video about the work. Canon's work has always been bizarre, surreal and largely philosophical and he continues in the same direction as he explains his work with unexpected sentence construction and references from little-known far-off writers. The honesty in his work is not something to contest about as he opens his brain out and lays it in his artworks for all to see.
*
What a timely exhibition is all I can say. And how important to see artists who are conscious of their surroundings and most importantly choosing to speak out about what they see and experience around them.
Images: From the curator, Nicole Remus
To view the exhibition: https://popup.thecreativetribe.org/
Matt Kayem is a contemporary artist, art critic and writer living and working in Kampala, Uganda. He can be reached via email, mattkayem@gmail.com.