I have always considered Onyis Martin as a big name– more so than any other Nairobi contemporary artist I'm familiar with- perhaps because I find his work to be so unique and intriguing, so charged with time and bearing the daily Nairobi urban life stories and politics.
Thadde Tewa on Onyis Martin
Onyis Martin in the studio with his "What is the new normal?" series | Kobo Trust, Nairobi | Photo: Eric Gitonga | 2020
The true lovers of my art don't need critics to feel the art.
Nairobi based artist Onyis Martin talks about his art journey and staying creative, and productive amid Covid-19 pandemic.
Onyis Martin had a very creative and productive 2020, regardless of the COVID-19 pandemic onset. The year began with him being awarded first prize in the GoDown Art Centre's prestigious Manjano Art Competition-2020, for his piece, 'State of the State'. When he got the great news, he was in the studio working on a new series of works on paper.
As I was social distancing, I collaborated virtually with Onyis to launch 'Presuppositions' a new series of six small works on paper. This body of work was inspired by Simone de Beauvoir's philosophy in the book 'The Second Sex'; "The body is not a thing, it is a situation: it is our grasp on the world and our sketch of our project".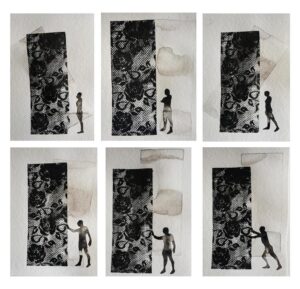 Presuppositions| Ink & silk screen on watercolour paper | 17cm x 25 cm | 2020 | Courtesy artist
We later reconnected around July 2020, and talked about his artistic response to the pandemic, his creative process and art journey. Much later in January 2021, I started my year with another studio visit at his Kobo Trust studio located along Riara Road, Nairobi.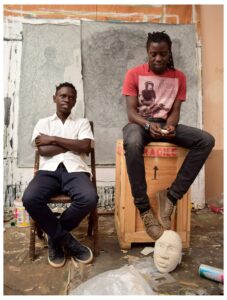 Thadde Tewa in studio with Onyis Martin | Kobo Trust, Nairobi | Photo: Calvin Mwanza | 2021
We conversed about a lot, beginning with Onyis' explanation of why he chose the award winning piece 'State of the State'. Heavily, the art piece is an extension of Onyis Martin's love for cars. The installation is of an old, wrecked, rusty car, with a shiny, yellow door, representing the city under the sunny side of Nairobi. He narrated that the installation idea came to him on a day when he had taken his vintage old car to the garage. Further, he explained that "State of the State" as a concept was one of those loves for the cars and the car making process, but wondered how one could let such a classic deteriorate that much. The comparison he drew from that, was that of the Nairobi (countrywide, really) political state where those tasked with maintaining the city are the ones stealing from it, while only maintaining facilities and infrastructure near their residences/convenience areas.
*
Onyis submitted this piece for two reasons; 1) to explain the story of Nairobi and Kenya better, and 2) to stretch the art scene in terms of medium/ what should be considered as contemporary art. Getting a nomination or a win while submitting the artwork were the last things on his mind. Rather, he wanted to see how the Nairobi Contemporary audience would react to the artwork. However, he hilariously mentions that he planned on writing "MANJANO ART PRIZE 2020 WINNER" on the installation's door if he won. Now that he bagged the prize, I should do a follow-up and see if he actually did it, ha-ha.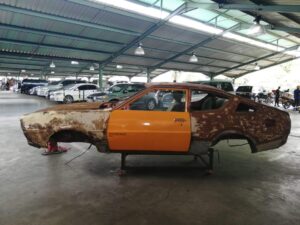 Installation: 'State of the state' | Manjano Art Prize Exhibition-2020| Village Market, Gigiri, Nairobi
According to Onyis, participating in the Manjano Arts Competition was fun, and winning was motivating to him and to those who have seen his artistic journey. Regardless of the fact that he has been on bigger art competitions and platforms, Onyis explained to me that he will never be too big for the Manjano Competition or any other local curatorial projects for that matter.
He also added that the Manjano Arts Competition has the potential to be the biggest East African art prize, if only it was handled with the dignity it deserves.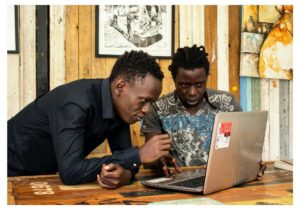 Thadde Tewa in studio with Onyis Martin | Photo: Winnie Nyasiri | 2019
Art Journey
Onyis Martin recollects how he became a well-known Kenyan artist. He began creating at age nine in an art club called Lungalunga, maximizing the opportunity to learn from the older artists in the club. He further tells me how he sold his first artwork and won his first art prize- KIWI Art and Craft Competition- at the age of twelve. Being part of a club at that age gave him exposure to art, and the discipline to create consistently.
Interestingly in High School, Onyis was known more for football more than as an artist. However, he went back to being a fulltime artist after leaving high school- not entirely for fame or money, but also as a hobby. He later started doing self-sponsored art workshops and programs within Nairobi, and later around Kenya- Mathare, Kibera, Kariobangi, Laikipia & Mtito Andei. He was motivated by the urge to be a mentor to the young artists.
He would use charcoal and magazines for collages which he still includes in his artistic process and work. He joined the Godown Art Centre in 2013 and later left for Kobo Trust, where he shared his space with established Kenyan artists Kaloki Nyamai and Peter Elungat.
In 2015, he won a one month paid residency by Kuona Artist Collective- then called Kuona Trust- for an artist residency. Later on in 2016, he attended an art education and curatorial program offered by Àsìkò Art School in Addis Ababa, Ethiopia for 5 weeks. In the same year, he won Barclays L'atelier art prize First Merit Prize and Second Runners-Up in the Manjano Art Prize Competition. He then went South Africa, for an art residency with Bag Factory Studios, Johannesburg in 2017.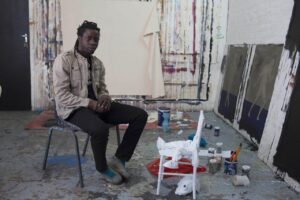 In residency | Bag Factory Studios, Johannesburg, South Africa | Photo: Courtesy artist | 2017
I have always considered Onyis Martin as a big name– more so than any other Nairobi contemporary artist I'm familiar with- perhaps because I find his work to be so unique and intriguing, so charged with time and bearing the daily Nairobi urban life stories and politics.
Commenting on what drives him, Onyis Martin said that he believes that "every artist needs something that pushes them or a story they are trying to tell. For me, the architectural form of the human figure is my bigger story, which is mostly work on paper. I prefer working on a series or a continuation of previous thought. On the other side, I abstract walls. Even my work on acquired doors is a series abstracted from walls. So I link the architectural form of the human figure and the building. Human conditioning on a thinner scale."

Never come to our toilet | Mixed media on canvas |160cm x 135cm | Photo: Courtesy artist | 2020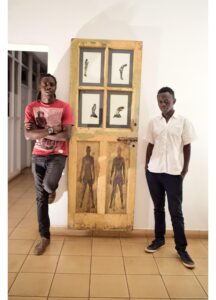 Thadde Tewa in studio with Onyis Martin| Kobo Trust, Nairobi | Installation: Prayer Room | Photo: Calvin Mwanza | 2021
Onyis uses his body and personal experience sometimes as a starting point to his creative process, especially when addressing something affecting a certain group of people. In 2019, for instance, his mind blowing installation titled "A Place to Remember, A Place to Make Memory" at Goethe-Institut, Nairobi, Kenya, was based on movement on a mental level, the memories that reminded him where he's been and what he's seen.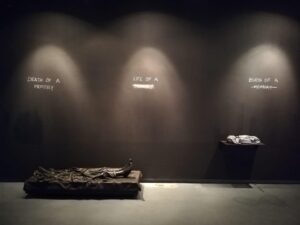 Installation: "A place to remember, a place to make memory" | From Here To When Exhibition, 2019 | Goethe-Institut, Nairobi, Kenya
His response to Covid-19 pandemic
The first Covid-19 case in Kenya was reported in March, later prompting observation of mandatory social distancing, and a partial lockdown in Nairobi and Mombasa cities. Art galleries paused their activities, art lovers and collectors stopped visiting studios as a cautionary measure and also due to panic.
Onyis says the pandemic came with isolation, and as an artist with no gallery representation then, it was quite normal working time for him. It gave him time to reflect on new ways of how and where to show his work in future. He added that he was very proud of his resilience in these unprecedented times.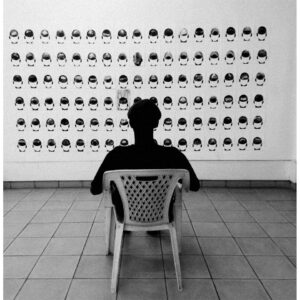 Onyis in the studio with his "what is the new normal?" series | Kobo Trust, Nairobi | Photo: Courtesy artist | 2020
Explaining his focus on masks in his artistic response to living during a pandemic, he said that he has always found a way of use, and the purpose of masks has always been interesting. "It dates from slavery up to modern day for protection of both doctors and the masses." The purpose of repetition in the art piece with the head wearing a mask was to make it feel normal, and for the one head not wearing the mask, out of place.
'What is the new normal?' the installation asks.

"(Un) covering" series | Ink on paper | 37.5cm x 55cm | Courtesy artist | 2020
His response to critics
Away from the pandemic discussion, I also asked about how Onyis responds to his critics because his work is truly bound to attract them- as he does not shy from executing new ideas and concepts. He said that he never pays attention to them, and keeps working because he believes the true lovers of his art don't need critics to feel the art.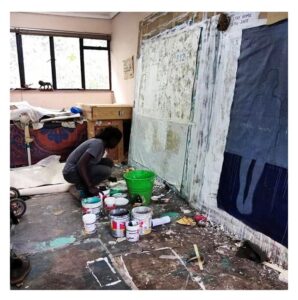 Onyis Martin in studio | Kobo Trust, Nairobi | Courtesy artist
Onyis has been in the Nairobi contemporary art scene long enough to witness its evolution and one common trend has been a lot of artists finding ease in working in groups or 'collectives'. Out of curiosity I asked him if it's important for a Nairobi-based artist to join a 'collective'. In response, he stated that he didn't think an artist should be pressured to be part of artist collectives as everything circles back to the artist's hard work, discipline, approach and process. "Being part of an artist collective doesn't exclude you from the process." To young, emerging artists he advises them to have, and read artists' agreements and contracts when it comes to matters of gallery representation. He also added that it's good to talk to fellow artists, curators and legal advisors about the contracts.
However, he added that for a country where there is little formal art education, artists should find ways of learning- like visiting other artists' studios, working with older artists, visiting art shows and participating in workshops.
To wind up our conversation I asked him who his role models or inspiring artists when creating are. He disclosed that Jean Michel Basquit's spirit and drive motivates him a lot. As a young and knowledgeable Nairobi contemporary art curator, and consultant I think Onyis Martin is a must-see artist if you are visiting Nairobi anytime soon.
Artist Biography
Onyis Martin (b. 1987) is Nairobi-based artist working in painting, sculpture, installation and, more recently, video. Martin's work focuses on contemporary urban environments and the way these spaces are shaped by the politics of ownership and access, movement and displacement, and how they contain some form of collective memory.
Martin has exhibited in Kenya and Ethiopia as well as the Absa Gallery, South Africa in 2018 and the Kerry Parker Civic Gallery, Adelaide, Australia in 2018. He has participated in residencies at the Bag Factory, Johannesburg in 2017, Asiko Art School in 2016, The Factory in Lamu in 2016, Ostrale in Germany in 2015 and he won first merit in the 2017 ABSA L'Atelier Award. He had his first institutional exhibition in 2019, taking part in Still Here Tomorrow to High Five You Yesterday, a group exhibition at Zeitz MoCAA in Cape Town, South Africa.
(Profile: Courtesy Art Auction East Africa/Circle Art Agency, 2020)
About Thadde Tewa
Thaddeus Wamukoya better known as Thadde Tewa (b. 1993) is a Kenyan contemporary art consultant, curator and writer currently based and working in Nairobi, Kenya. Founder of TEWASART AND PATRONS an online art gallery and visual arts consultation platform focused on sharing East African art information through weekly digital publications. Also he organizes pop up exhibitions with an aim to connect African contemporary art to both the local and international audience.