In a way, if the U.S. had (had) a Black Chief Photographer photographing President Obama along with the 1st Black Family, this would have been a perquisite for the future of the United States & with the racial issues in the United States being on an uneven foundation, politically as well as societal, knowing that a Black photographer witnessed & photographically recorded such a milestone in U.S. politics, would have been a visual freedom, worth looking forward to.
Photographer Shaun LA tries to give an answer.
Obama photographed by an unknown (black?) photographer published on Africaguinee.com.
A BLACK PHOTOGRAPHER FOR A BLACK PRESIDENT?
My mind wonders: had I been a Black child when President Obama was elected into office, would the knowledge of knowing that a Black photographer photographed him, the 1st Black family & it was a Black Chief Photographer photographing his two full terms as the first Black President of the United States, would this have touched my Eye with a spiritual, encouraging connection? Mentally, would I have said to myself, "one of us, happens to be photographing the first Black President of the United States, daily."
Photography is a medium that does not rely on the determination of a race, gender or religious faithfulness to dictate the innate visual ability or learned talent that the photographer can give back to society. Race, gender, & religion are thick branches within our society, offsets to political governments, connected to the trunk of civilization. A medium such as Photography, Acting, Writing, Painting, Sculpture & Dance are interwoven into our mentalities; thus giving to us, a prejudice that guides us into feeling a connection to the photographer, actor, writer, actor, sculptor & dancer. This is where the cultural role comes into a unified or separate class of society. It is racism, which could became the culprit to say that a Black artist & their uniqueness does not fit into the European or white American's definition of what is Art? This is where oppression controls the overall societal perception of what is Art, commercial, educated & cultural.
It is no wonder to why in this 21st century, we can hear celebratory, "the first Black photographer to photograph for this or that European or white American company."
This is why the wide wonder of the former U.S. President having a Black Chief Photographer can seem fulfilling to future civilizations; especially future Black children who would grow up into a world where Race could still be a complex issue, in a world where we can see so much.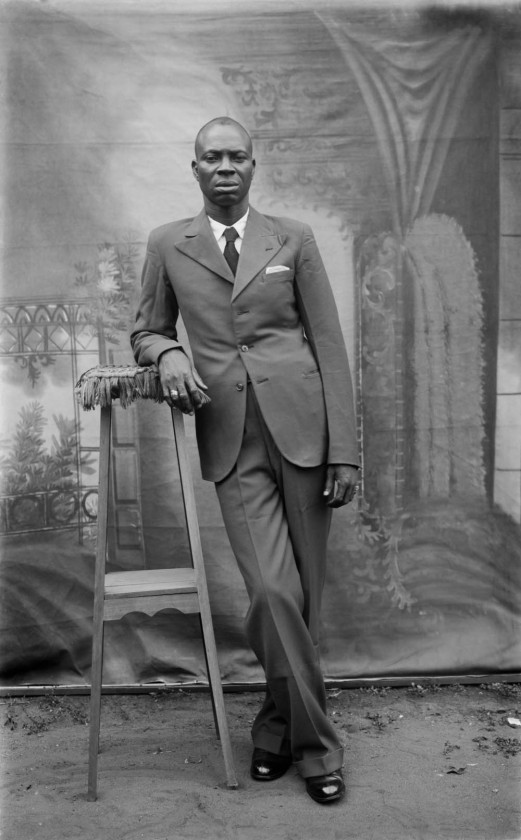 Chief S.O. Alonge, portrait of Chief Gaius Obaseki, 1950's
Chief S.O. Alonge was a professional photographer who was hired in the early 1930's to photograph the royalty of Benin, in West Africa. During a time, when colonialism was a whip coming from greedy European nations, smacking down on the cultures of the civilizations in Africa, Chief S.O.'s lens has an unfailing stake in visually showing the culture & politics of Benin, before the full colonial influence of Europe.
Imagine, if former U.S. President Obama had a Black Chief Photographer, photographing his presidency, his family, friends, the legacy that he will be eventually connected to, as time goes on. The photographs from the former President Obama's presidency will be a visual focal point in U.S. & world history. If a Black Chief Photographer for the White House had been behind the lens of the of the first Black Family in the White House, the inspiring rewards for the future of Black children growing up during his presidency, would have been plentiful, as these Black children would surly see the possibility & ambitions of wanting to become a photographer, as an ambitious aim that could be successful.
Arturo Marti was the official photographer for six popes that lived in Vatican City, Rome, Italy. For over 50 years, Arturo, an Italian, showed the religious traditions of popes that carried on a tradition of steering the visual lives of popes in charge of displaying the highest authority & spokesperson for the Catholic religion. This is not to say that a Jewish or Muslim photographer could not have photographed the prestige of six popes. I am certain that if they had an Eye, they could have been successful with visually showing the life of a pope. However, it is the connectivity that binds an Italian Eye with an understanding of a religious tradition that unties any struggle of an understanding what it is that they can see through a pope's Moment.
Apply this religious connectivity to a racial parameter & the distance of understanding does not seem too far, when racism & oppression controls preconceived notions. Photography is a medium with a white American & European dominance. This dominance has risen into every component of what is Photography? From the artistic definition of it, to the commercialism success of it, the photograph has always been a badge of honor for the white photographer: their Eye has been an imbalance to how the world can see itself.
Generally speaking, of course, the Eye does not have a racial or gender advantage.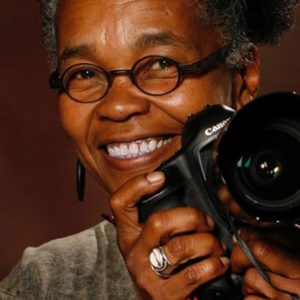 Sharon Famer, photographer unknown.
Sharon Farmer being the 1st Black American woman & woman to be the Director of the White House Photography office under former president Bill Clinton, has less to do with her talent as a photographer than it does with the racial & gender biased politics that surrounds professional photographers. Sharon was already a professional photographer, who had displayed her Eye to be one that could photograph the important Moments, which the press (she freelanced for the Washington Post) requires, in order to place photographs with words from a journalist.
The White House has had 11 Chief Photographers with the Chief Official White House Photographer rank. The first would be Cecil W. Stoughton, who placed his lens on President John F. Kennedy & his administration in the early part of the 1960's. During certain presidencies, the Chief Photographer & the Director of White House Photography has been one in the same photographer. However, this does not mean that either position has to be the same photographer. A president could have their own personal photographer, which could take on the title of the Chief Photographer of the White House/U.S. President.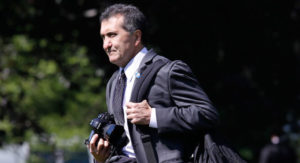 Pete Souza, photographer of Obama. photographer unknown.
Pete Souza served as this chief lens for President Obama as well as President Ronald Reagan. It goes without noting that Pete has a professional political Eye. This point of view in my essay does not decrease away from his photographic skills on covering politically important people. My point has more of a weighty wonder on the mighty significance of a Black photographer, man or woman aiming their lens on the 1st Family that was also, the First Black family.
As Photography cruises towards being a medium that is 200 years old, we as a society have transcended with the traditional outcomes of a racist society. This transcendence comes across in a subtle, at times, covert way. We are extremely politically-correct, on a business front, as well as on the porch of everyone having a stake in making their own brand. In other words, public racism practiced by a company or brand does not equate into a good business strategy.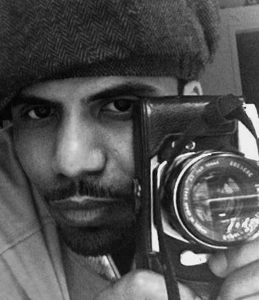 Shaun La, selfportrait.
Covert racism thrives as an offset to keeping the ceilings over the process of Black photographers being unsuccessful with crossing over with a population of Blacks creatives, not just one, two or maybe three being approved by a white commercialism that is worldwide.
In a way, if the U.S. had (had) a Black Chief Photographer photographing President Obama along with the 1st Black Family, this would have been a perquisite for the future of the United States & with the racial issues in the United States being on an uneven foundation, politically as well as societal, knowing that a Black photographer witnessed & photographically recorded such a milestone in U.S. politics, would have been a visual freedom, worth looking forward to.
________________________________________________________________________
About the Writer:
Shaun La is a photographer & writer. Starting off with the medium of photography at the age of 18 (20 years ago) with a Minolta Hi-Matic & 135 film, the desire to see the moment became a way to envision the possibilities in wanting to be a timer awaiting to see if he could photograph more moments. His photography extends into fashion, street, photojournalism, landscape, still-life & candid realities — still utilizing film cameras only, 135 & medium-format film. As a writer, he has penned numerous essays on various topics, which has been published by the Amsterdam News, the Baltimore Sun, Afro-Punk, Camera Obscura & other media outlets. Currently he is working on his book, "The Perpetual Intellectual View Called Photography: Essays," & putting together the building blocks for an upcoming exhibition on his Photography. His work can be viewed at: http://www.shaunarts.com