"The new generation is dynamic and vibrant and they are fighting for an awareness of art in Ethiopian society in a different way than their predecessors. In their eyes, art is not about simply creating aesthetic images but about raising consciousness about contemporary societal topics. All these artists find it important to be socially engaged and create awareness through their art and their artistic collaborations."
Rosalie van Deursen on contemporary art in Addis Ababa.
ADDIS ABABA
The city and its art scene under construction
Ethiopia's capital is under construction. The city looks like a giant building site with piles of rubble and green and yellow corrugated fences everywhere enclosing building sites. Traffic jams and road blocks as a result of large-scale demolitions are common. A brand new metro line is being constructed through the heart of the city and glittering sky-rise buildings are emerging out of the rubble as if there are no limits…. The city is clearly undergoing a rapid change, but what about the art scene?

Addis Ababa under construction
Like the city, the art scene of Addis Ababa also seems to be under construction. The older generation of technically highly skilled artists who mainly created figurative paintings is slowly being replaced by a younger generation that focuses more on concepts and experiments, and employs all sorts of media. The new generation is dynamic and vibrant and they are fighting for an awareness of art in Ethiopian society in a different way than their predecessors. In their eyes, art is not about simply creating aesthetic images but about raising consciousness about contemporary societal topics. All these artists find it important to be socially engaged and create awareness through their art and their artistic collaborations. Although the new generation feels more connected to the global art scene, they don't lose local perspective. How is this shift from the old to the new generation visible in Addis Ababa?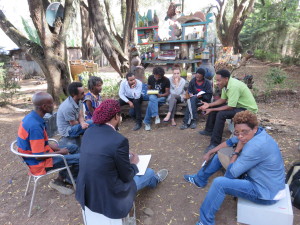 Artist Meeting in Netsa art village
Contemporary Monastery
It becomes visible when visiting the art studios around the city that are mostly run by young artists. Who have created collaborative art studios together over the last couple of years? An example of an established art community is Netsa Art Village in a park in Addis Ababa. Tamrat Gezahegn, visual artist and one of the founding members of Netsa:
"After graduation of the art academy everyone seemed to disappear into an individual state of mind. There were no art studios or places to expose work to an audience, there was no art scene. Students came out of art school but there were no art centers, so the art scene was dead. Luckily my generation is different. A lot of artists gathered together and set up art studios, renting places together to work and keep up the art spirit. They are contemporary monasteries, like Habesha Art Studio and Netsa Art Village! A community has more possibilities for artists to develop, to discuss about art and to share costs, but most importantly to educate society about art, to confront them with different forms."
Bringing art to society
Tamrat explains:
"Up until now most people in Ethiopia think art is the equivalent of realistic or abstract paintings. They don't have a full understanding of what art is, but in general there is a positive perception and the more you confront people, the more they will understand. Having a space to communicate with the audience is important; through art centers we can educate about art, also via concerts, exhibitions, discussions, poetry readings, movies and kids workshops. Without such a place you'll kill the contemporary cultural tradition. You can't even measure it in money, the importance of art centers."
Global Focuss
The shift from a focus on technical skills to conceptual, socially-engaged art becomes visible when listening to the visions of the director of Addis Ababa University, School of Fine Arts and Design, Berhanu Ashagrie Deribew:
"I am the new director and form part of the new generation; we like to focus on the international art scene and teach more conceptual art besides technical skills. We are inviting international artists and lecturers to give workshops. I also invite the local artists to participate in discussions."
In his eyes, this shift is necessary to be able to play a role in the global art scene.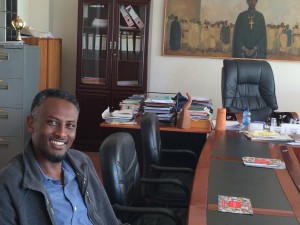 Art director of Addis Ababa University, Scool of Fine Arts and Design
To stir up society
The artists of the new generation have certain things in common; they all want to stir up society one way or the other. This article will focus on a small group of artists: Dawit Abebe; Tamrat Gezahegn; Ephrem Solom and Helen Zeru. There are many more in this exciting art scene. This group is part of different art communities and passionate about exchange and creating awareness amongst the public.
Dawit Abebe: A look at the other side
Dawit Abebe, one of the driving forces behind Habesha Art Studio, has a mission to make people more aware of their history, society and the contemporary art scene in Addis. He considers it important for a country and its people, to know and understand how contemporary life is formed by the past, because only then can society evolve. He explains: "If you know society very well, you understand yourself, because you are part of that society." Knowing one's history is for Dawit the only way to deal with one's future. Dawit:
"But people don't see it and only talk about football and Facebook… So I am trying to show that we do have important things in our history. Just try to see your own back and then you know yourself and that's the condition to see the future. I just hope that people start to analyse their history."
That's why he paints people from the back.
Dawit Abebe, People's Backs
Historic layers
Dawit continues:
"I show their backs because people have no idea about their own backs and thus their own history…. They mostly consider it as something unimportant. People tend to get brainwashed by politics. All over the world politicians tend to accuse the past for things that didn't go well, in their aim to gain popularity. Then they can say that the past has damaged their country and they will change it all and make things better. If you look at Ethiopia for example, for more than 3000 years our ancestors have fought for our freedom; we have never been colonized. We have our own language, alphabet, calendar and culture in Ethiopia. I want people to remember this. I am just observing problems that are created by a lack of awareness in society and I try to say something about that in my work."
Dawit Abebe, Untitled, 2014.
In order to intensify his message, he hides a historic layer below each painted figure in the form of pages torn from old primary school exercise books, covering subjects such as science, history and geography. "Later I cover it all and paint on top of the history. So the people's backs are literally covered with history." He also uses old governmental documents that he picks up at the market which illustrate different phases of history. Dawit finds it fascinating to see how history changes depending on who is telling the story.
Handstand on the street: Tamrat Gezahegn
Another artist who wants to wake up society is Tamrat Gezahegn. He has lots of forms of expression and works as a painter but also as a performance artist. As an artist he wants to distort reality and to wake people up.
"Sometimes I see a place that is perfect for a short unplanned performance. I can do a handstand or crazy posture for a while on the street. It's the same as a beautiful car on the street, people will look, it distracts and people wake up from their daily reality. Or when a naked person of an indigenous tribe covered with body paint would walk through the city. It would attract a lot of attention: positive or negative! People tend to judge and I want to be free from judgments and not think or act in limitations, borders or divisions. Life is global and until people understand this, life is challenging."
Importance of being green
In another performance Tamrat dressed up in a smart business suit and stood on a stage behind a lectern with a bank of microphones in front of him. It seemed as if he was preparing to give a speech, but he didn't say anything. Instead he dipped the microphones into bright green paint and began to paint his suit completely green. The only noise was the sound of the microphones rubbing over his body. Tamrat: "It's a way to wake people up that only passively talking about the environment and preserving nature is not enough! Action is necessary!"
Tamrat Gezahegn, Notion of Green, performance, 2014
Indigenous knowledge
Just like Dawit, Tamrat wants people to look at their history and learn from it. Tamrat studies tribes from Southern Ethiopia where his parents are from and translates aspects of tradition into modernity. Tamrat:
"Only when I understand history and traditions, can I understand why people are acting in a certain way in a certain time or geographical area. Then I can look at myself and relate to that and question my own rituals in the present time and place. Why do indigenous tribes paint themselves with body paint and abstract figures and feel totally comfortable and confident? "
He studies these patterns and meanings and transforms them into new symbols and entities which imbues them with a new meaning. He distorts the world around him in order to grasp it and explore the relationship between tradition & modernity. For Tamrat it's not important which medium he works with, it can be paint, performances, texts, textile or mixed media. He even 'writes' books with all his symbols and thoughts. When he works he goes into a deep meditative state of mind. "Hopefully people who have an encounter with my work also experience being in a different state of mind."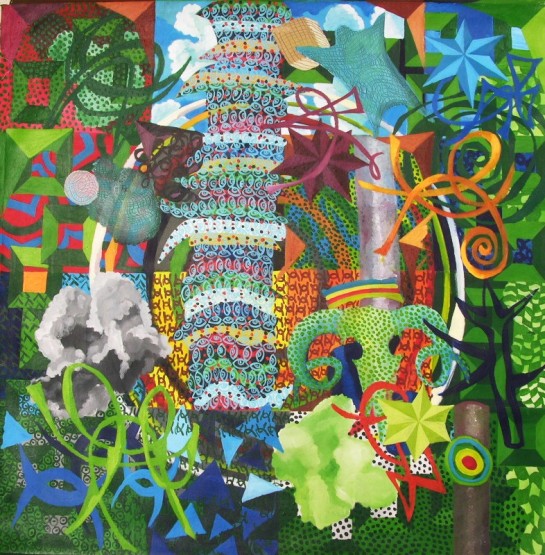 Tamrat Gezahegn, Untitled, 2012
Ephrem Solomon: Documenting the Zeitgeist
Ephrem Solomon is a very passionate artist of the new generation who engraves and makes woodcuts on plywood. "People don't appreciate my work in Addis Ababa, they like acrylic paint on canvas and figurative images; otherwise they don't consider it to be art." That's the reason he prefers to exhibit his work abroad. "The outside world is more understanding…" Ephrem finds it unfortunate that Ethiopians don't understand contemporary art because it's an international language in which artists' expressions are indicative of a specific time in human history. According to him artists document their zeitgeist, for him this means doing research, experimenting, creating concepts and being original; being a man of his time.
Ephrem Solomon in his studio (Birds of freedom on the right)
Here and now
He is currently working on a series of portraits with the title 'Forbidden Fruits'.
"Nowadays I make faces, sad and neutral faces, distorted faces, because in the real world there is no perfection either. The faces are of people that I have observed in different places, some of them are from my imagination. What all portraits have in common is that the faces are pictured at the centre; for me this means that each person lives in the present."
Ephrem Solomon–' Forbidden Fruits'
Ephrem loves to go to the area around the stadium in Addis Ababa for inspiration and to make sketches of different facial expressions. It's a place where people gather, laugh, talk and play games. It's almost like a gambling hall where people speak freely and live their lives in the here and now. Ephrem: "I love the idea that life is NOW! Not yesterday, tomorrow or in the future… life is today, in the present." Whilst he depicts both the rich and the poor he feels the poor have a more depth of experience and live a more truthful life than the rich.
Life is a game
According to Ephrem life is black and white: "Day and night, sad and happy, win and lose; it's the same. I can see colors in the world, but at the same time it's all black and white. That's how I feel. I also use organic forms, because life is also full of repetitions". Ephrem explains:
"Certain things happen to me everywhere, in Croatia, Dar es Salaam, London, Nairobi or Dubai… immigration officials ask me difficult questions and question my papers. Life is full of repetitions. Life is like a game, black and white, it repeats itself over and over… it's like a circle, eternity."
It inspired him to create the triptych 'Africa for Africa', with a lot of repetition in form and words. He also addresses the identity of Africans and Africa as a continent. What do people want to relate to in local, national and international contexts? What is the identity of Africa as a continent? What is the role of the population and their leaders in society? These are all questions that inform and inspire his artistic work.
Artistic freedom is important to Ephrem as can be seen in the work 'Birds of Freedom'. The work is a self-portrait with a chessboard pattern as a background, covered with birds drawn as repetitive organic forms spreading their wings.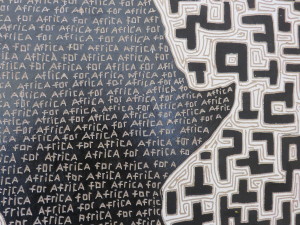 Africa for Africa, detail
Helen Zeru: personal experiences
For Helen Zeru being an artist means expressing contemporary social issues through her own intimate experiences: "I feel like I have to take responsibility for what I say and do. I am part of the system in society but I try to find distance to reflect on society and see it in a different perspective." Through personal experiences she relates issues such as gentrification in cities, displacement and being uprooted.
Harshness of gentrification
She experienced the gentrification process in Addis Ababa very intimately. She received a letter from the government that she was obliged to move her mother's grave because the graveyard was being relocated due to urban city planning. In other words, she had to dig up her mother's bones. In order to deal with this harsh reality she decided to address it as an artwork. Helen:
"It shows how rough this gentrification process is and the price that you pay as an inhabitant of the city. I've tried to use it as a healing process. I've documented the whole process as a personal journey and created an installation which also included a performance. My emotions and feelings were guiding me through the process. It's about my interaction with the soil, bones and with the memory of my mother."
Images Helen Zeru in mother's grave with red umbrellas
Helen deals with the process of time, memory and entropy and tries to communicate with the deceased. In her performance she moves around in her mother's grave, wrapped up in linen like a mummy. She dances around the grave that is surrounded by red umbrellas. Helen: "The red umbrella is how I remember my mother. She always carried a red umbrella to protect her against the sun." Finally Helen lies down in the hole and moves around, tossing and turning and digs up potatoes that represent her mother's bones. Helen: "When I talked to the grave diggers, they explained to me that they perceive the bones as potatoes, not like human remains anymore, because they are so used to digging them up."
Uprooting
Displacement raises questions such as: what does a home mean? What will you take with you when you leave and what do you leave behind? It shows people's relationship and attachment to their values and to the past. As an artist-in-residence in Kampala, Helen continued working on this theme of displacement and interviewed Eritreans in refugee camps.
She moved a tree from the countryside in Uganda to the capital Kampala as a metaphor for what happens to refugees. She wanted to find out if the roots would take root again, because the soil might be different. "If somebody lived their whole life in one place and you move them, what will happen? Will they be uprooted forever or will they find their way back into the soil again, even though the soil might be of a different composition?" It's the same question during a process of gentrification, when old people are moved out of their houses and into new condominiums.
Helen Zeru uprooting and planting a tree
She wanted to replant the tree in a park in Kampala and for four weeks she went to the Kampala City Council every single day to get a letter of approval, but she never succeeded. This is another metaphor of the difficult process the refugees are going through, trying to get their papers approved at the City Council.
At the performance she also dragged a sack around with the logo of the UNHCR (United Nations High Commissioner for Refugees) on it and wrote emotive words from the interviews with refugees – who wanted to remain anonymous -on her face.
"The logo is everywhere and you can find the bags everywhere, they are reused for houses, charcoal, etc. and… the refugees are also being dragged around. I wrote their touching words on my face like death, fear, sickness during the performance."
Writing touching words of refugees on her face
Vibrant!
The answer to the question of whether the Addis Ababa art scene is just as much under construction as the city itself, can be answered with a wholehearted yes! The deconstruction of the old art scene has begun…The current change from a focus on technical skills to the new socially-engaged and conceptually-based artists, makes Addis Ababa a very vibrant art city. Dawit Abebe, Tamrat Gezahegn, Ephrem Solomon and Helen Zeru are just a few of the young artists in Addis Ababa who question society and create concepts that they want to share with their audience to make them aware of history, gentrification, politics and the current zeitgeist… There is a lot more to discover and it's promising!
Rosalie van Deursen: "As an Art Historian I am always fascinated by what people create, under which circumstances they do it, what their motivation is and how their work can be placed within a broader context. This in combination with an enormous passion for Africa made me travel to all corners of the continent since 1993."