ADEL ABDESSEMED (born in 1971 in Constantine, Algeria)
Turtle, 2014
About:
He lives and works in Paris) is a leading figure of the international art scene. Through video, sculpture and installation, Adel Abdessemed probes the wounds of the contemporary world.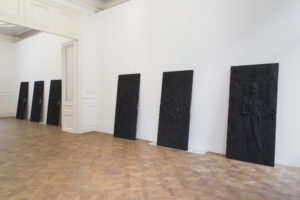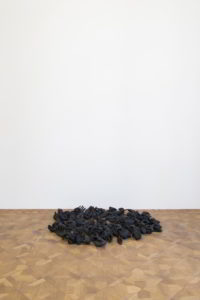 Le Chagrin des Belges, 2018
Over the last twenty years his work was shown in numerous solo exhibitions: PS1/MoMA, New York; MIT List Visual Arts Center, Cambridge, MA, USA; CNAC – Le Magasin (Centre National d'Art Contemporain), Grenoble, France; Parasol unit, London; Fondazione Sandretto Re Rebaudengo, Turin, Italy; Centre Pompidou, Paris (Adel Abdessemed Je suis innocent, 2012); CAC, Málaga, Spain; Montreal Museum of Fine Arts, Canada (Adel Abdessemed: Conflict, 2017).
Pigeon, 2015
Major monographic exhibitions in 2018: Le Chagrin des Belges, Dvir Gallery, Brussels; Otchi Tchiornie at MAC's, Grand-Hornu, Belgium; L'Antidote at MAC, Musée d'Art Contemporain, Lyon, France. Also in 2018: public commission in Naoshima, Japan, as part of the Echigo-Tsumari Art Triennale.
Adel Abdessemed's work has been shown at three Venice Biennials (2003, 2009, 2015), as well as at the Biennial of Istanbul (2017), Havana (2009), Gwangju (2008), Lyon (2007) and Saõ Paulo (2006).
In 2017 he participated in the Triennale di Milano The Restless Earth and the Oku-Noto Triennale in Japan.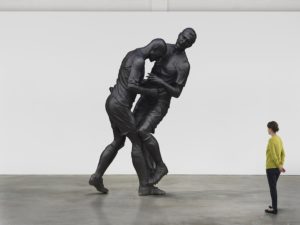 Coup de Tete, 2011-2012
In 2016 he was guest artist at the Festival d'Avignon where he presented his project Surfaces. Also in 2016, Bold Tendencies commissioned the work Bristow as part of its arts programme in Peckham, London.
Abdessemed works with creative artists from all fields – poetry (he has published two volumes with Adonis and several with Hélène Cixous) – dance (Retour à Berratham by Angelin Preljocaj in 2015) – and architecture (Jalousies, Complicités avec Jean Nouvel, Collection Lambert au musée de Vence, Avignon, France, in 2015).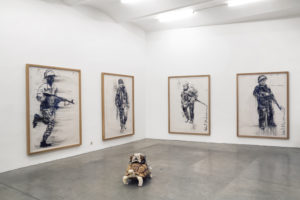 Installation View, 2014
A three-volume monograph titled Adel Abdessemed: Works 1988 – 2015 was recently published by Walther König. (text and courtesy Christine Koenig Gallery Vienna)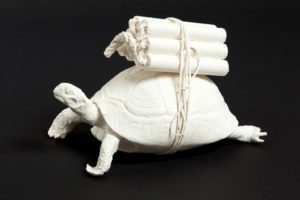 Tortue, 2014
2.
Depuis la fin des années 90, Adel Abdessemed aborde avec une grande intelligence critique les « zones sensibles » de notre monde globalisé et multiculturel. Il se confronte au politique comme à l'intime pour pointer les tensions morales et identitaires, tant en Occident que dans le monde musulman.
L'oeuvre d'Adel Abdessemed est traversé de références à l'art du passé, de Masaccio à Grünewald, des fantasmagories de Goya à l'oeuvre de Géricault. L'artiste établit un rapport de continuité avec l'histoire de l'art occidental qui fait partie intégrante du contexte culturel dans lequel son art s'inscrit.
Ses oeuvres : actes, vidéos, photographies, sculptures, dessins, livres d'artiste, sont toujours visuellement efficaces sans être jamais littérales. S'y mêlent en effet des références à des situations quotidiennes et des symboles et allusions littéraires, mythologiques ou philosophiques. Pour lui, l'art détient un pouvoir de transformation sociale au sens qu'il oppose justement une résistance à l'univoque et à la norme.