Karyn Oliver (Trinidad)
Tetherball, 2005-2014
My work explores the intersection and collapse that result from introducing conflicting histories and memories of the past to the continuously-evolving narratives of the present.
I use everyday objects, spaces, locations and images to shift our experience of the familiar. I want to reimagine knowns, which are assumed to be concrete and set. Can I confound what we presume to be fact about an object or space? Replace this with the unknown, revealing a new possibility? My manipulation (and sometimes co-option) of familiar objects and spaces points to their malleability—they are fluid and never fixed. They can be transformed and redefined through a simple gesture or modification or through engagement and action where their usefulness, value and function are reevaluated.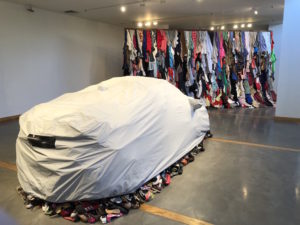 Installation View, 2018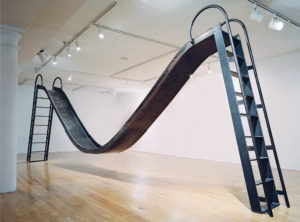 Doubleslide, 2009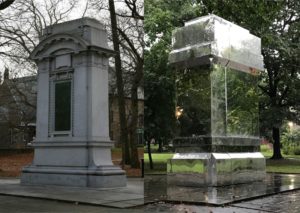 The Battle is Joined, 2017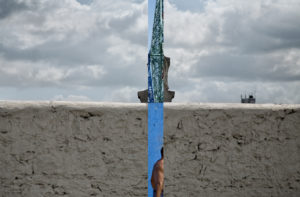 Wonderwheel Cemetary, 2013
At times, I intervene in "blind spots" — the unseen and under-considered spaces that we occupy. I attempt to rearticulate these spaces as a way to declare presence, allow the public to claim, reclaim or define a site in a new way and expand/imagine what's possible; I envision what new functions these might perform. The work sometimes asks for public investment, which pushes intimacy and perhaps vulnerability to the fore.
Biography
Karyn Olivier received her M.F.A. at Cranbrook Academy of Art and her B.A at Dartmouth College. She has exhibited at the Gwangju and Busan Biennials, The Studio Museum in Harlem, The Whitney Museum of Art, MoMA P.S.1, The Museum of Fine Arts Houston, CAM Houston, The Mattress Factory and SculptureCenter. In 2017 Olivier installed a commissioned work in one of Philadelphia's historic parks. In 2015 Olivier created public works for Creative Time in Central Park and NYC's Percent for Art program. She is the recipient of the John Simon Guggenheim Memorial Foundation Fellowship, the Joan Mitchell Foundation Award, the New York Foundation for the Arts Award, a Pollock-Krasner Foundation grant, the William H. Johnson Prize, the Louis Comfort Tiffany Foundation Biennial Award, a Creative Capital Foundation grant and a Harpo Foundation grant. Her work has been reviewed in The New York Times, Time out New York, The Village Voice, Art in America, Flash Art, Mousse, The Washington Post, Nka: Journal of Contemporary African Art, Frieze, Hyperallergic, among others. Olivier is currently an associate professor and program head of sculpture at Tyler School of Art.(text The Teaching Museum at Lehigh University)