I would say my practice is centered around me trying to understand myself, the world I'm living in, where I've come from and how my identity is affected by all the places that I navigate and move through.
Thadde Tewa on the Kenyan artist Agnes Waruguru
Photo: courtesy the artist
Agnes Waruguru: "I believe I'm still in the beginning of my career."
I first met Waruguru in 2019 at the East African Art Auction by Circle Art Gallery where we both were auction assistants. Prior to that, I had heard of her as one of the artists who had gone to Lamu, Kenya to offer art training and workshops to young artists at Anidan Arts & Crafts Centre run by a great artist friend Corrie Wingate. Later on, I visited her open studio in Nairobi last year. It's here that I got to learn more about her practice. Waruguru is a very intelligent and easy to talk to artist who is making major moves both in the local and global art scene. We bumped into each other again at this year's East African Art Auction at Radisson Blu Hotel in Upperhill, Nairobi and decided to extend our conversation and share it with art lovers. Enjoy!
Congratulations on being chosen to participate in the Stellenbosch Triennale in South Africa. What did this experience mean to you?
Thank you so much; it was a big moment. I was really happy to have my first significant international show. It feels good. This was a learning experience for everyone who was involved as it was the inaugural edition. There was a lot of growing pain and obviously trying to coordinate so many artists from across the continent wasn't an easy task given how controlled our borders are and how difficult it actually is to travel within Africa and of course shipping artworks. I'm really grateful to the Triennale team for successfully pulling it off.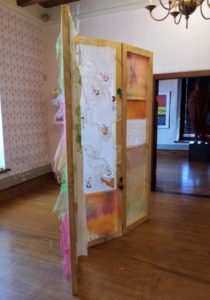 Homewares (Detail), 2020, Installation by Agnes Waruguru at the The Stellenbosch Triennale, South Africa
Please tell me how you landed the opportunity to show at the Stellenbosch Triennale?
The curators asked for recommendations and I was nominated by somebody who knew Dr. Bernard Akoi-Jackson, the curator of my exhibition. I submitted a proposal and portfolio which were approved and we began working together.
What is the story within your previous artworks, namely Karibuni Chai, Table Piece I and Table Piece (composition II)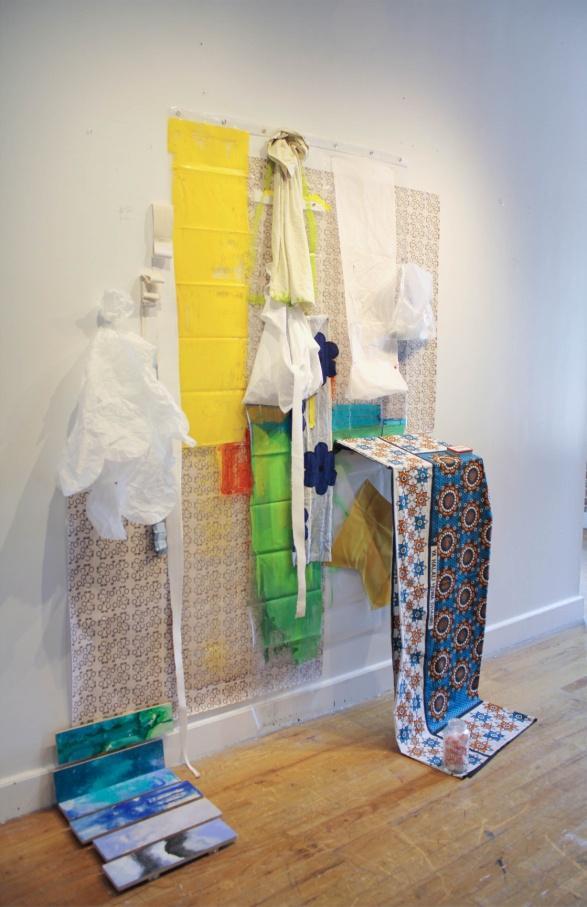 Karibuni Chai (Welcome for Tea), 2016- Pillow cases, shower curtain, inkjet print, tissue paper, coffee filters, canvas, khanga, mason jar, mints, wood and acrylic.
Karibuni Chai is an installation piece, I used common place materials such as pillow cases, shower curtains and coffee filters from my home. I designed some wallpaper, which is something I do often in my practice, for example Homewares in Stellenbosch also has wallpaper. I think it's a really classic way to communicate a living space. Many of the items in the installation are functional things, which are then made redundant, they are no longer functional, and they now exist as artwork. For instance, I made this table top which is too high and unstable; it's not functional (in the expected traditional sense) but it's functional in its visual purpose.
This work was trying to allude to a living space at the time I felt very much displaced and my idea of home started to change. I was curious about what form the things I use on a daily basis would take if I brought them together and turned them into a work of art and this was the result. It is an exercise in collaging. Collage is really important in my practice; it is how I started creating most of my work. I use the same approach of putting things together to build space and to create something visually striking and challenging while also communicating something about my personal life.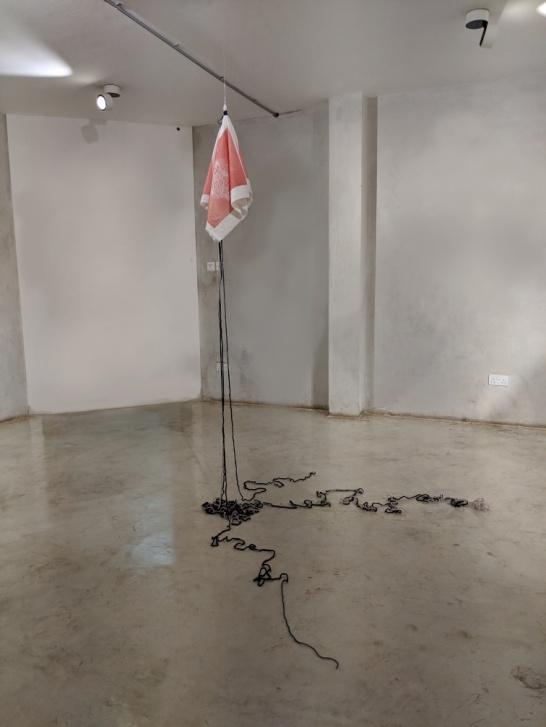 Table Piece I, 2018, Crocheted yarn and lino print on cotton, size variable
Table Piece I is a work I made while in residency in Sydney, it's a lino print on tablecloth along with crocheted yarn. It resembles a handkerchief held at a point and coming out of it is crocheted yarn which is graphic and could be used to make a drawing on the floor or create a pattern on the floor. The crocheted yarn is actually done while I'm in transit; I crochet while I'm taking any sort of transport like a bus, train or a plane. Hence it becomes a physical representation of either time in transit or in between time and labor. I'm really interested in that concept; it's something I still explore now. This action of crocheting helps me manage my anxiety in public spaces, keeps me busy and so somehow people don't talk to me as much.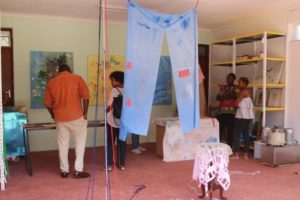 Waruguru's open studio
This is absolutely insightful and makes me want to know how your career debut was like?
I believe I'm still in the beginning of my career. It's only been three years since I graduated from university where I was studying painting and art history. Once I completed my studies I moved back to Nairobi and I think my career is going well. My first goal was to figure out what works for me in my studio practice, how to nourish that and what my practice needs in order to thrive. I had to find a space to work in; I couldn't do a shared studio, because my kind of practice needs isolation and I would not be productive around many people. I was briefly at Kuona Artist Collective but now I have a home studio which has worked for me.
In terms of exhibitions, I've been part of multiple group shows, group shows are good since I've had some time to understand what I'm doing, experiment and show a wide range of all the ways of making I engage in. I'm working towards a solo show hopefully this year if all goes well. I think it's nice I've taken the time to get where I am and I don't think there is any rush in trying to do a solo or too many group shows at once. For me, it was really important to first figure out what's going on in the studio and give myself room to figure things out and also play or experiment as much as possible. I'm still at the infancy of my career in my opinion and I'm pushing myself to dig deeper into my practice, to focus and expand on one central thing. I hope to eventually go to graduate school for an MFA.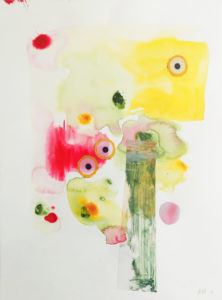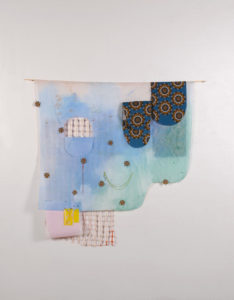 Landscape IV, 2019, plastic and acrylic on paper/Ki Nguoni Mwako, 2017, Khanga, plastic, glass beads and thread on linen
Do you feel like your work is appreciated more internationally than here in Nairobi? If yes how does that affect you as an artist?
Well I don't know because I've only had one international show but I will say the work was much more easily received while I was in university than when I came to Nairobi. The environment was completely different because people are in a mindset of critiquing and everyone kind of knows you are figuring things out, so they are asking you a lot of questions. Here, I do think the work is appreciated. I do think people enjoy the pieces I've had in group shows and I've had really good conversations with people who come to openings or have gone to the shows and reached out to me and asked questions. The conversations have been really great and so I'm secure in the fact that the work is for me and the people who gain something from it.
Would you describe your work as non-commercial?
I would say my practice is centered around me trying to understand myself, the world I'm living in, where I've come from and how my identity is affected by all the places that I navigate and move through. My practice is really for me and so my first objective is not how I sell this work, in that way it's not commercial. Although, I did make some of my first sales last year and I think there is a market for the kind of work I make.
I sustain myself financially by doing commissioned work (outside of my practice) and collaboration with brands. I also run an art camp for kids during the holiday breaks. So I get adequate income from working with kids. I'm really interested in sharing ways of thinking about creating with young people because I think it's important. I didn't have art classes in primary school and my parents were able to get me an art tutor. That changed my life. The whole point is to be able to give that to someone else and make them confident in pursuing art as a career even if it's not in their school curriculum.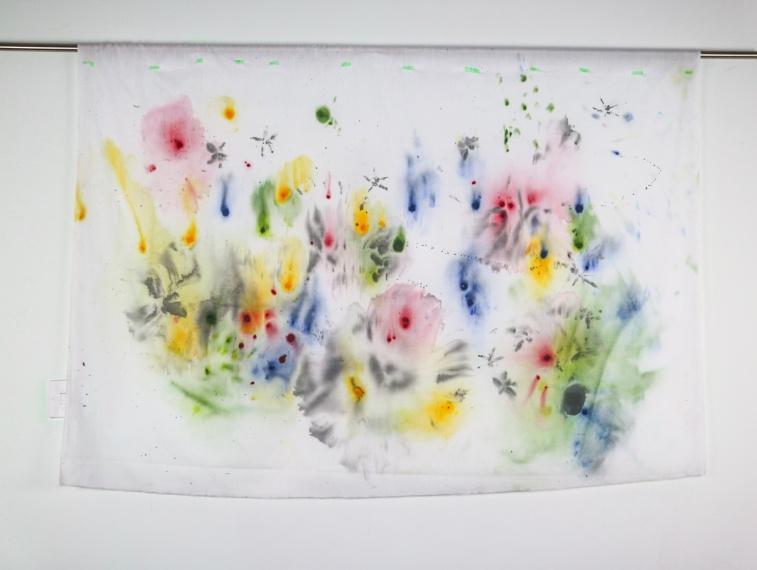 Amu Courtyard, Acrylic and Indian ink on cotton, 2019.
Having been to international artist residencies, do you think they've had an impact on your art or creative process?
Yes, residencies are impactful to your art and your creative process. For me it did impact my work and creative process because I was able to make things with the guidance of people who are masters of their crafts and utilize very good facilities. I wanted to engage in processes I wouldn't have access to in my home studio. Another great thing about being in residency is that you have a chance to make an isolated project so it was a great time to experiment. I was keen to travel to Sydney to see the kind of art scene they have, artist run spaces, museums and institutional support they have.
You have been part of the Anidan Art Centre residency and workshops run by Corrie Wingate. How was it working with the kids?
As I said, I work with kids all the time, so it was so great to go to Anidan. The children there are amazing, smart and very talented. It was such a breeze; they were so easy to work with. I learned a lot from this opportunity. Lamu is great. I had only been there once before and it was nice to spend two whole weeks this time. It's a completely different thing than going there for a weekend. You really get to see the magic of the place, to get to know the kids, to see them outside the classes and workshops that we were teaching, seeing them in the band and while kitesurfing. They were really great!
What advice would you give to a young artist who would like to be a conceptual artist?
Pursue your own path. Figure out what works for you and just be persistent. I'm also a young artist who's figuring things out. Be yourself, be authentic, work hard and things will hopefully work out.
About Agnes Waruguru Nairobi, Kenya (b.1994)
Waruguru's work ranges from painting, drawing, printmaking, needlework and installation. The materiality of objects in space is at the core of her explorations, which are intimately rooted in personal identity politics, often referencing women's practices and traditional cultural identifiers. Waruguru received a BFA from the Savannah College of Art and Design, USA. Her work has been exhibited in Kenya, South Africa, America and France. She has participated in residencies in Kenya and Sydney, Australia and recently took part in the Saba Artists Residency in Lamu. Waruguru participated in the inaugural edition of the Stellenbosch Triennial, South Africa, 2020. She currently lives and works in Nairobi, Kenya. (Profile Courtesy of Artist)
About Thadde Tewa
Thaddeus Wamukoya best known as Thadde Tewa in the Nairobi visual art community is a Contemporary art curator and artist. Founding director of Tewasart & Patrons an arts consultation platform focused on sharing East African art information through monthly newsletters and catalogues. Also he organizes pop up exhibitions with an aim to connect contemporary art to both the local and international audience.